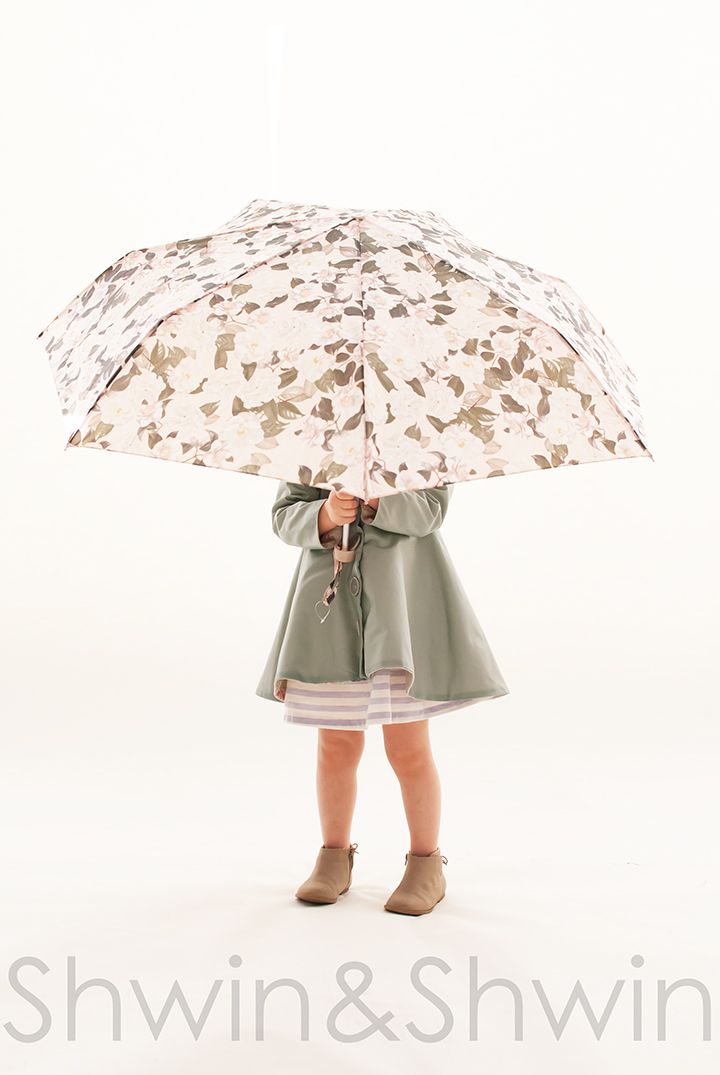 I have been on quite a little hiatus, or big hiatus I guess it depends on how you look at it. However I have been working on several (6 to be exact) patterns. They have been some of my favorite things I have ever sewn so I kind of felt guilty that I had been holding on to the patterns for so long. It was time to get my act together and finally put the finishing touches on the patterns so that others can enjoy them too. 🙂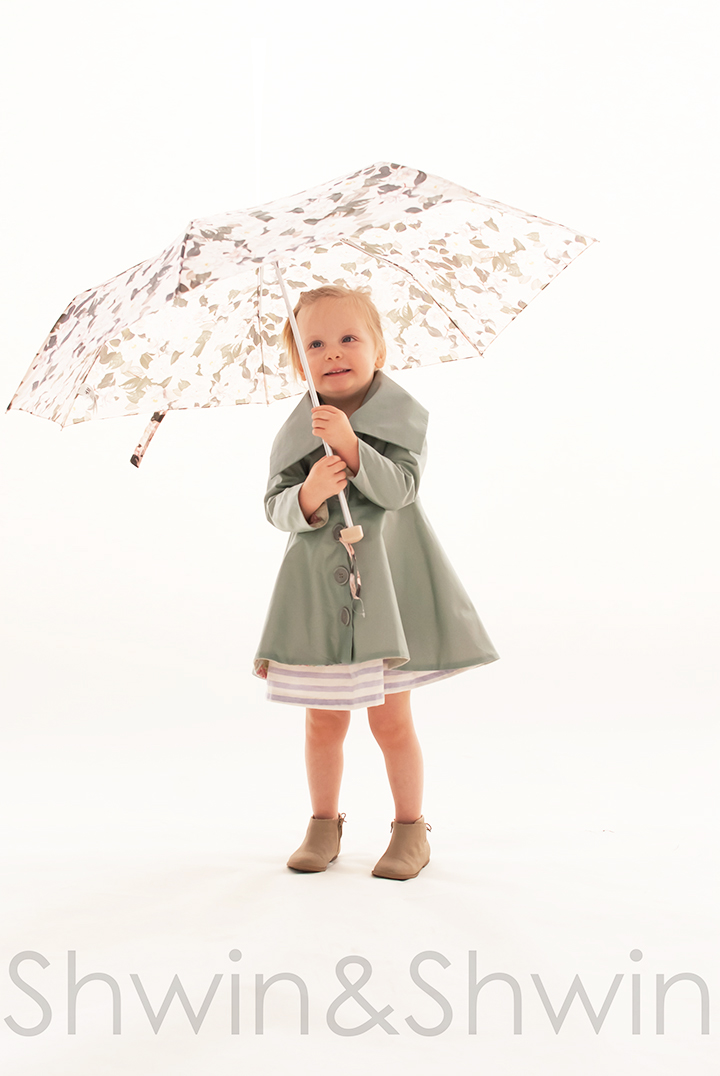 I have 2 releasing today and the others will release over the next few weeks, because I am crazy sometimes but not insane so I can only focus on a few at a time. First is the Nina Coat pattern.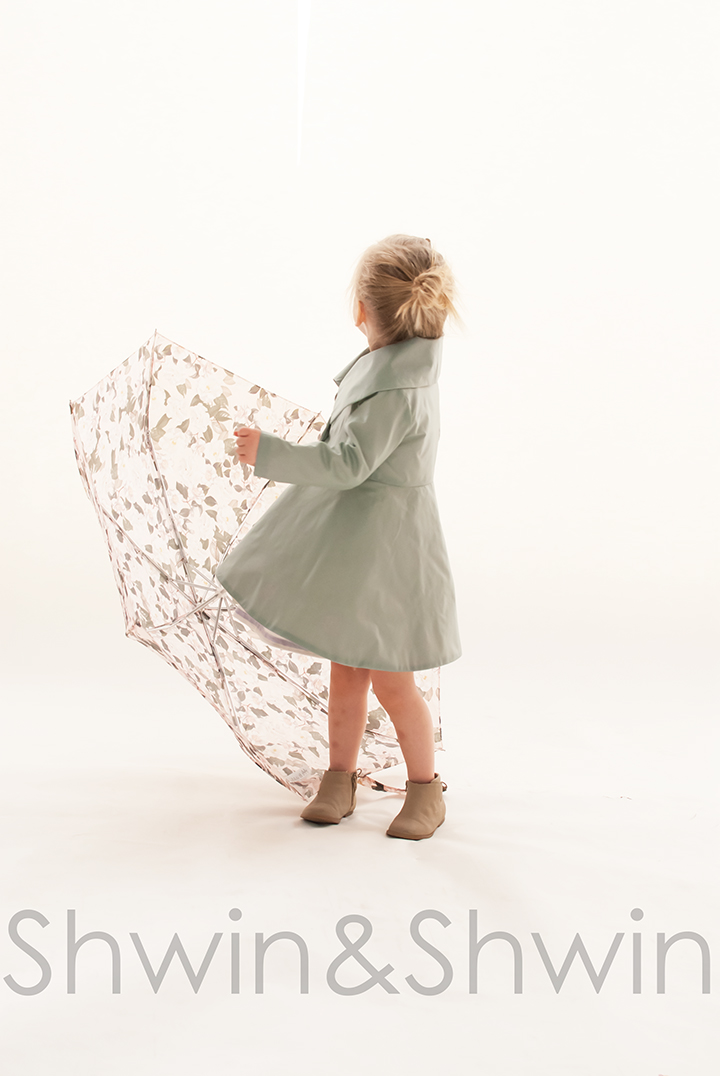 I seriously love this coat so much. I made my first one last fall and Penny has gotten so many compliments on it, and every time I saw her in it I would just die from cuteness, you know, one of THOSE coats. (don't worry I went ahead and made a Women's version as well because I couldn't take it anymore I had to have one)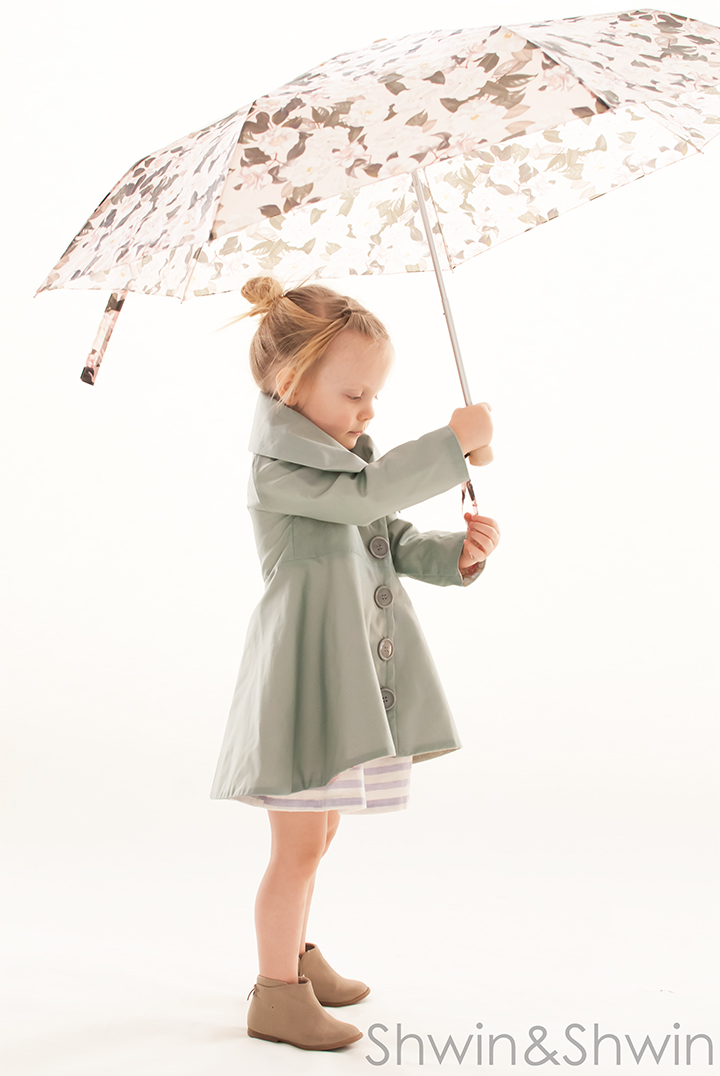 I love the hi lo hem, and the flare of the half circle skirt, and the oversized collar, I just love it all. This one is made from ripstop and a lightweight cotton linen lining so it's nice and light weight and waterproof which is perfect for Spring.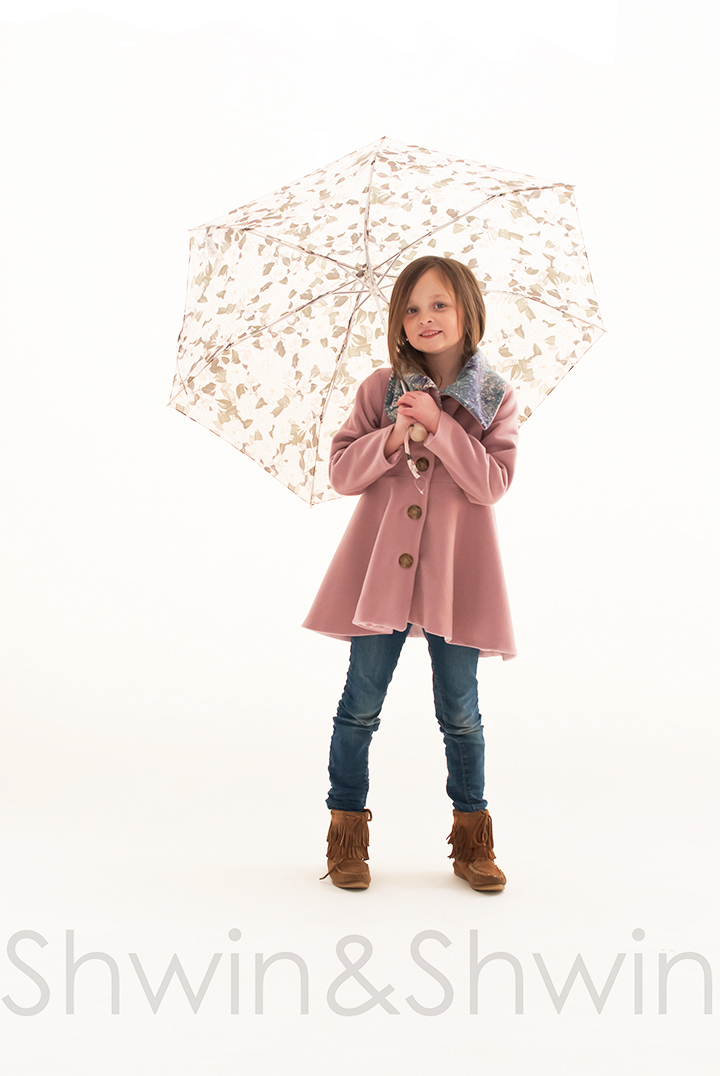 For Abbey I made one from a nice wool outerwear I got from MOOD and I did a contrast collar for a pop of color.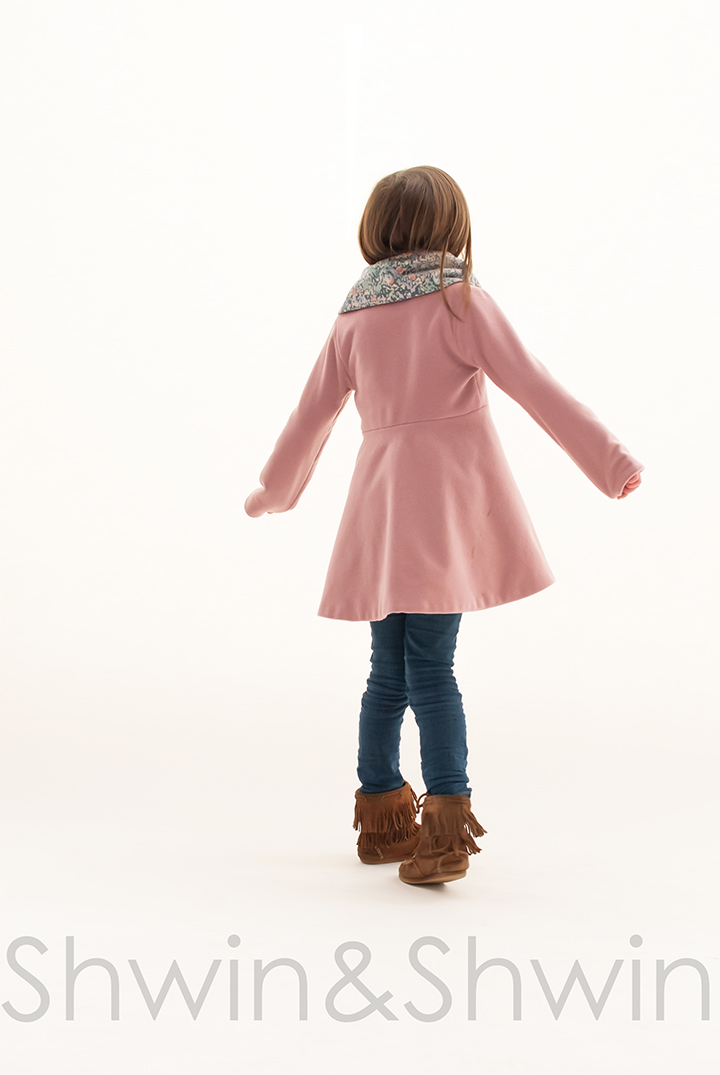 Since it's pink AND has purple she loves it to death and I like that it's mauve and not bubble gum, sometimes we both win. 🙂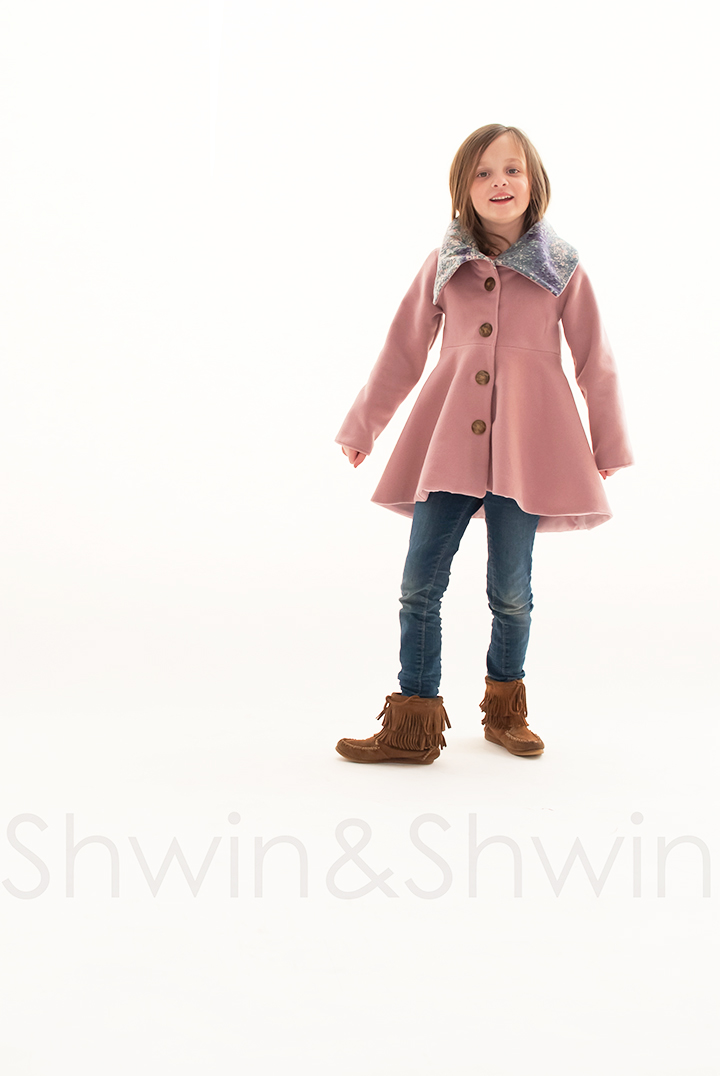 I just love how feminine the fit of the skirt is and the large buttons and collar just add the perfect punch of style.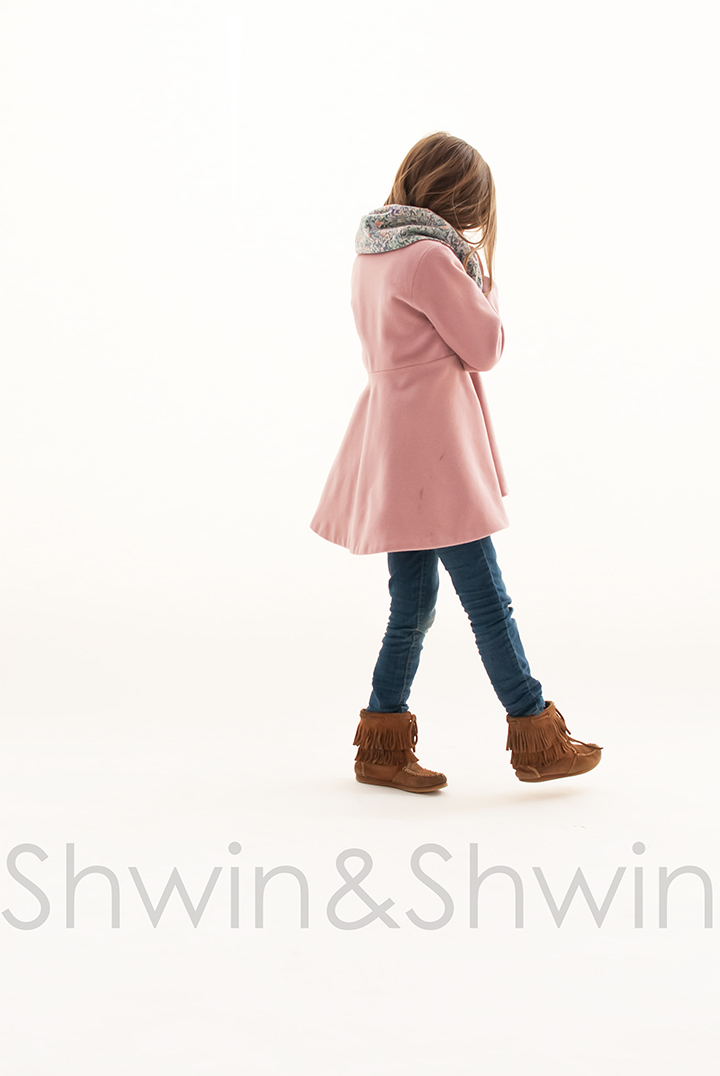 It's also casual enough for everyday wear but dressy enough for church which I like since wearing the puffy down snow coat to church isn't my favorite.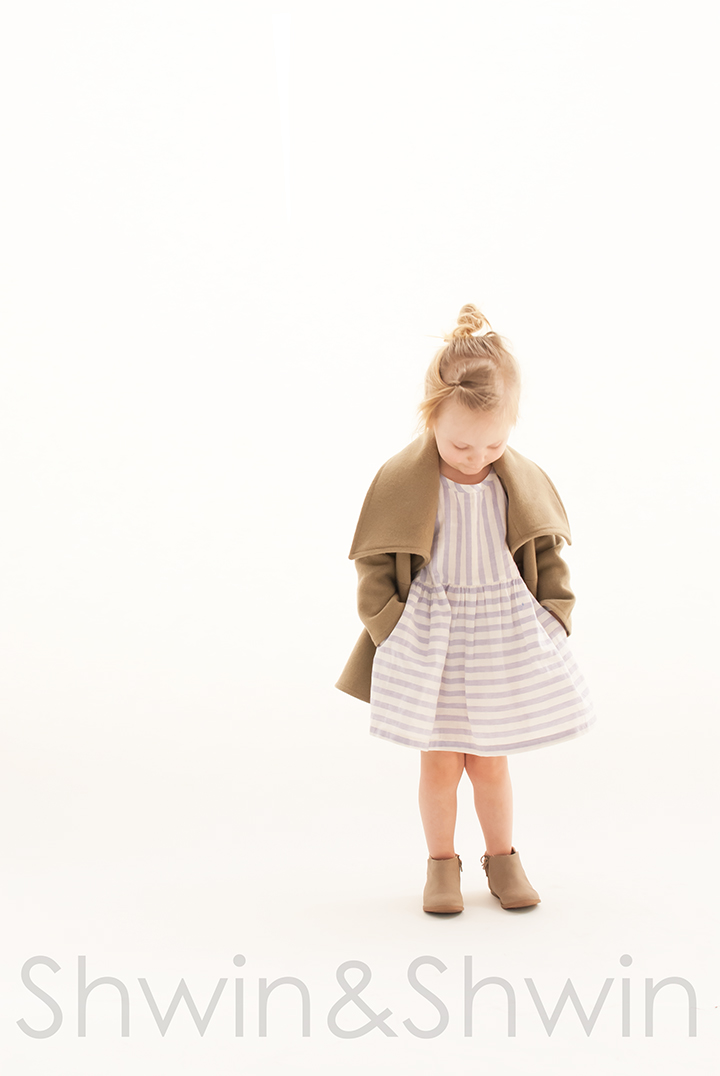 THIS coat, in this tan who know what it is (some kind of wool blend maybe?) THIS is my favorite coat. The color is neutral enough that it goes with everything, and I even made my own leather covered buttons to match which I love.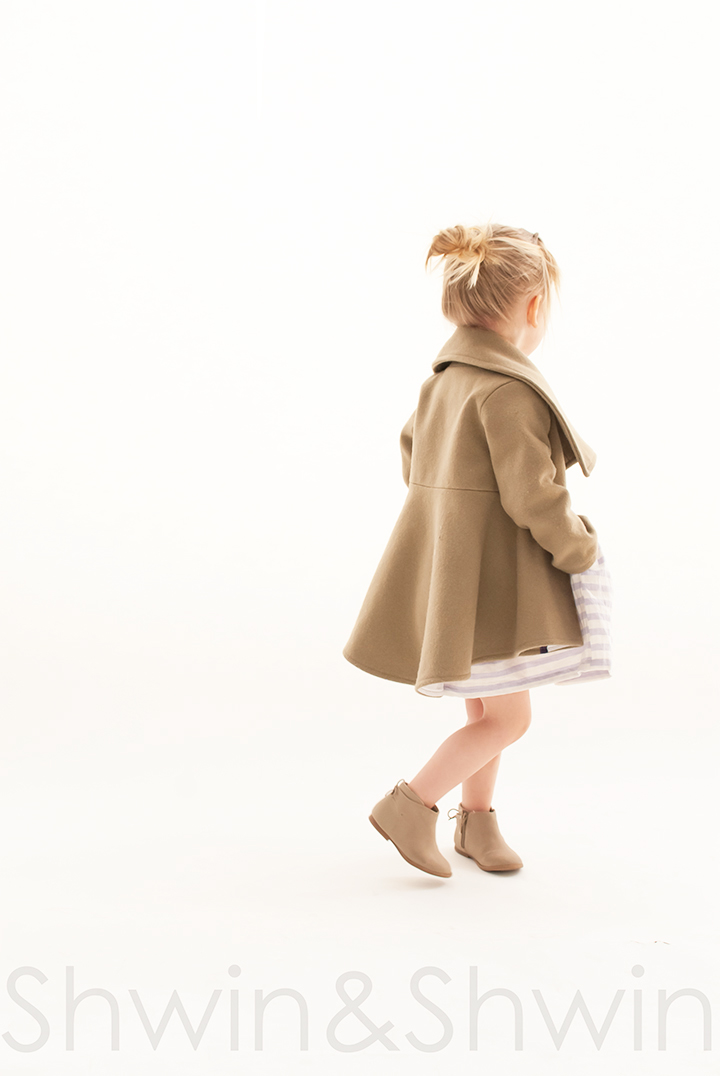 The fabric has the perfect stiffness and body to it that it just lays so perfectly well. I don't even remember where I got it since it's been floating around my stash forever.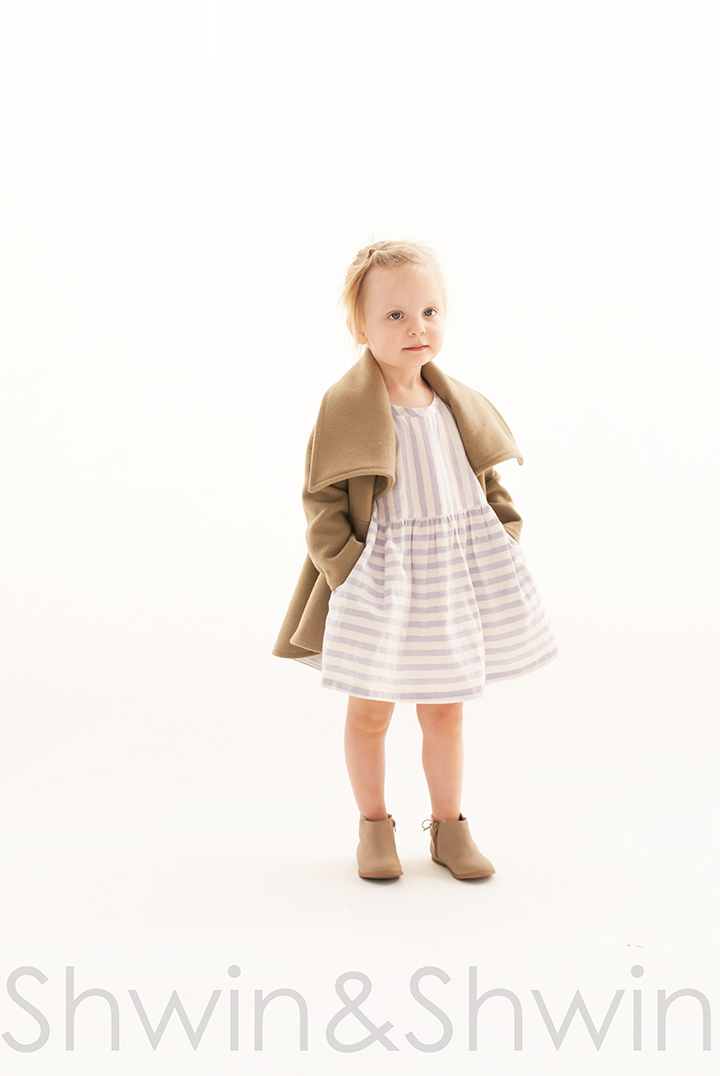 Worn here I paired it with the new dress pattern, the Penny Lane Dress and Top.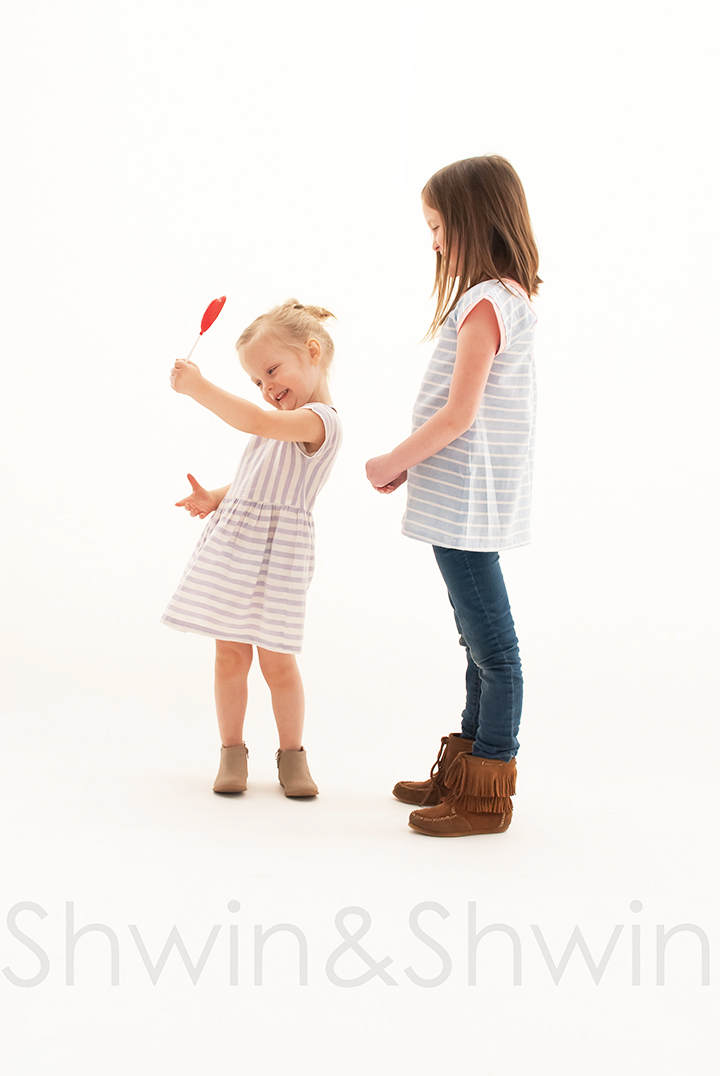 I have made (and I kid you not) close to 30 of these tops and dresses since I first started developing the pattern. I have made them out of almost every kind of fabric and I even have a few hacks coming up tot share with you because the sweatshirt version may have been one of my favorites.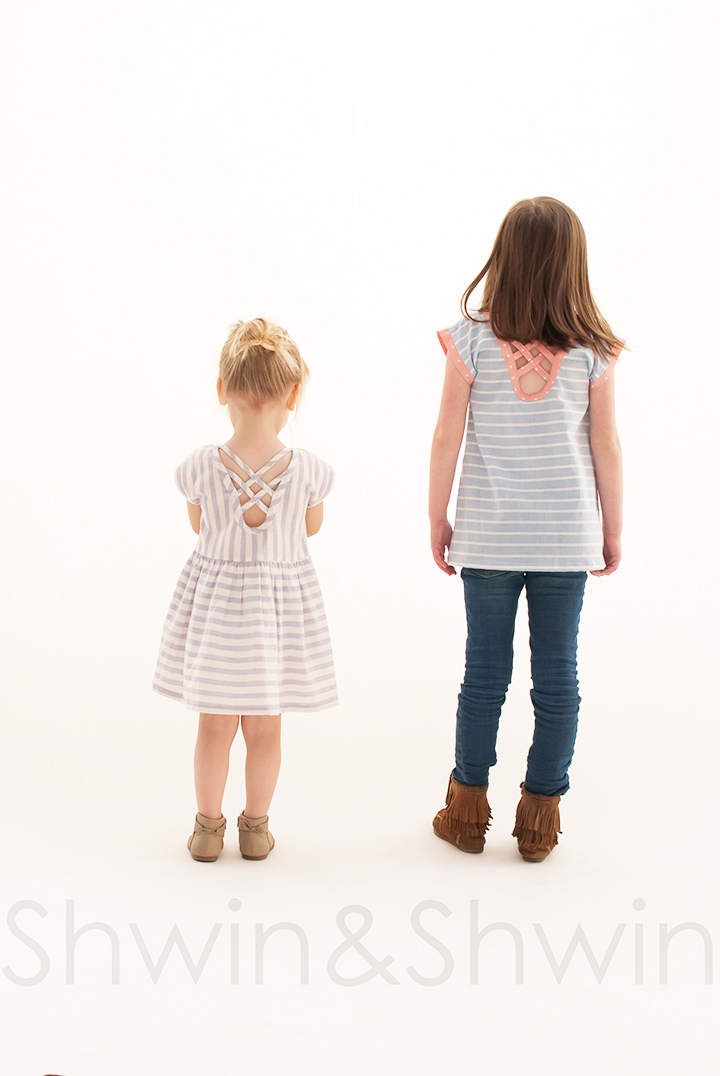 While the top and dress are relatively simple, the back is what makes it special. I love the crossing straps. They offer the perfect peek of back without over exposing, which I like.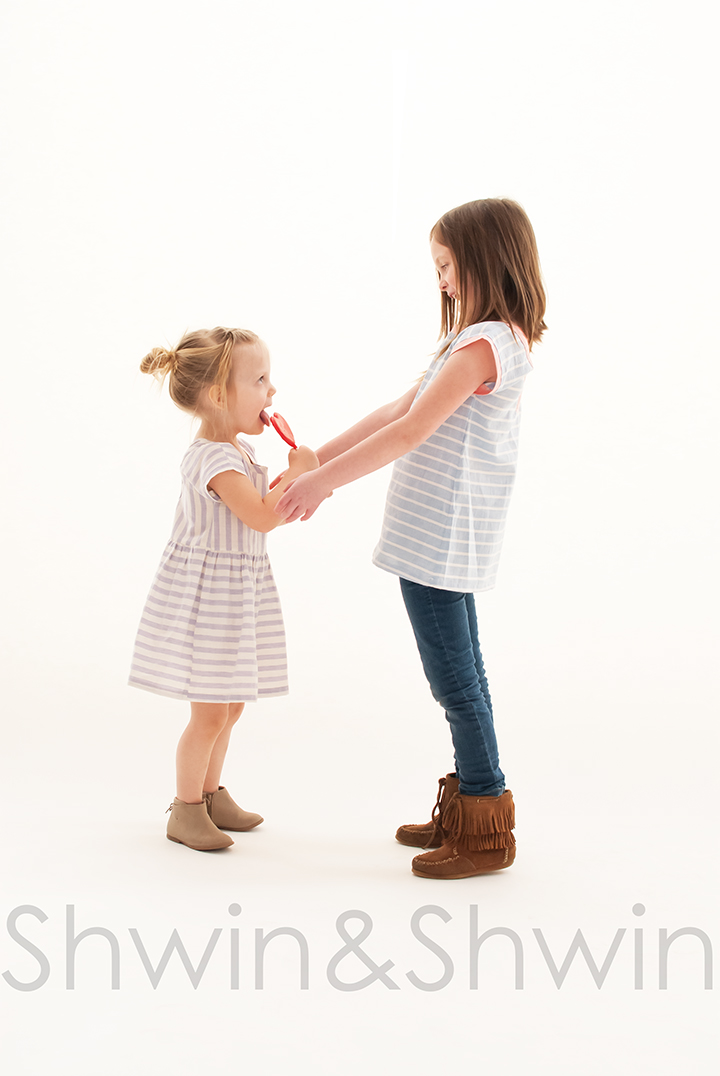 The dress has a nicely gathered skirt and the shirt has a slight A-Line fit. They have a cute little cap sleeve with cuff, and of course the back cross detail.
The neck binding also gives a little pop of color or pattern.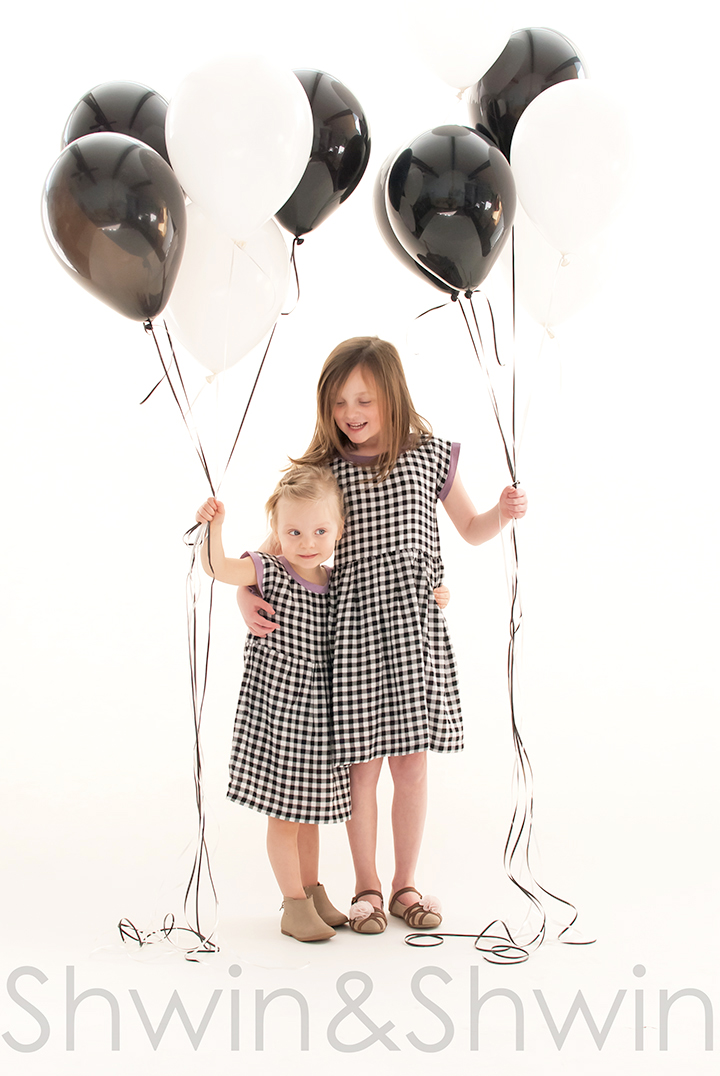 I made my girls matching dresses since they still love to match and I love to let them, but instead of making them completely identical I used different shades of purple for the neck and back.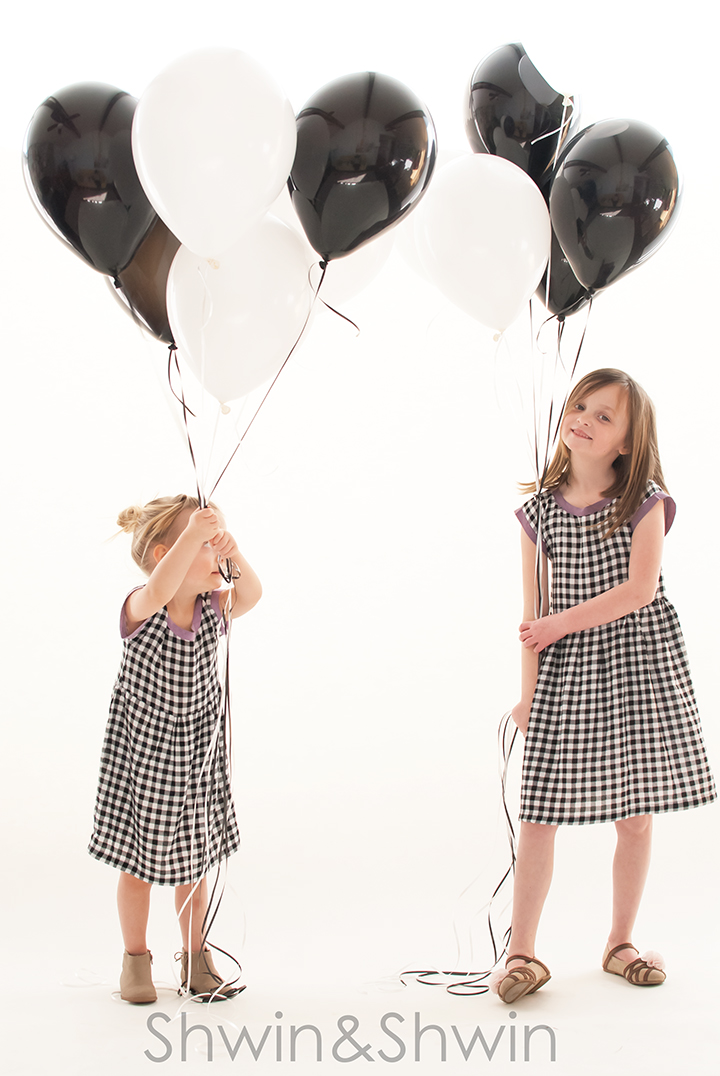 They love the subtle difference while still being the same.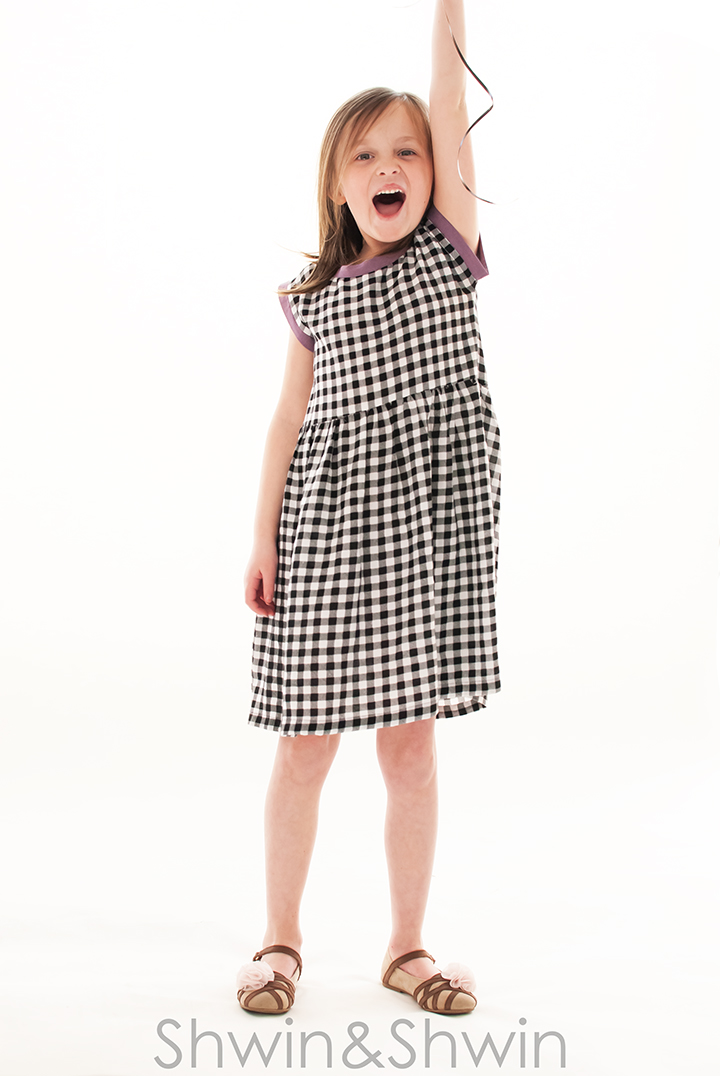 For the fabric for these I used a DREAMY rayon which feels like butter and has incredible drape.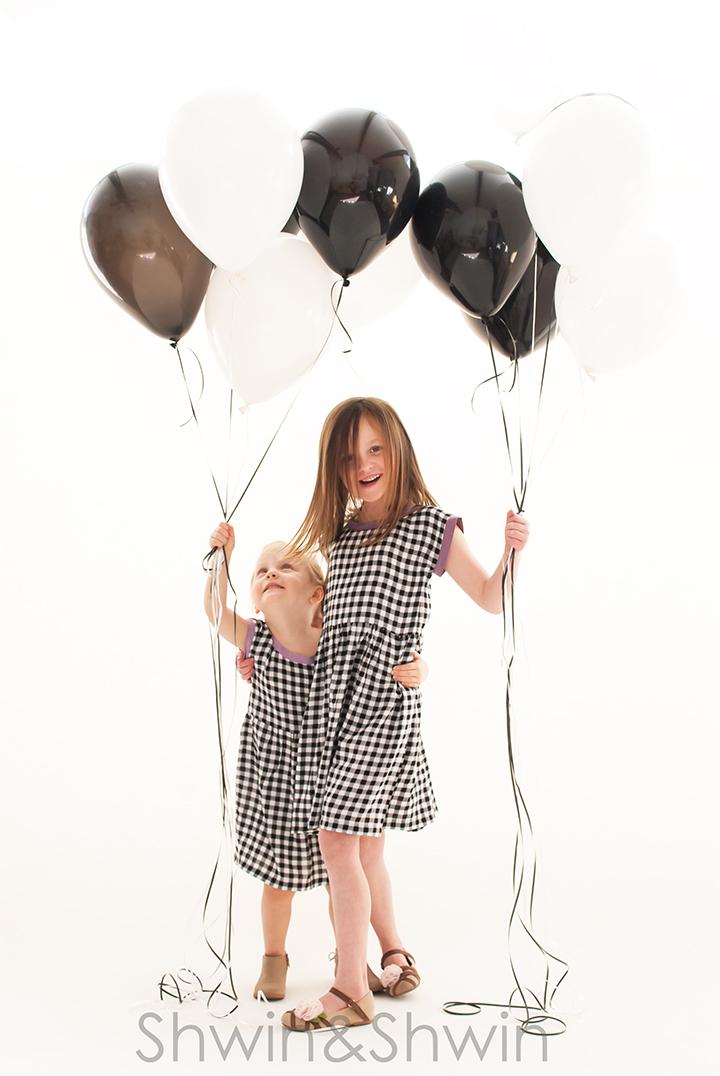 My girls both talked about how soft and comfortable the dresses were in this fabric and I love how they just float on them.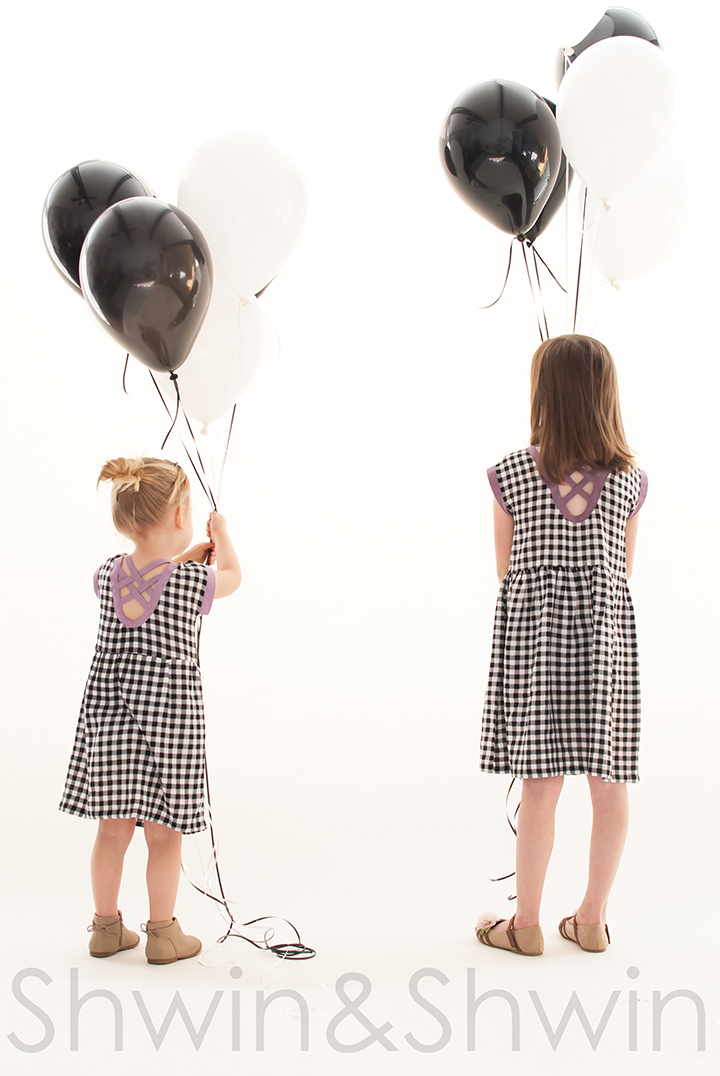 The rayon is from LA Finch Fabrics and if you want the chance to WIN 10 YARDS of fabric from LA Finch Fabrics you should join our Facebook group for the details of the giveaway. (seriously FREE amazing fabric)
Buy the patterns here:
Penny Lane Top and Dress Pattern
Striped linen and star linen are from Miss Matatabi Fabrics on Etsy
Mauve Wool is from MOOD Fabric
Umbrella is from H&M, Boots are from Zara, Shoes from Joy Folie