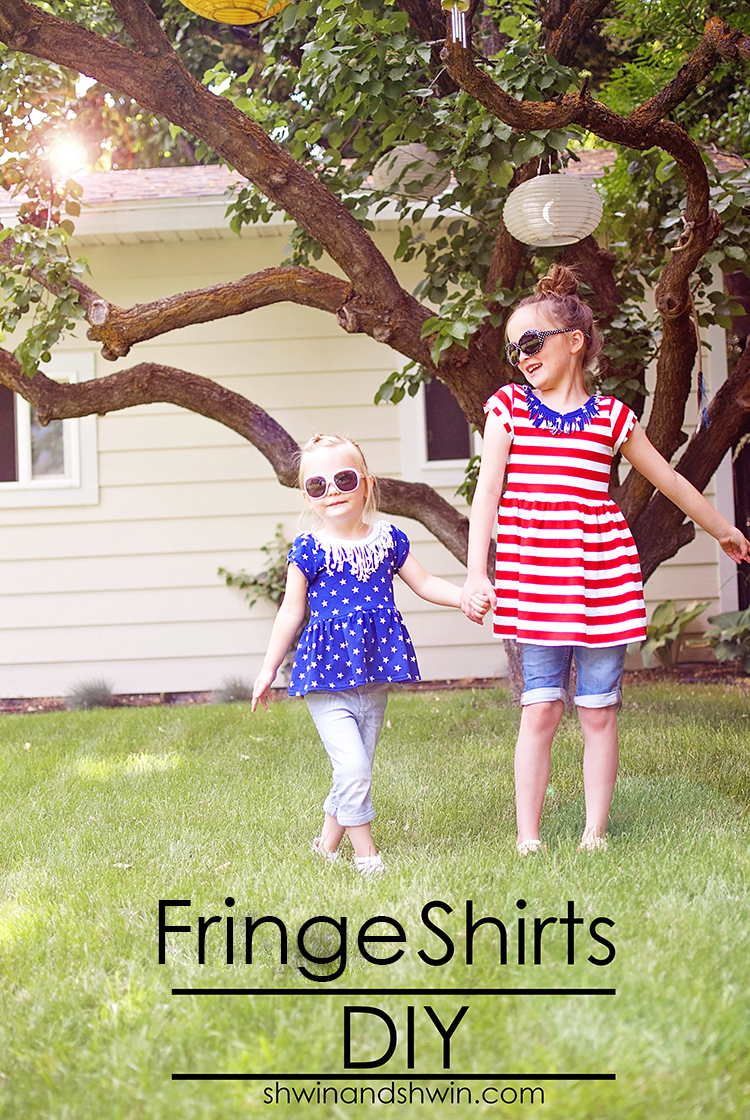 With the 4th of July just around the corner (an American holiday for those not from here) I thought it was high time I actually finish sewing the girls their festive tops. I bought the fabric months ago and cut them out weeks ago thinking I would get a good head start. Then life. So it's kind of a miracle that I got them done before the 4th of July at all.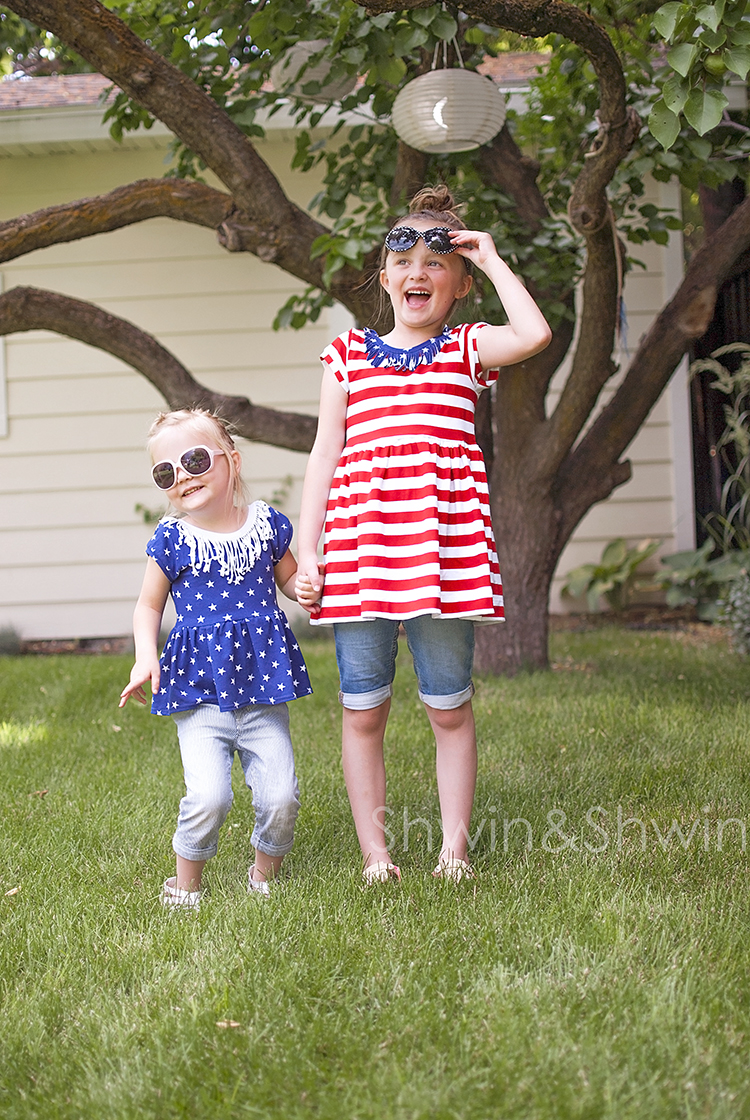 My girls call them firework shirts, and even though we made them with the festive red white and blue (and stars and stripes) You could easily make them in any colors or prints for a fun look. You could even add some fringe to an already made tee if that is more your speed. I used the Magil&Lil Romper/Dress Pattern for these. I made the dress version but hacked the skirt shorter for a peplum top. (one note if you are using the Magil&Lil pattern, I did raise the back curve up about 1″ so the fringe would have a little more room to dangle before the skirt seam. You don't have to but if making the dress version you may consider it)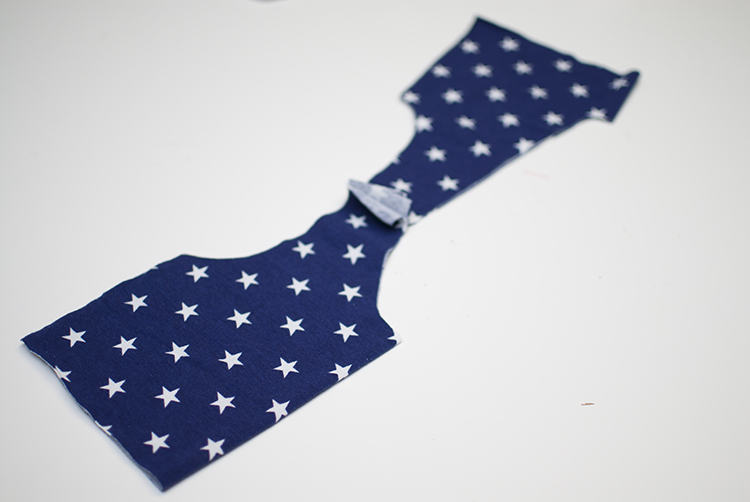 So to start I took the front and back bodice pieces folded in half and I matched them up at the shoulder pinching the seam allowance at the shoulder.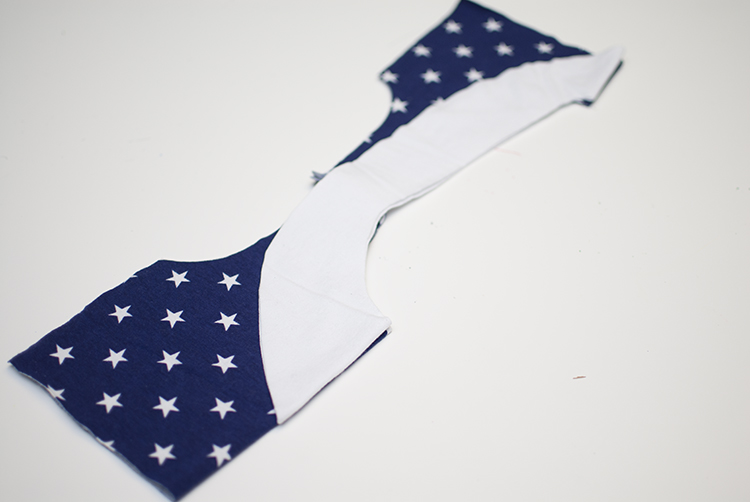 Then lay knit fabric over the bodice and cut it out along the neckline. Next cut out the shape you want the fringe to be. For Penny (seen here) I shaped the fringe a bit more so it was longer and came to a point in the front neckline and shorter but still a point in back. For Abbey (the striped one) I made it more even and cut it 2″ long all along the neckline.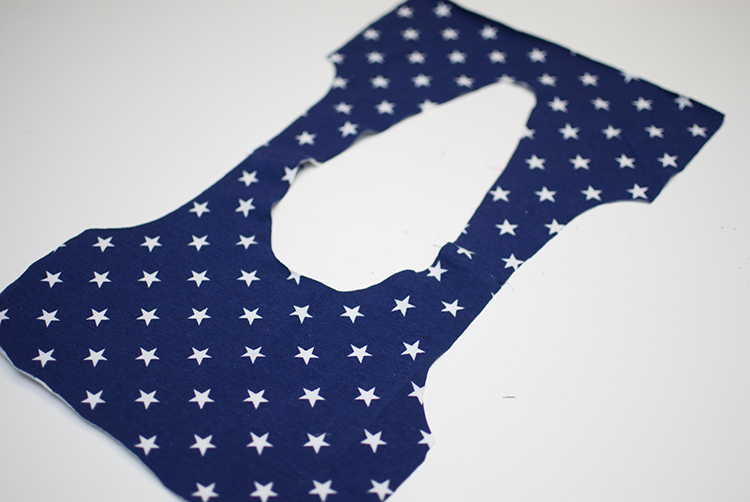 Then sew the front and back together at the shoulders as you normally would, but before adding the neck ribbing you will place the fringe piece to the neckline.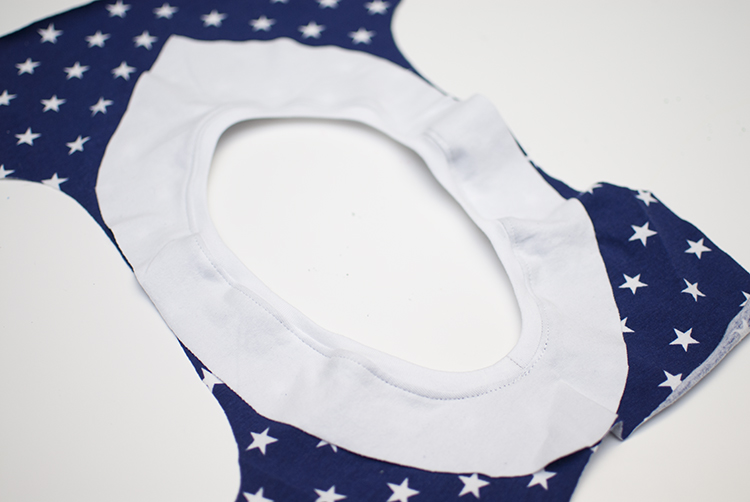 Sew the neck ribbing in place with the fringe sandwiched in the middle of the band, and the bodice. Then top stitch the band in place as you normally would.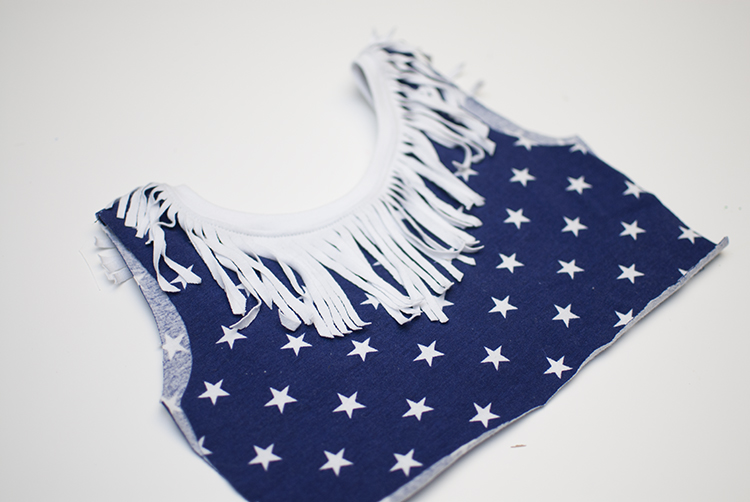 Then using sharp scissors cut small (1/8″-1/4″) wide strips going up to the neckline. Careful not to cut the bodice, or the actual neckline. You may get to a few spots where you have to trim the strips a little to get them to all fit but just keep cutting all around. Then finish the bodice as you normally would.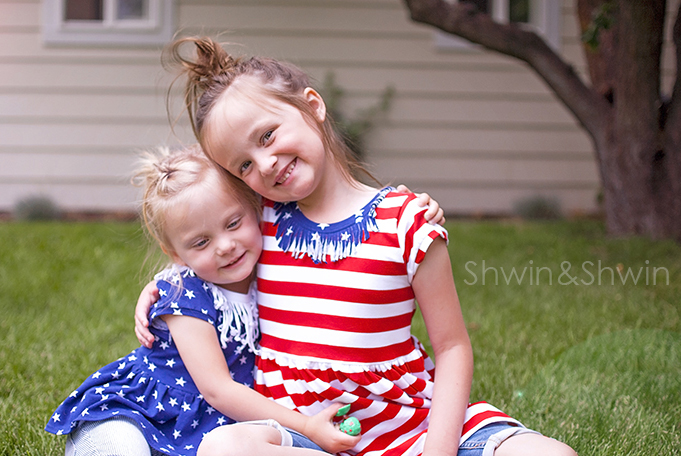 I love the way it turns out almost like they are wearing a necklace.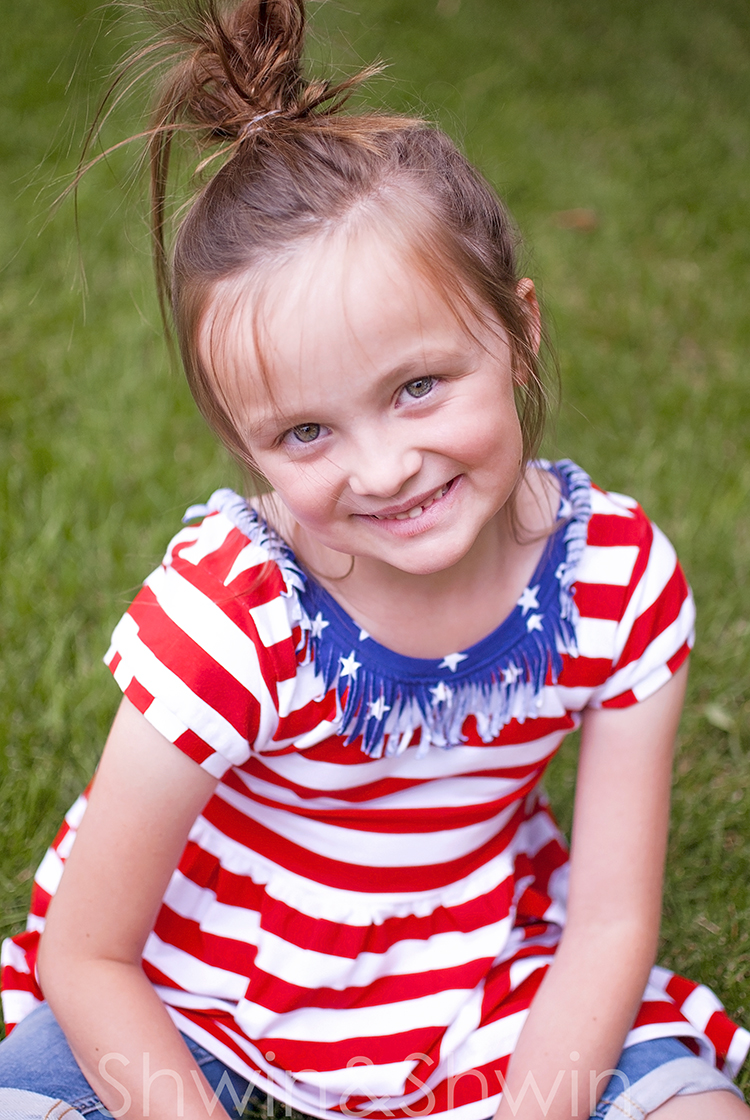 Although the girls prefer to call them fireworks which is very appropriate.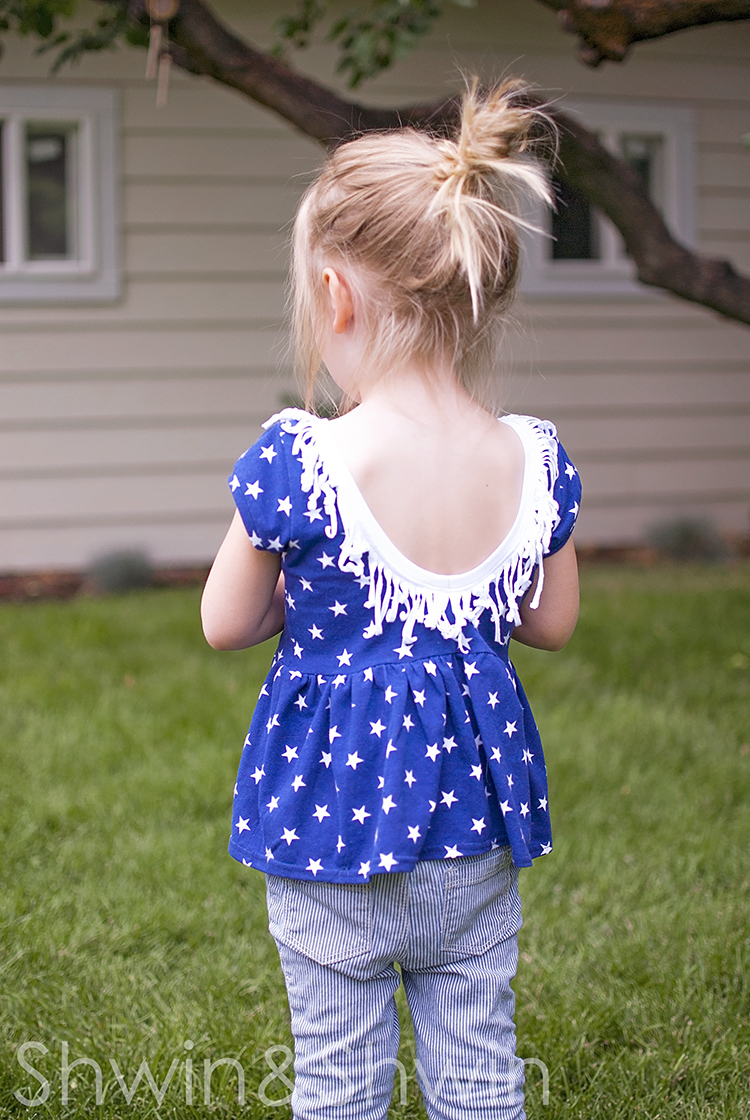 I love the way the fringe works with the back neckline being a low scoop the fringe looks so cute framing that little back.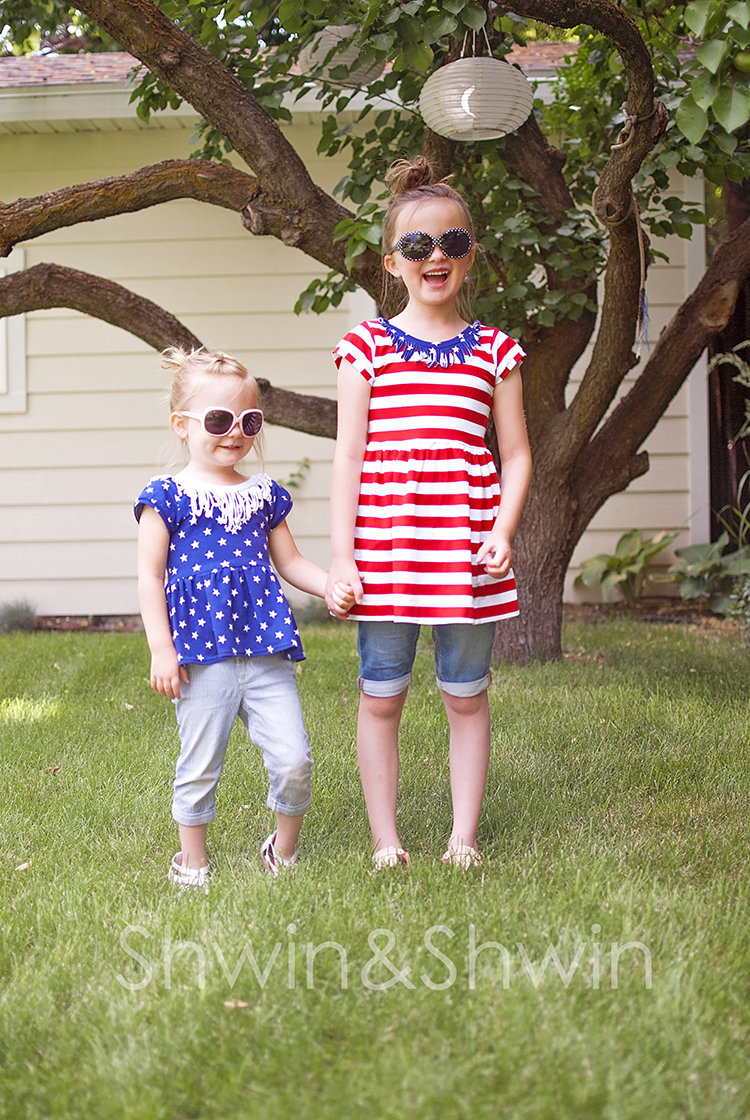 Pattern is the Magil&Lil Romper/Dress from Shwin Designs
Pink Sunglasses from Jannie and Jack