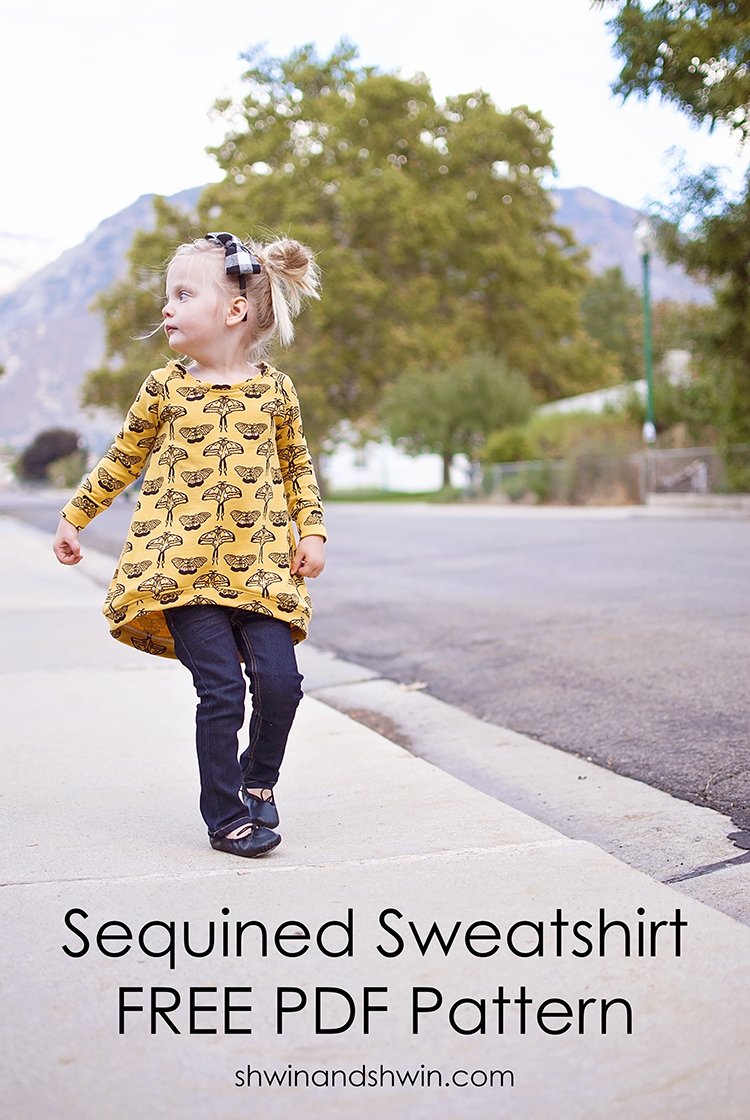 Sometimes I design a pattern and then search for the perfect fabric, and sometimes I find the perfect fabric and then create a pattern for it. This was one of those instances where I created a pattern after falling in love with a fabric. The fabric is an amazing French Terry from Noni Bee, it's an amazing children's clothing line with custom printed fabric and now she is selling the fabric! Which is great for people like me who love to sew, and if you don't it's cool because you can buy some awesome clothing.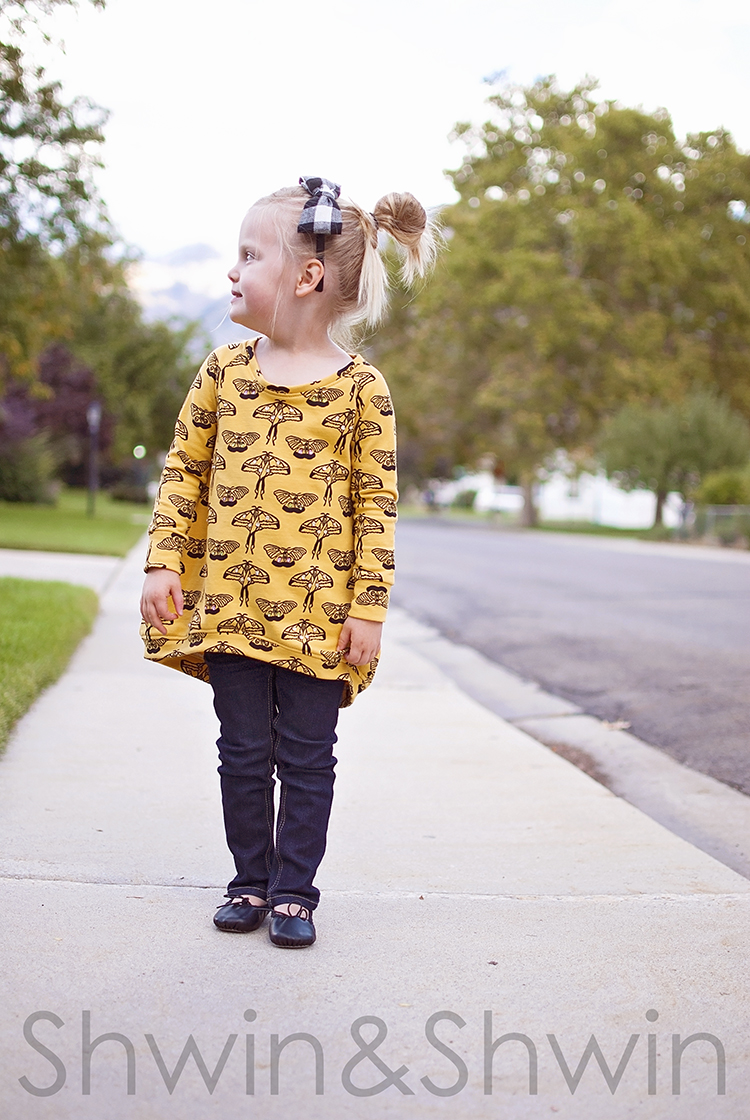 I immediately fell in love with this moth print, and I knew Penny would love it because all moths are butterflies in her world. Once I had the beautiful fabric in hand I had to decide what to make. I loved the hi-low top she has in her shop and decided I wanted a hi-low hem as well. The French Terry screams cozy sweatshirt, so I decided on a cozy raglan sleeve sweatshirt with a swingy hi low hem.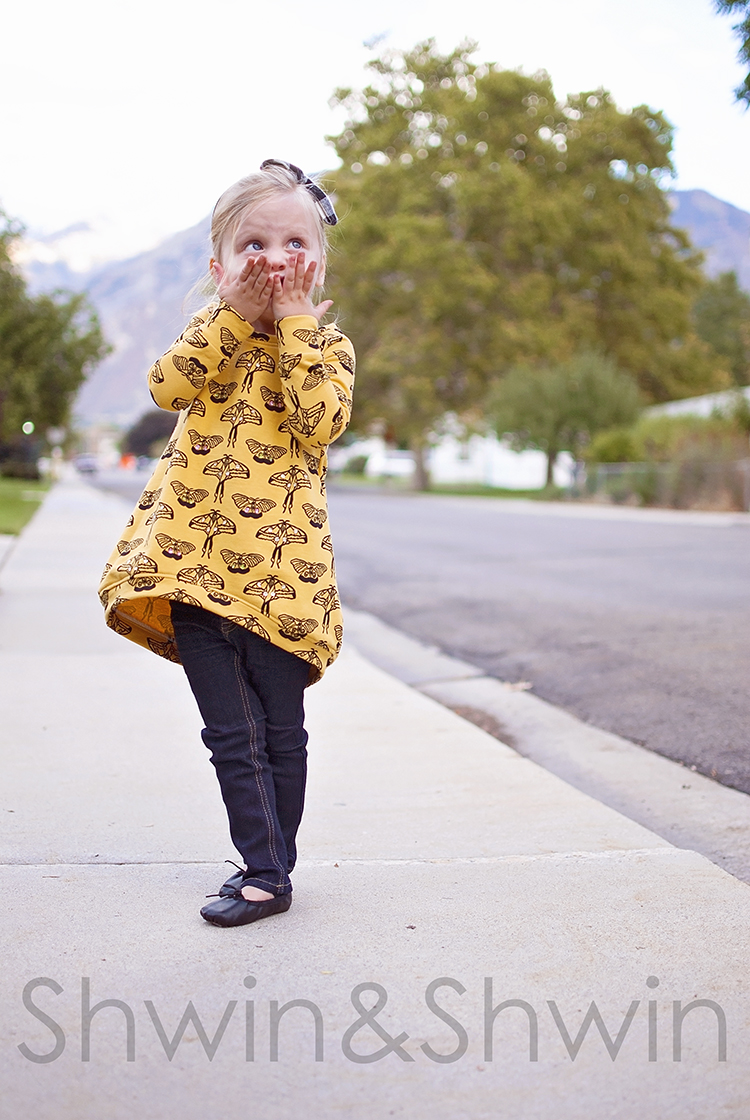 I also added sequins to the moth to add a little bling detail, and I have a free pattern for you today in size 2T.
You will need:
Free raglan sweatshirt pattern
3/4 Yard knit fabric (like these noni bee prints)
Sequins (optional)
small clear beads for sequins (also optional)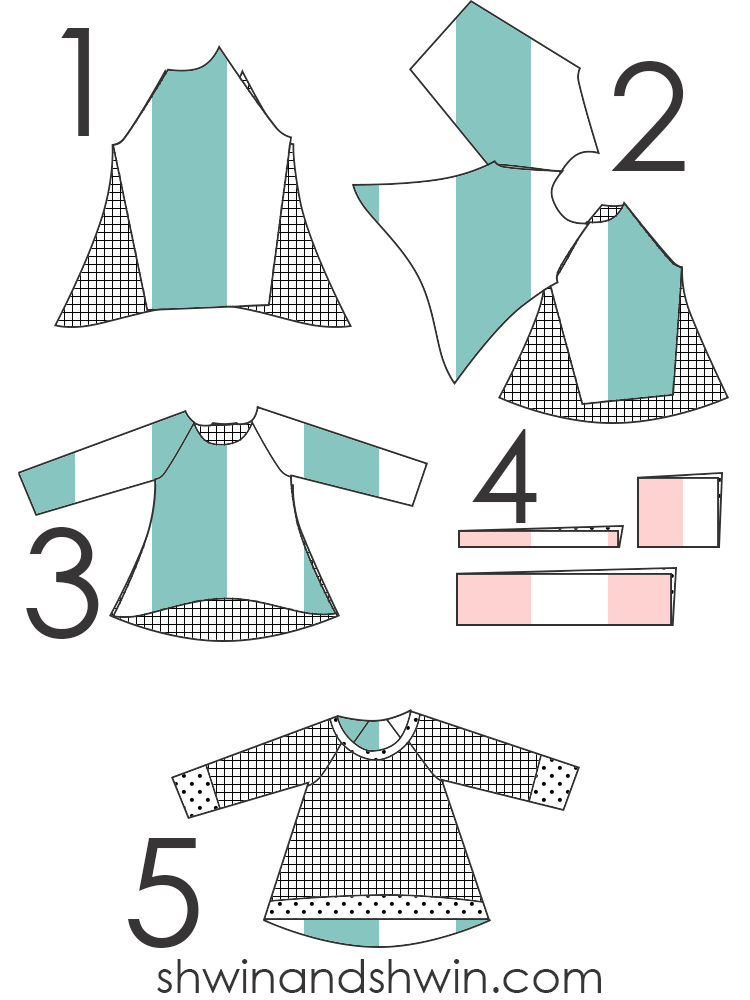 Sewing the pattern is easy. Here are the 5 basic steps.
With right sides together, sew the front sleeve to the front bodice. (repeat for both sleeves)
With right sides together, sew the back sleeve to the back bodice. (repeat for both sleeves)
With right sides together, match the front and back bodice together, sew from the sleeve edge to the armpit and turn and sew down the side. (repeat for other side)
With right sides together, fold the neckband in half width wise and sew the edges to create a loop, then fold the loop in half height wise so wrong sides are together. Repeat for the wrist cuffs and waistband.
With right sides together, match the neckband to the neckline, stretch the neckband to fit and sew in place. Do the same for the wrist cuffs sewing them to the sleeve ends, and the waistband sewing it to the waistline.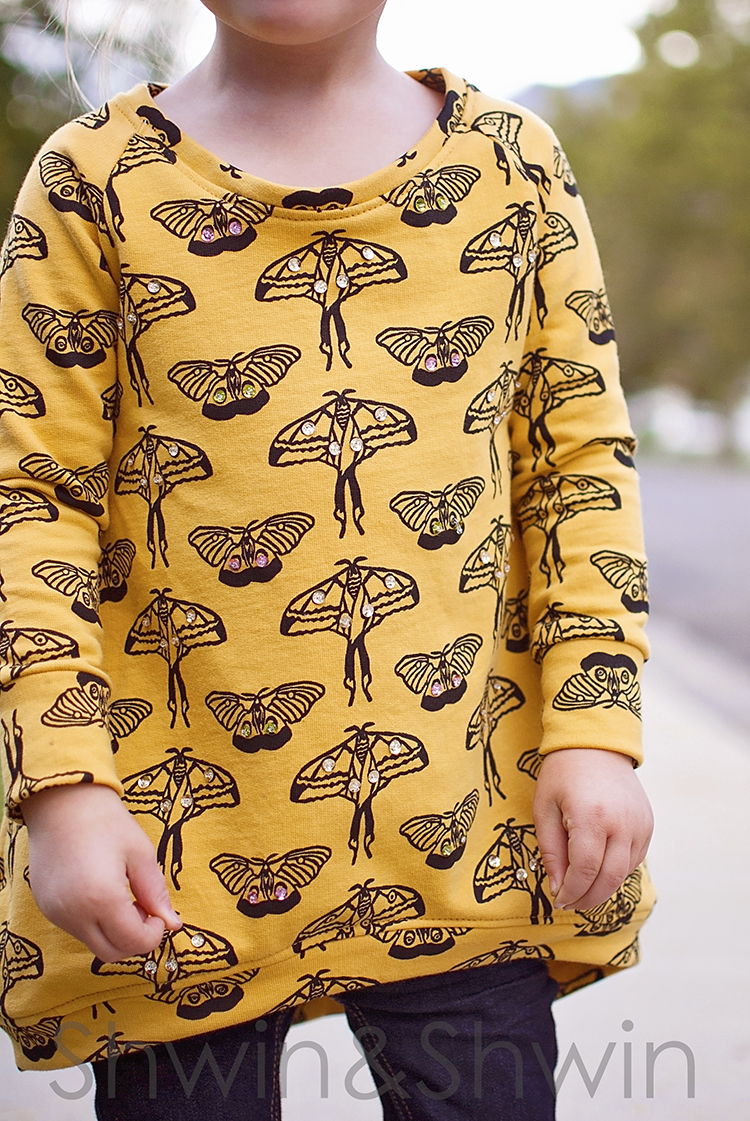 Lastly, I stitched sequins on to the moths in the small circles of the print. I held each sequin on with a small clear bead. I love the effect it has on the print making a basic sweatshirt something luxurious.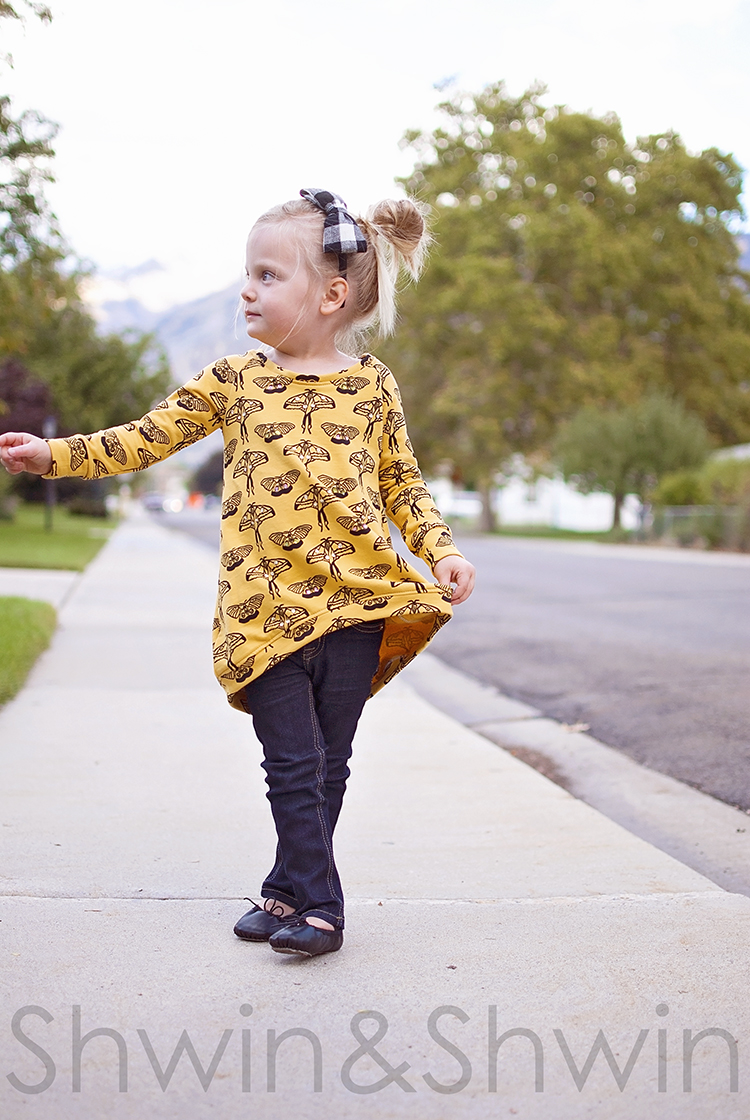 Penny loves the bling, and the cozy sweatshirt. Which is good since I have a few more cut out and ready to sew up.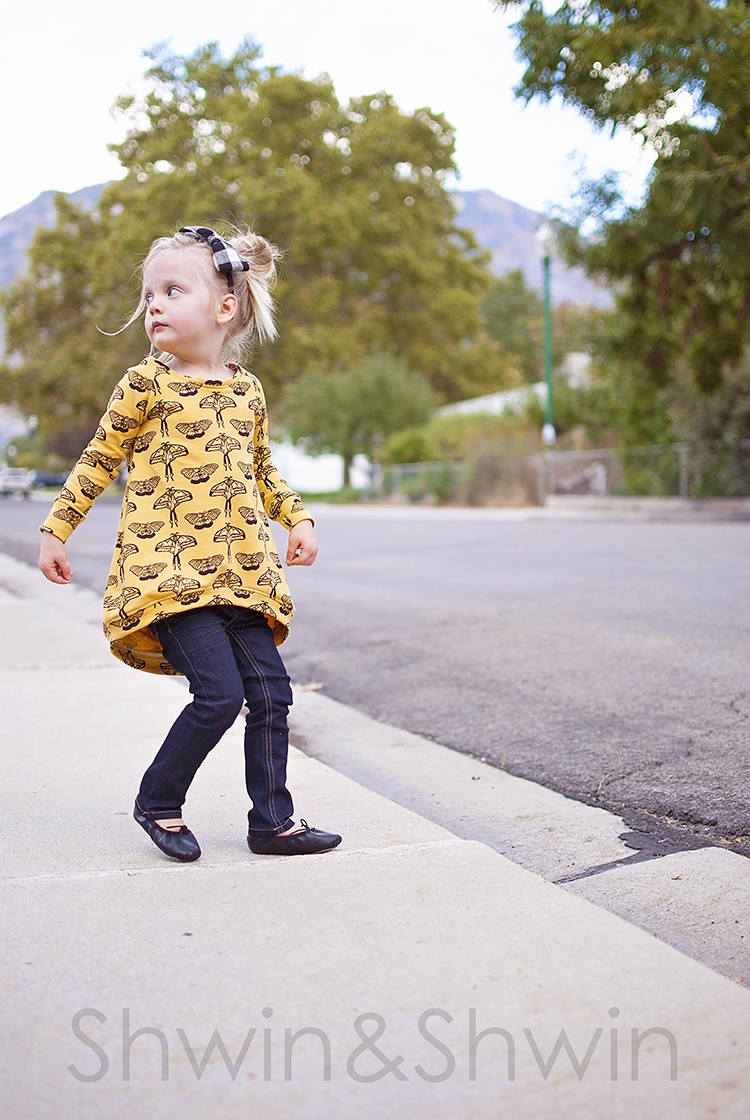 I also have more of the fabric, and one other print I can't wait to sew up. The kids have been fighting over it.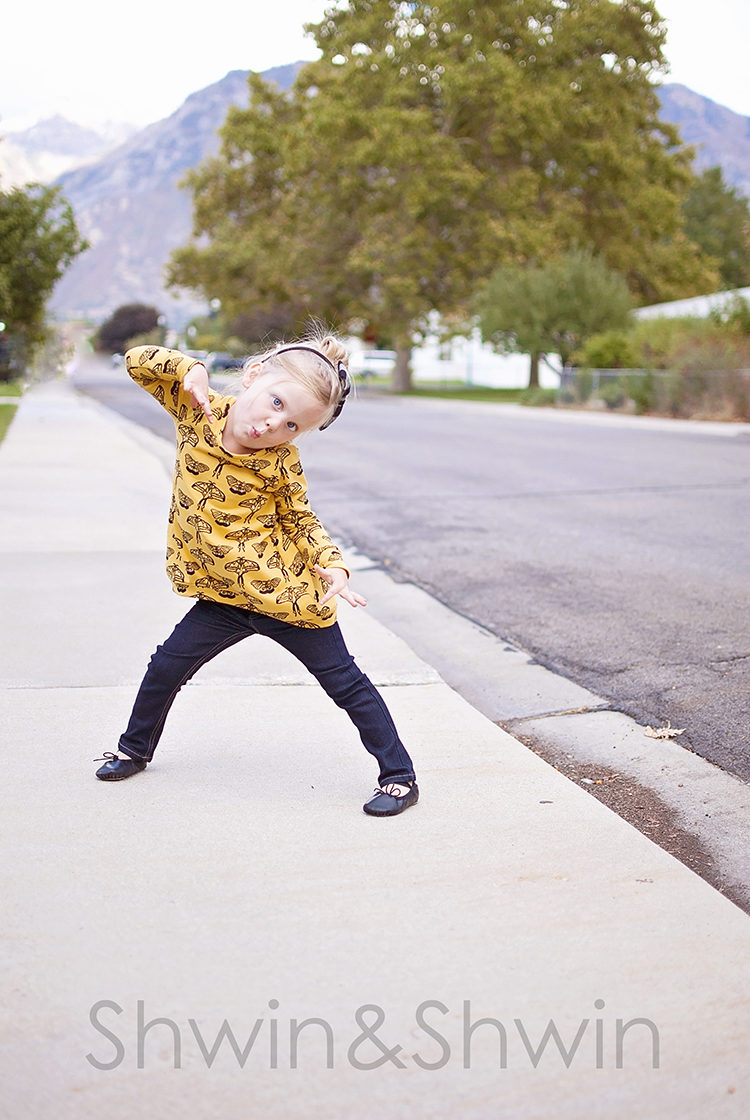 Jeans from Target
Shoes from Amazon