Jude wears basically the same thing everyday all summer long, gym shorts and a tee shirt. Getting him to wear something else is often a challenge. So I decided to just go with it and make a pattern for some basic gym style shorts so I could make him up a few pairs. (and it was nice to have some not out of the shiny cheap knit gym shorts are always made from) I whipped him up 3 new pairs in about 2 hours and he has already requested more. So I have a free pattern for the basic shorts in a boys size 10 (they are nice an roomy as a gym short is) The first pair I made from a heavy french terry, (shown above) they may be his favorite pair of them all because they are super soft and almost plush, plus the neutral color goes with basically anything.
For the shorts you will need:
3/4 Yard knit or woven fabric
23″ of 1″ non roll elastic
For instructions watch this video:
Now make as many pairs as you like.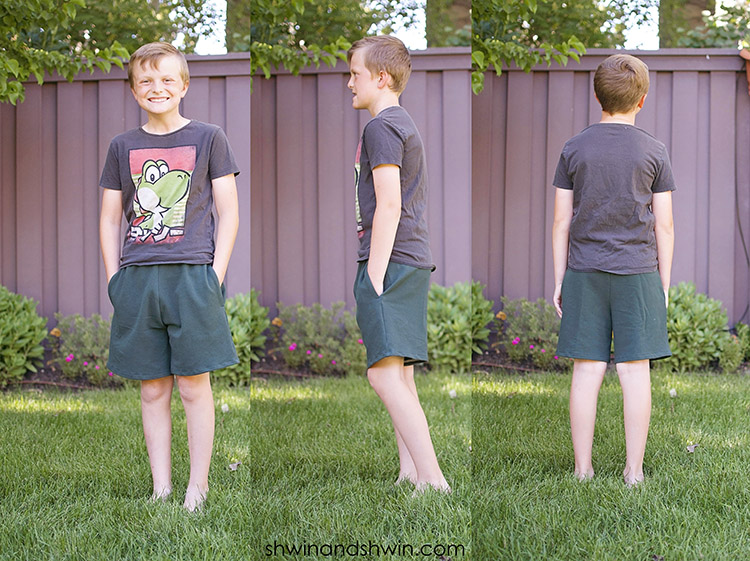 For the second pair I made them from a thinner but somewhat stiffer french terry. They aren't my favorite since they just don't drape as nicely but he still likes them because they are green and he wants me to add a green bay logo on them.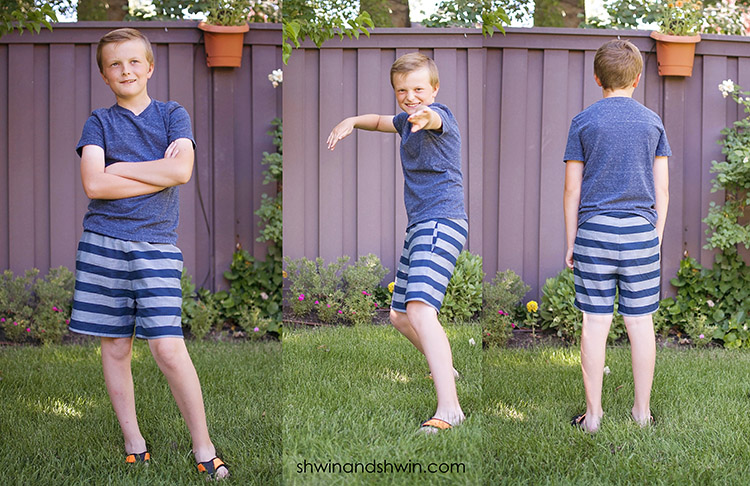 The third pair is my favorite since they are striped but they are made from a light weight cotton shirting that has incredibly soft drape and smooth hand. They almost feel like boxers they are such a soft cotton. I like that they look a little dressier than gym shorts but they are still so soft and comfortable he will wear them.