This post brought to you by Dollar General. All opinions are 100% mine.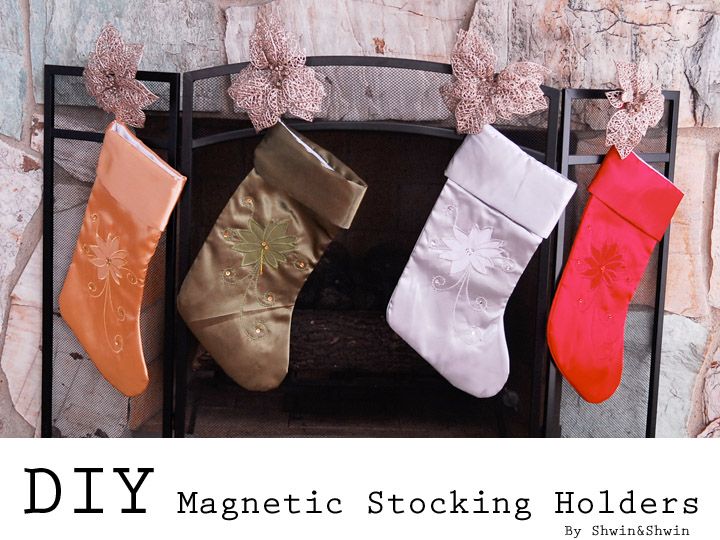 I love decorating for Christmas! Hanging up all the decor, decorating the tree, and having that holiday aroma from the scented pinecones. It's heavenly. However I have always had one problem. I love our fireplace, but we don't have a mantel… so sad. Mantles serve one purpose for me, hanging stockings. We have actually never had a mantel since we have been married, we are moving in the right direction now that we at least have a fireplace, but I needed a solution for hanging my stockings. So I was excited to team up with Dollar General Holiday décor they challenged me to decorate for the holidays using their Holiday Decor section. I knew I first wanted to solve my problem so like any good DIY-er, I was hunting for a solution.
I found these great ornaments that had clips on the back, and I knew they would be perfect. I also got some magnets. Then I went to work. I used hot glue and glued the magnets to the back. I stacked a few so they ornament wouldn't be right up against the metal screen. Then since our Fireplace screen is metal (as most are) the magnets stuck right to the metal. I used the clips to hold the stockings. No damage, just remove the magnets when Christmas is over. 
And now I have a happy fireplace with the stockings all hung just where they should be, even without a mantel. 
I also had the pleasure of shopping for some general decoration, which is good since our dining room shelves needed a little help in the holiday department. I picked up some garlands, decorations, and plotted flowers to get the job done. I added the garland for some nice greenery and stuck the decorations in it. Then I simply added the potted plants and the shelf was all decked for the holidays. 
I loved shopping at the Dollar General since I knew I was getting a good deal, and they had a great selection, from ornaments, to wrapping, to trees, and garlands. They had everything you could need for your holiday decor. 
Check out The Dollar General on Facebook for more great ideas!
And good news! The Dollar General has given me a $20 gift card giveaway to one lucky winner!
Entering the giveaway is easy simply leave a comment about what holiday memories the Dollar General can help you create. 
That's it one comment, one entry. 
The giveaway will be quick to be sure and get you the gift card before the Holidays. 
(U.S. only sorry to all of our international fans) 
Giveaway ends December 13th (11:59 MST)
Winner will be emailed so please be sure to leave your email address if it is not linked to your name winner will have 24 hours to respond, or a new winner will be selected. 
Good Luck!