A dear friend of mine just had a baby, and since I love making things for babies I knew I would make something for her. They weren't finding out what they were having (which is my favorite) So at first I was thinking of making them something gender neutral and giving it to them before the birth, but I decided to wait since they already had 2 boys if they had a girl I wanted to make sure it was something special and girly. They ended up having a boy! And it's summer and it's hot, and I love giving parents practical gifts (like onesies and pants tutorial coming on those as well) but also I love giving them ridiculous things like new born sandals.
Let's face it, newborn sandals are ridiculously cute, and totally impractical which makes them the best gift to give because they likely wouldn't buy them, but who can resist them?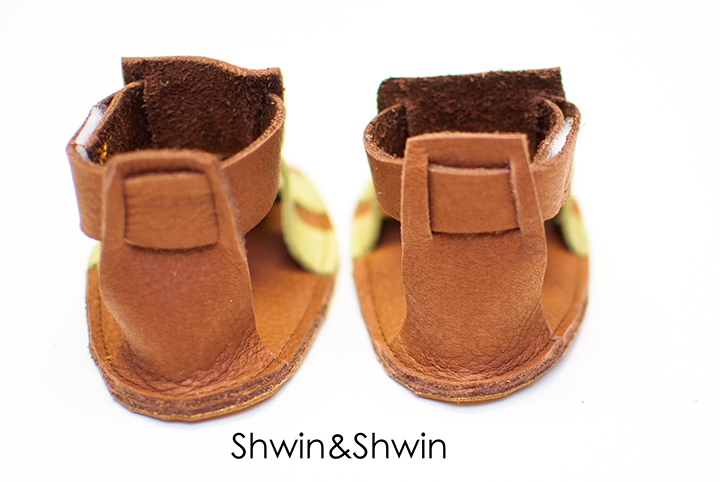 Also these sandal are not only adorable but they may be the easiest and fastest shoe I have ever made, ever. They are SO so SO easy to make. Great for a beginner, beginner sewer, or beginner with leather. Seriously easy, and hard to goof up.
You will need:
Free leather sandals pattern (size 0-3m but after seeing how it all goes together you could easily make it larger to fit any size you need)
Scraps of leather (not super thin but not stiff)
Scraps of velcro for straps
Leather sewing needle
Durable sewing thread
Teflon sewing foot (highly recommended)
Exacto knife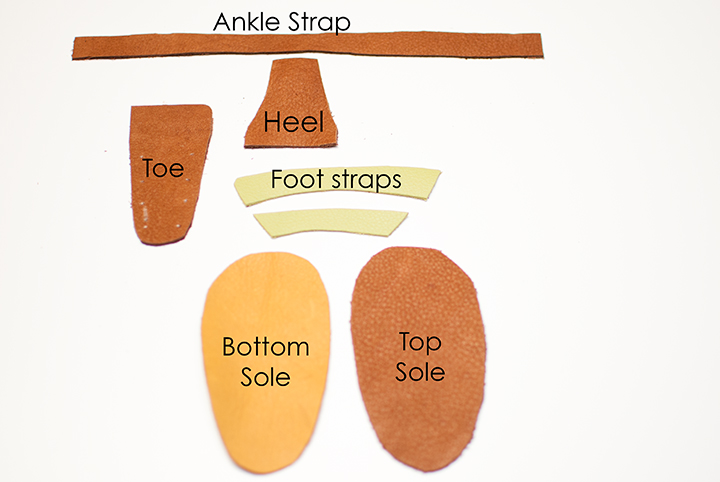 Cut out all of your pieces. I used some contrasting leather, mainly so I could use up scraps but also to add some contrast. Mark the dots and lines over to your pieces using a pencil or chalk.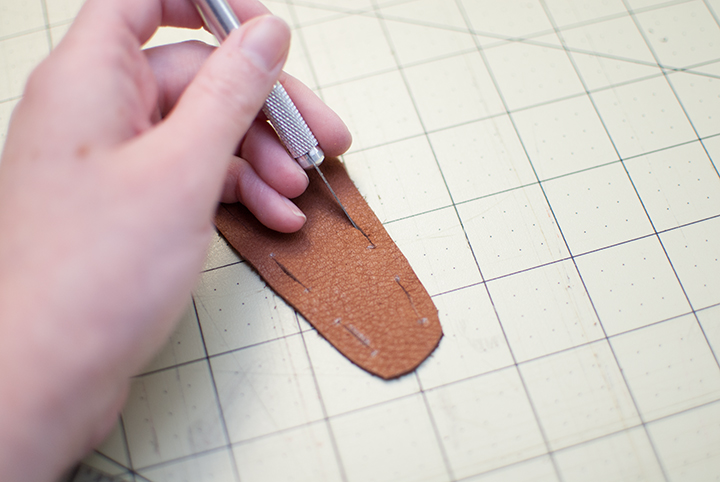 Then using an exacto knife (or blade) cut slits following all the line markings for the toe and heel pieces.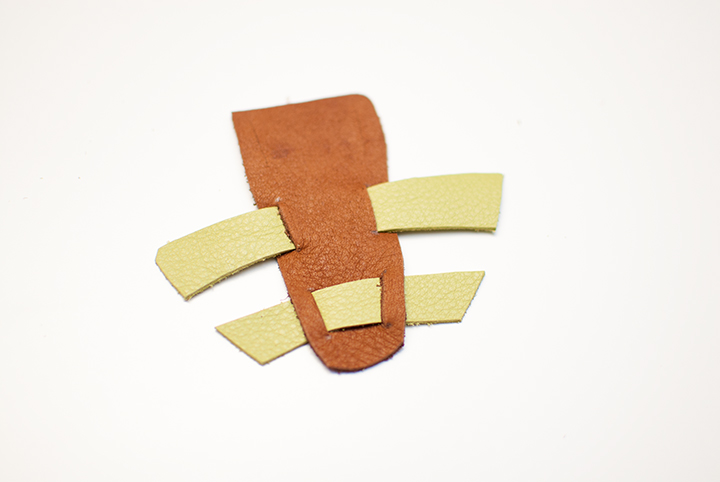 For the toe piece, weave the foot straps into the slits. You can weave them both in the same or have them go the opposite way like shown above, it's up to you.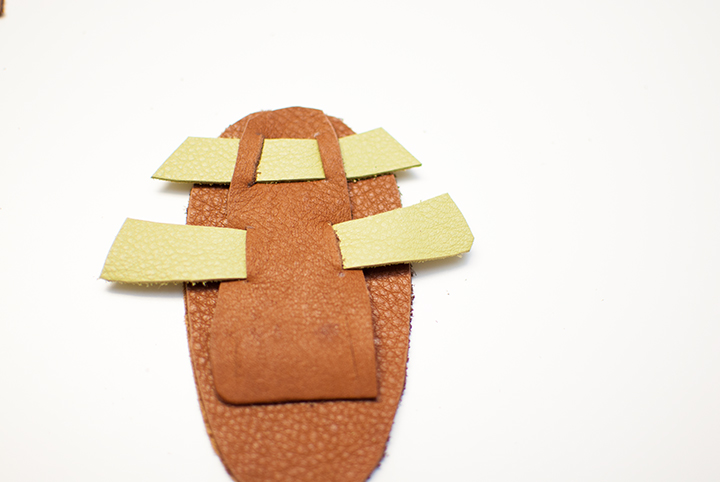 Then stack two sole pieces wrong sides together. Place the toe piece along the center front of the sole, follow the dot markings on the sole pattern piece to place the toe, straps, and heel along the sole.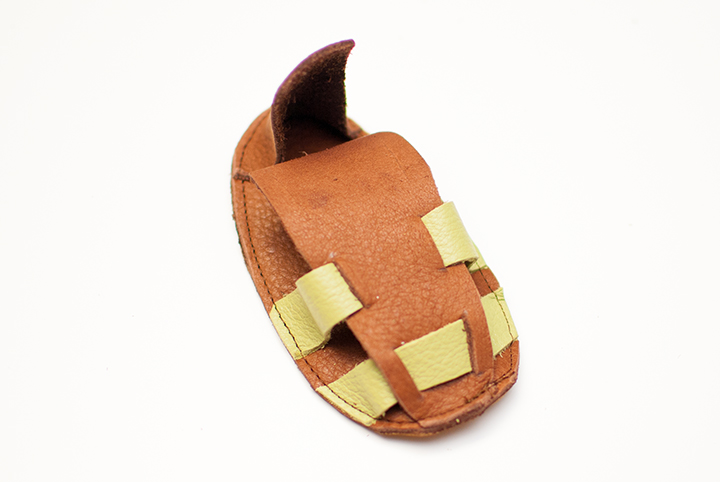 Then sew all along the edge to secure the toe, straps, and heel in place to the sole pieces.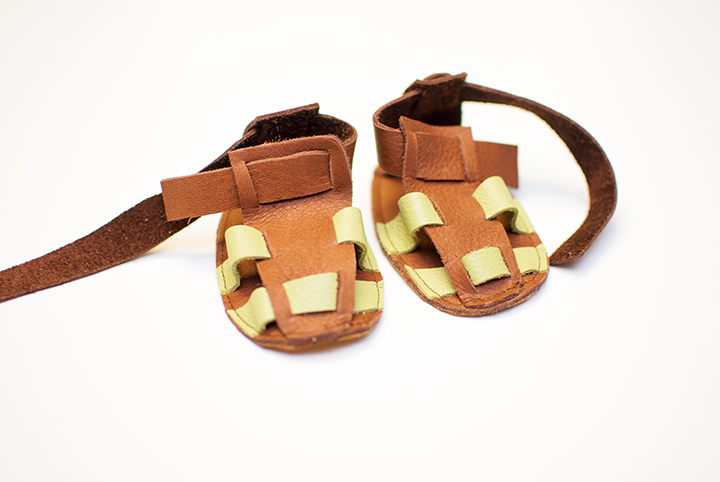 Then weave the ankle straps into the top of the toe piece and the heel piece. Have the ends be on the opposite sides for both sandals so you end up with a left and a right.
Then measure the childs ankle, and wrap the strap around so the back just tucks into the front loop. (if you can't measure a child an infant ankle is typically right around 5″)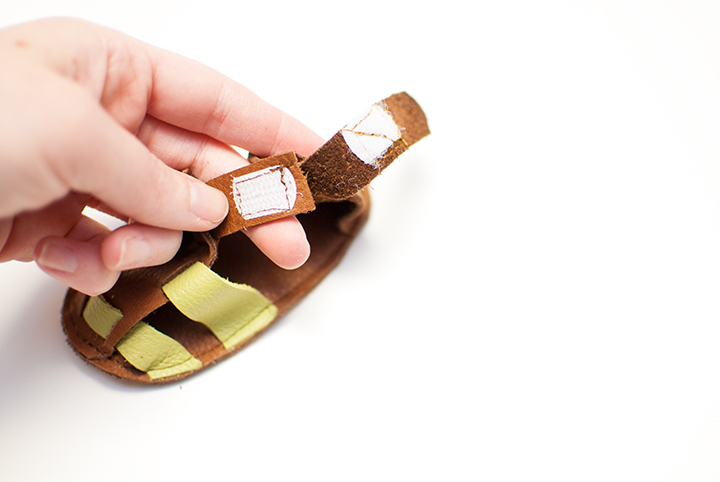 Then add velcro to the strap, even though the front tucks into the loop that is more for looks (and optional) than it is strong enough to hold the strap in place so velcro will help hold the sandal on.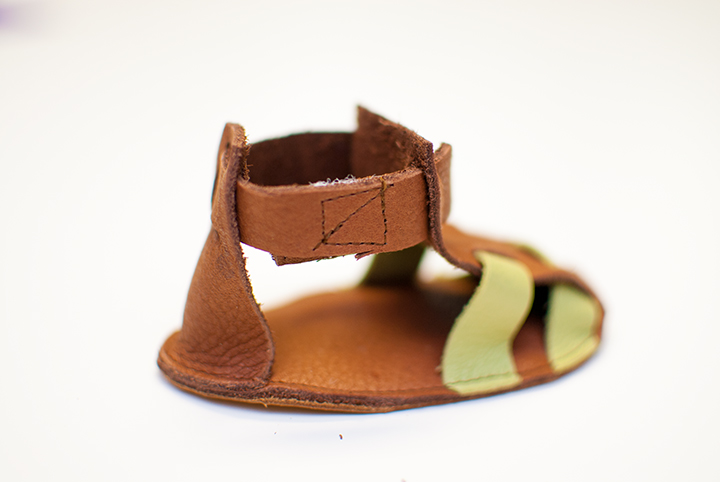 Then wrap the strap and tuck the front.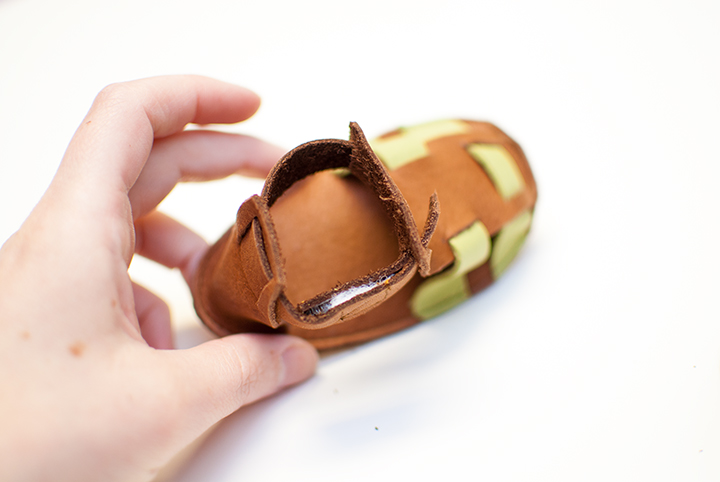 Now the shoes are done. I told you, so so easy.
And so so cute. These are perfect for any non or light walker. For a heavy/full time walker (think toddler on up) you may want to find a thicker sturdy leather for the bottom sole piece, and then you may have to use a stitching awl to sew it.