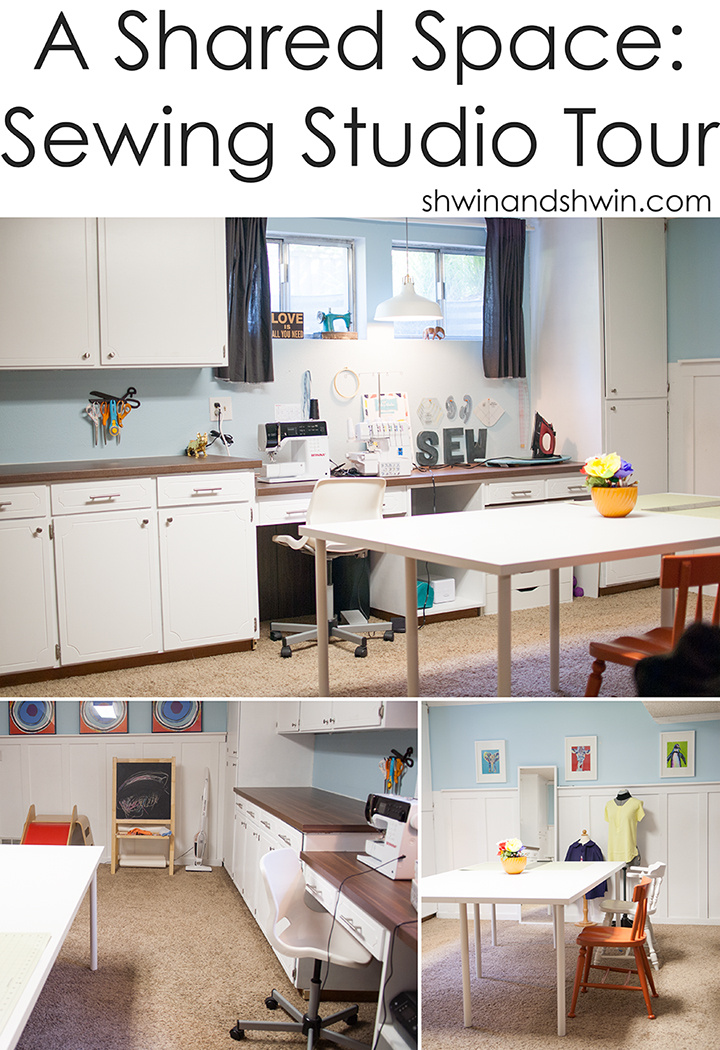 4 years ago we were leaving our tiny little townhouse where I used to sew on the kitchen table and store everything in the coat closet, (seriously there was NO other space) When we were searching for a house we had a lot on our list but I had really only one must on my list. I needed a place to sew. When we walked through this well loved, tired, dated 70's home that was in some serious need of some TLC, I walked downstairs and the basement had the most amazing workspace! It was huge and open and had wall to wall cabinets and desk space. So I knew this house had to be ours.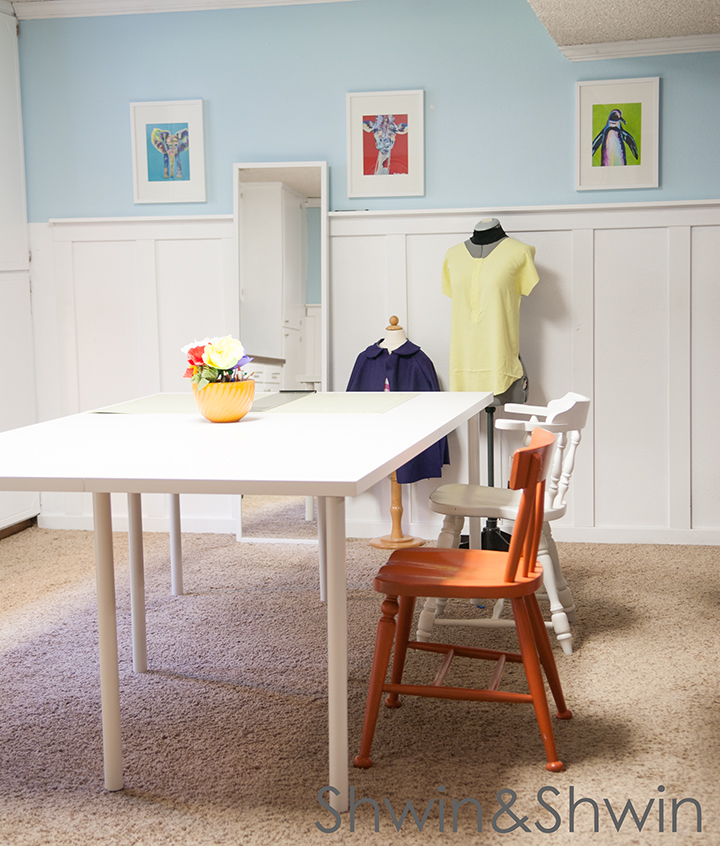 It took 4 years of making over most every room in the house and just kind of leaving the sewing space as it was, with only a few minor updates along the way. I wanted to really think through and plan out what I wanted to do with this space, because it's a huge space, (15'X24′ for the back area) the only issue is it's wide open to the downstairs living space as well.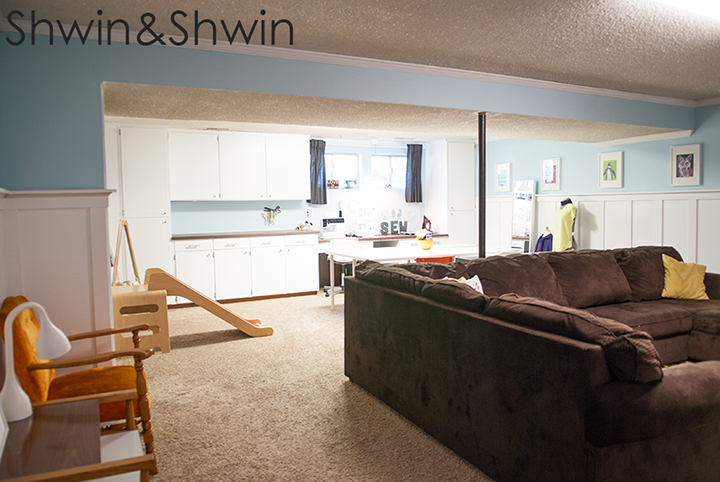 So the space can't be closed off, kids can't be kept out, and if guests come downstairs then they enter the studio. So I knew I needed the space to not JUST be my space. It needed to function as a work space for me but stay family friendly as a place my kids feel welcome, and organized enough that it can stay neat for when people come over. (or just generally for my husband because he likes things clean)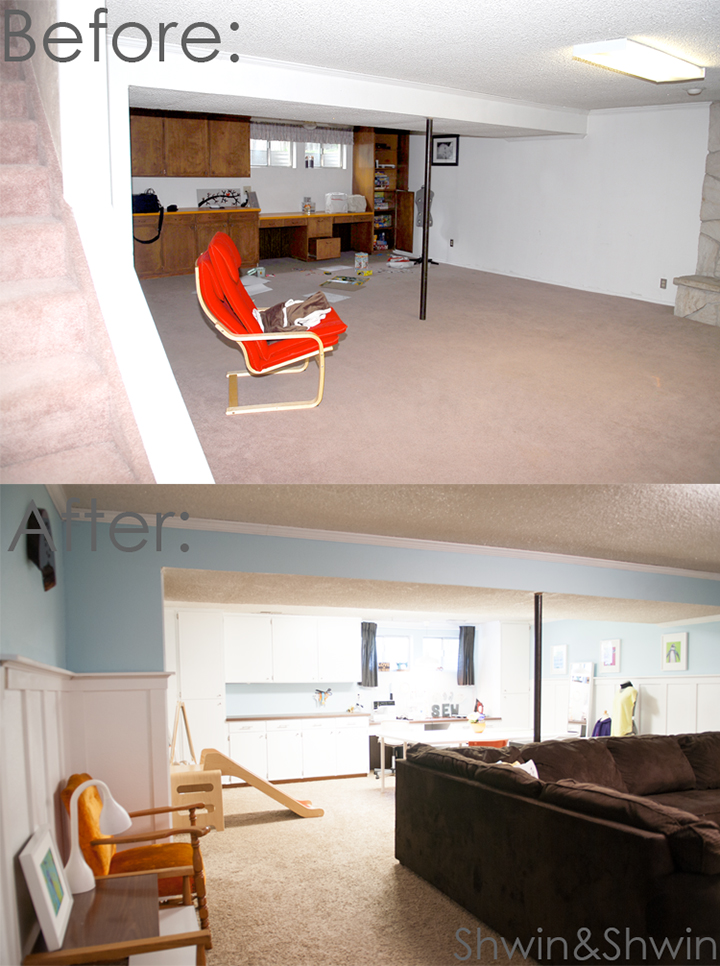 So here is the basement as it was when we first moved in. Wide open space with a support pole (that I still hate) Orange counter that was chipped and stained, complemented by the orangey wood cabinets. Plain white and dingy walls, pink carpet and that dark basement feel.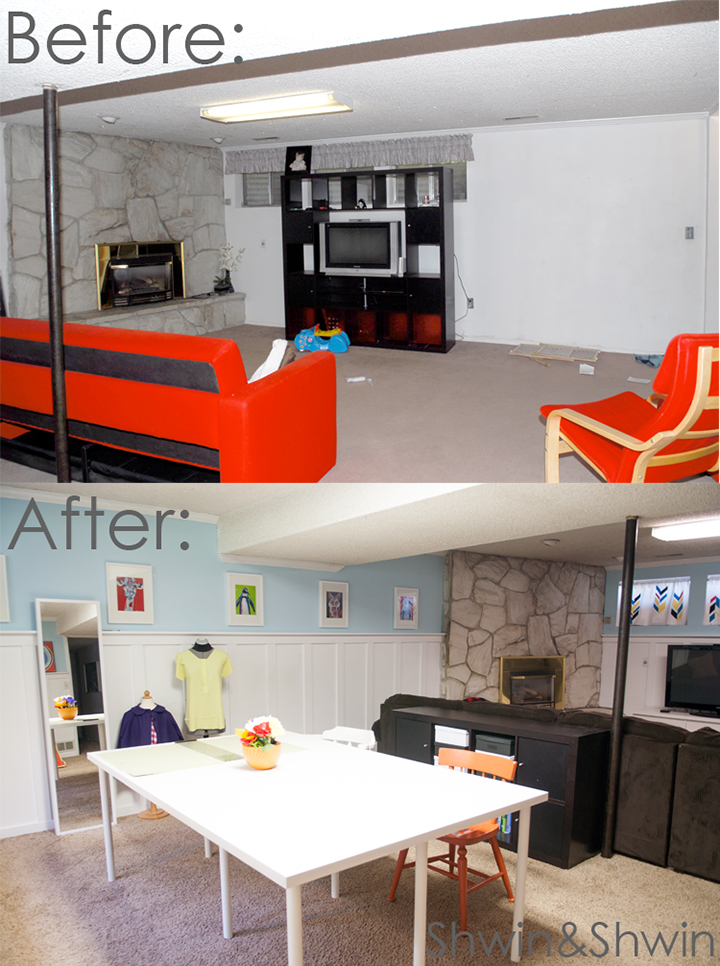 Here is the opposite view and our TV family room/ hangout space.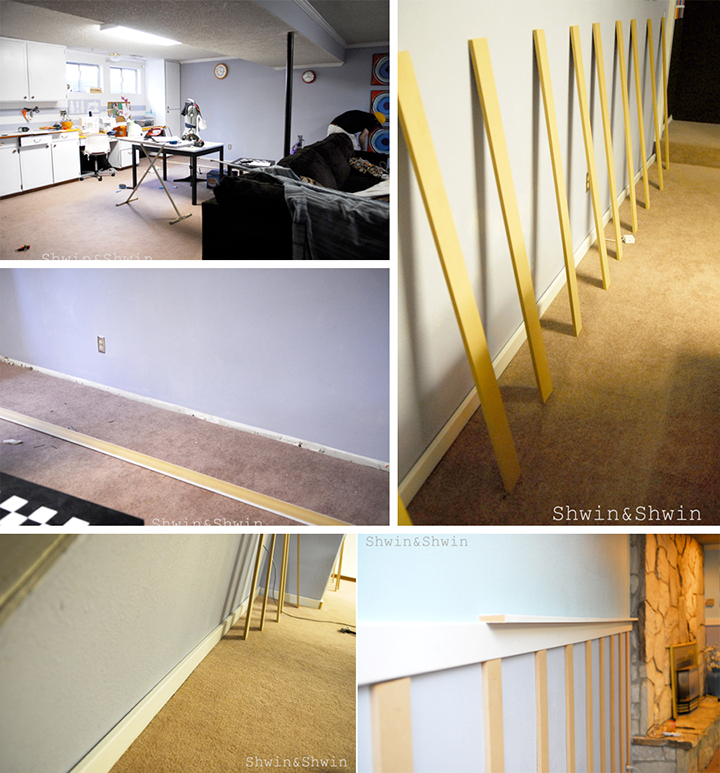 So the first thing we did was we tried to breath new life in the walls with some paint, a color that was supposed to be a neutral and soft gray and instead was… well dark and purple. So we hated it, but that's fine because our long term goal anyway was to put up this board and batten. To do that we used MDF boards. We replaced the old short baseboards with new MDF trim. Then we used 3.25″ wide MDF planks and spaced them with 12″ between each one. We topped it with another MDF trim, and also used MDF Trim to top it as a small ledge. We also put some quarter round right under the ledge. Then filled all the gaps, sanded everything over and over, then primed and painted it all white. We made the whole board and batten come to 4′ in height.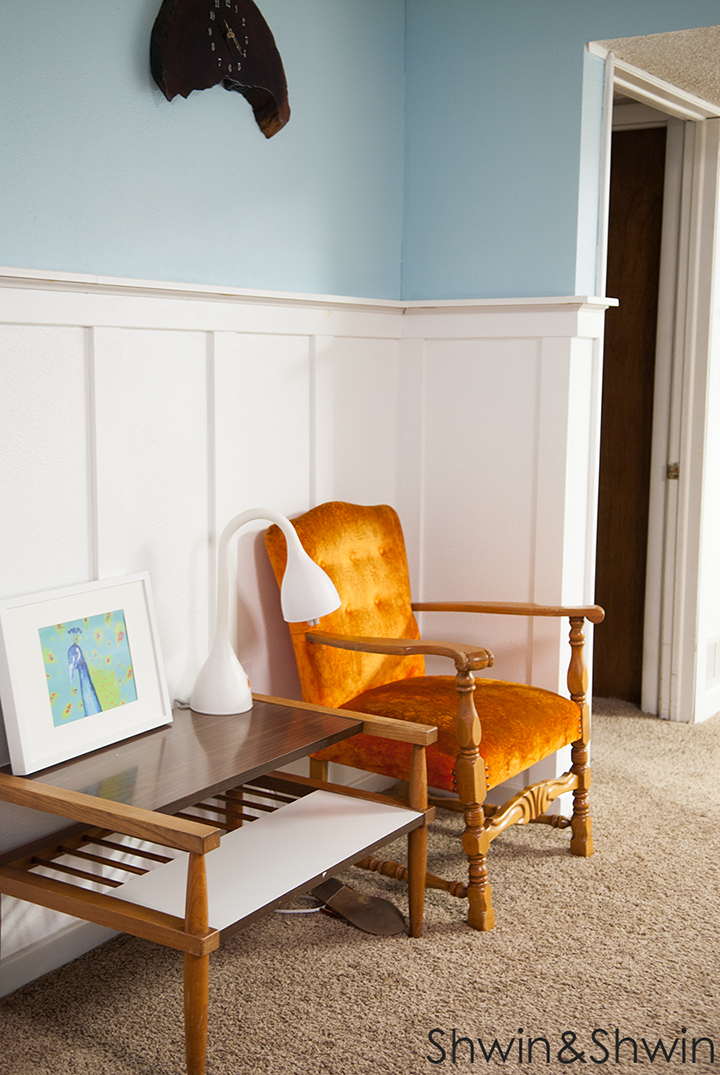 At a little nook area right by the stairs we made a little sitting area with a chair that has yet to be refinished (although I don't hate the orange crush) We scored the table and chair at a yard sale for 10 bucks.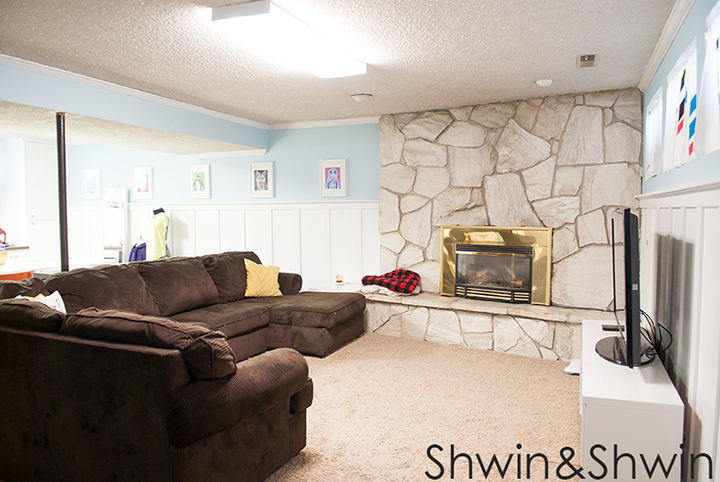 The living area has a large sectional that helps to divide the living space and the studio space.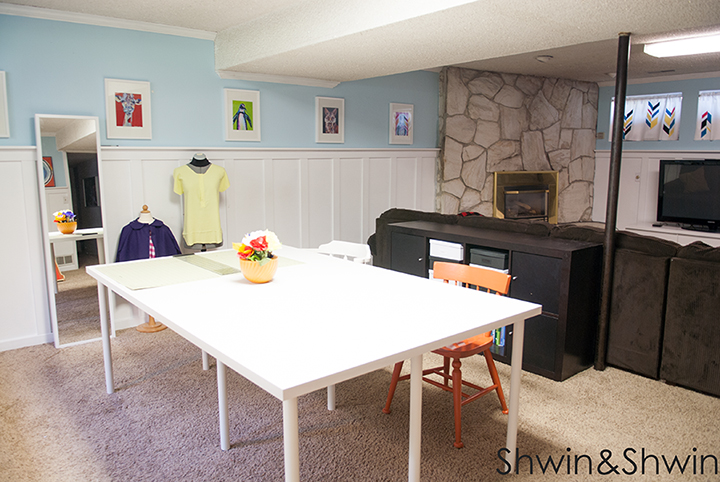 For the studio half of the room, we put in a large table which is two tables. (the Limmon table from ikea) We put 1 leg on each corner and then used 2 as support legs that also join the two tables together. I use one end with my cutting mat and then often use the whole table to tape together patterns and cut them out. It is large enough that the kids can still sit and create with me. Two chairs sit along the one side for them. Along the backside of the couch and behind the chairs is a shelving unit (the Kallax from Ikea with 4 doors) The shelving unit holds color books, crayons, all of the kids craft supplies like stickers, beads, glue, scissors, anything they can use whenever they want.
At the end of the table is the mirror which is great for when I am sewing for myself and need to check fit, since before I used to have to run down the hall to check. As well as the dress forms (with some sneak peeks of upcoming designs)
The majority of the area is cupboards and counter. It spans the whole 24 foot wall, and yet it took a long time of organizing and reorganizing before I finally found a way to make all the space work best for me. I organize my fabric by type, so I have cupboards with all my knits, one for apparel fabric, quilting fabric. Then I have two devoted to scraps since I save anything larger than my hand. One for knits and one for woven. In the huge deep cupboards on the size I store all the other things like spare machines, stuff like that and all my buttons (which are sorted by color and in containers) Then in the drawers I have fabric paints and markers, ribbons and trims, thread, and all the small sewing parts.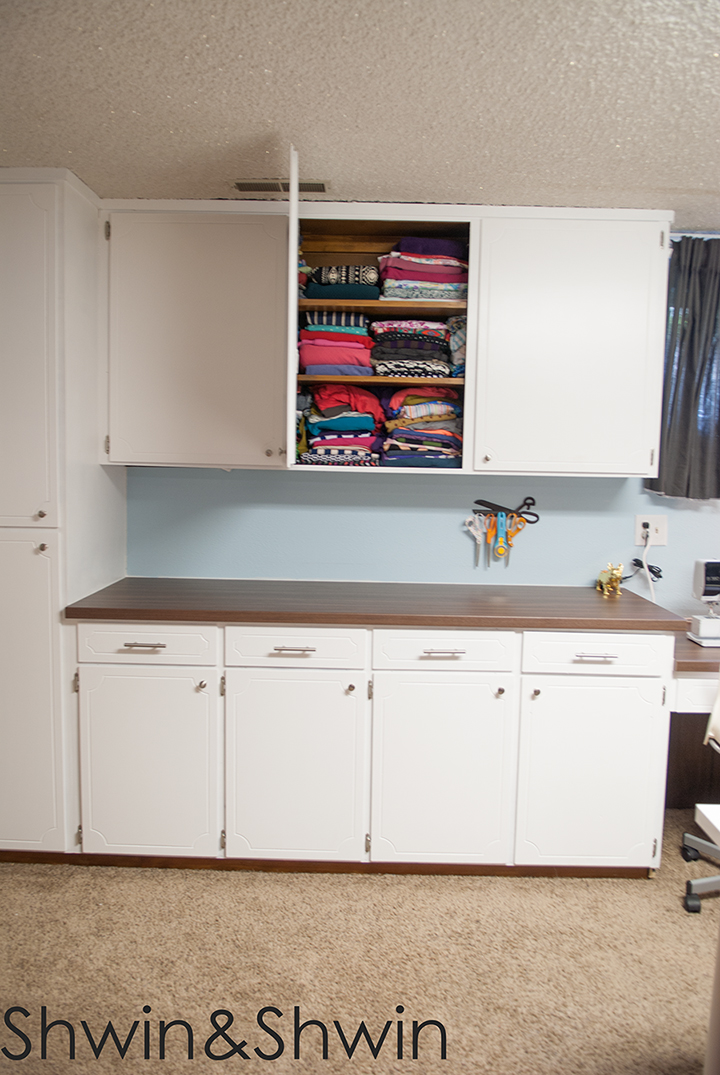 Since a picture with all the doors open looked like something from a ghost movie, I decided to just show you inside one so you can see how it's sorted. Nothing fancy just folded and stacked. I have divided most by type of knit so it's easy if I am looking for a particular type of knit. (oh and some space in the upper left corner so I guess I should buy some more 🙂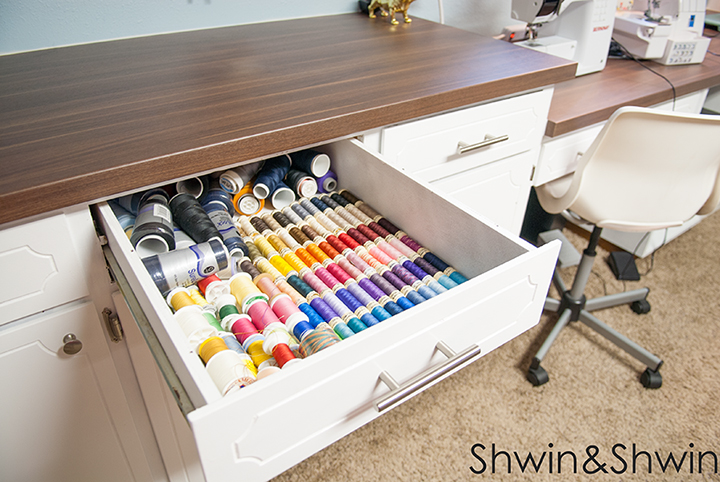 Same deal with the drawers, so here is a peek in one. Some have dividing organizers to keep things straight, but the thread just stacks on top of each other.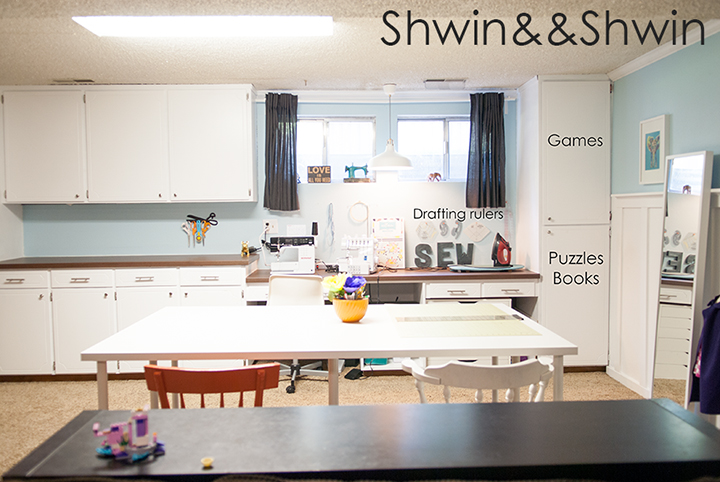 On the other side, the tall deep cupboards hold all of our board games, and puzzles and some of the kids books. The drawers under the machines hold all the little things you use while sewing, and all the manuals for my machines. Then even though it's hard to see since the table is in the way, I removed the two big drawers and made them cubbies, one holds my printer and the other holds the silhouette and bias tape maker. Then where there would be another desk space I put a drawer cabinet under (the Alex from Ikea) there I store all the printed patterns. I sort them by patterns I am currently working on, and then patterns for me, for girls, and for Jude. I trace my patterns so I store printed pattern sheets so I can re-trace whenever needed. In the drawers above that I keep printer paper and spare ink. (you can never have enough of either)
The counter top was also replaced. We used the SALJAN from Ikea. It was really easy to put them in and it looks so much better than the orange.
We also replace the light using the RANARP from Ikea.
Some ending notes:
No it is not always clean, in fact I feel pretty good if the table can be cleared off at the end of the week, but it cleans up fast when I am expecting company, if you just drop by it will likely be messy.
Yes I do actually share my space with my kids, no they don't mess with my stuff, the worst they have ever done is unfolding all my fat quarters so they can lay them out and play lava (don't touch the ground)
My photo studio is also set up in the basement I store it all in a closet in the hallway and only pull it out when I need it.
The basement is almost done, we are still working in phases around the house so the basement phase 2 is complete. Phase three will be the removal of the popcorn ceiling and florescent lighting.
So there you have it, that's a tour of the space I spend a majority of my time, and a little rundown of how we all make the shared space work.