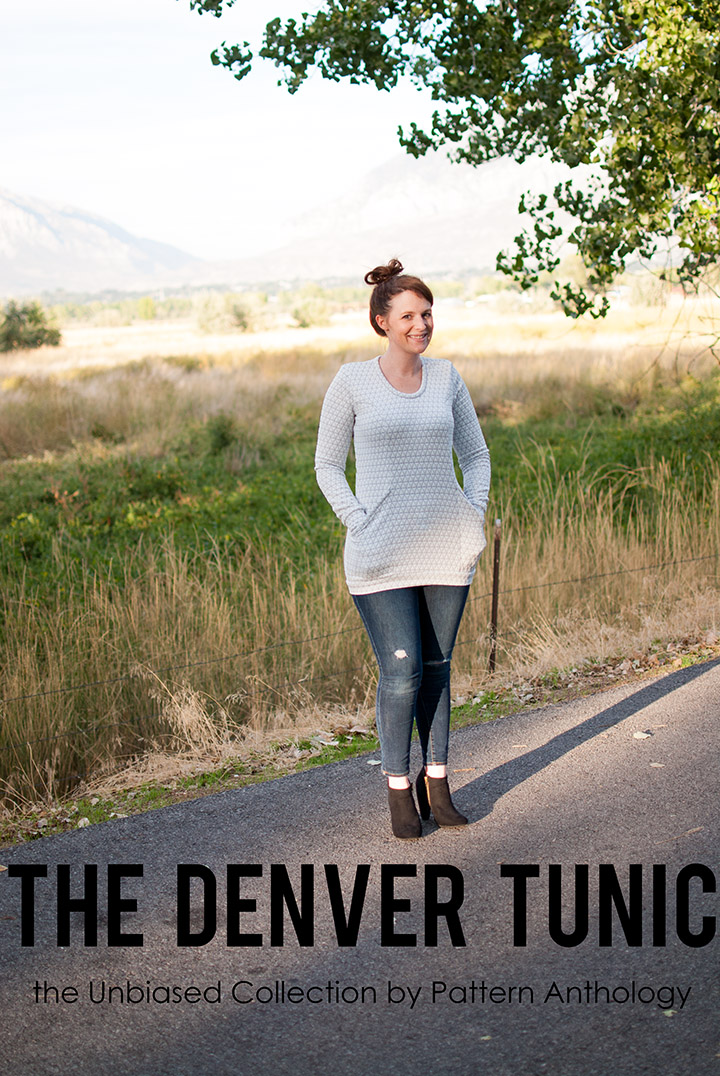 Today is all about the Denver Tunic from the Unbiased Collection by Pattern Anthology. Also if you haven't grabbed the collection yet, hurry and grab your copy the sale ends on October 2nd, and unlike in the past the patterns won't be released immediately following the sale, but the price of the collection will go up and the bonus coupons will go away so don't wait 🙂
Now on to the tunic, being that my hips are slightly wider than my bust and chest, (and in general wider than I wish they were but I love my kids just the same) I was worried about this pattern not looking super great on me, but I loved the look of it so much I figured even if it ended up as a classy around the house sweatshirt it would still be great. I knew right away I wanted to make it in a quilted knit.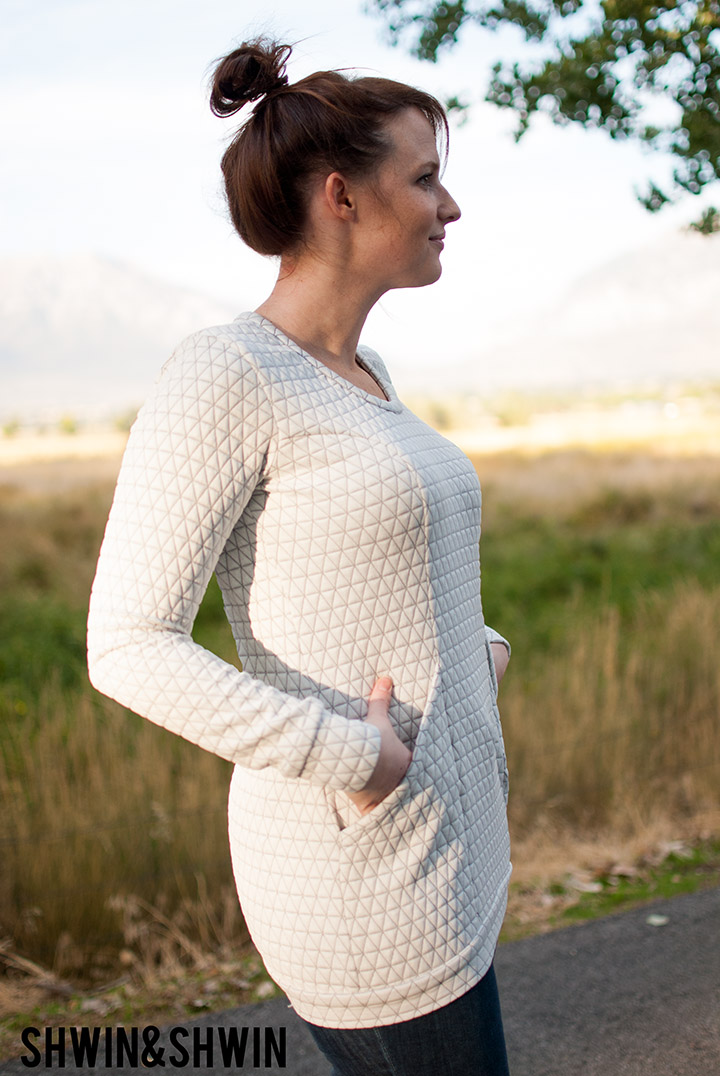 I LOVE the way it turned out, the quilted knit is soft and plush and gives it a little interest since I decided to do the whole top in the same fabric instead of doing a contrast. I made the fitted tunic and I love the length and fit, with one exception, my jeans button pokes through since it's a slim fitting pattern. I thought the thickness of the fabric was masking it ok because I HATE when that shows, like I really want the appearance of a belly button sticking out 🙂 When I was going through the photos thats when I noticed it's pretty obvious. So I will wear it with Jeggings in the future so I don't have that button problem.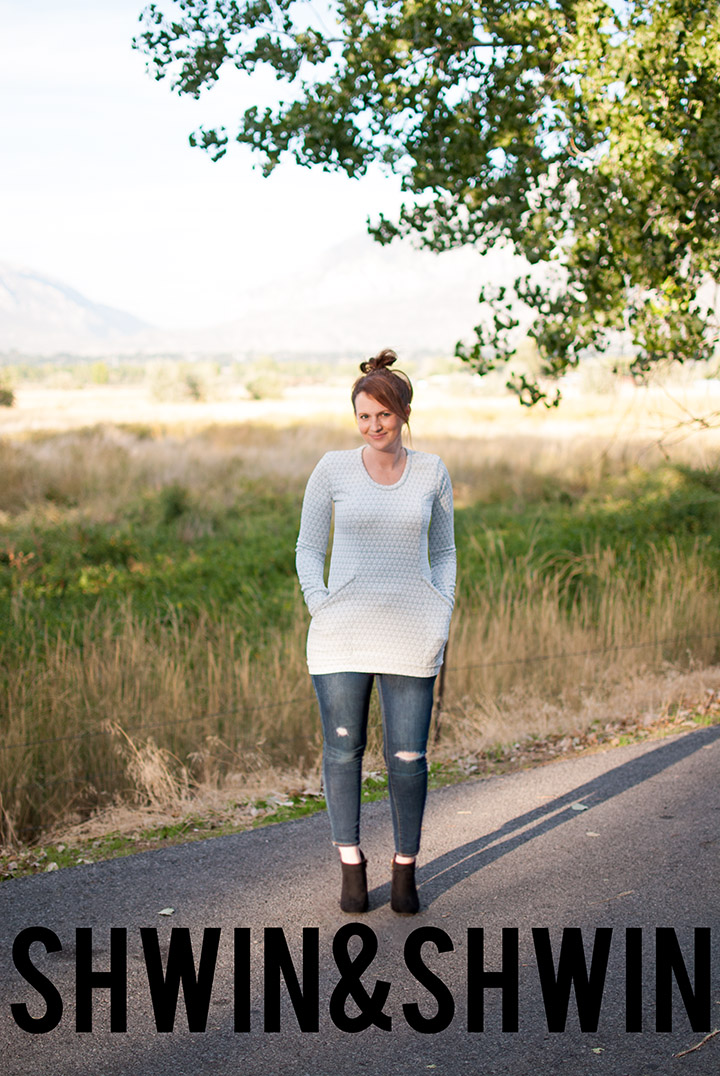 Other wise it's a super comfy and fancy sweatshirt which I love. I was also worried that the pockets would add weight where I wouldn't want it, but decided to give it a go and I am glad I did, they are the perfect pockets, they don't add bulk they blend in pretty seamlessly and they are a great for keeping your hands all toasty. Or holding a phone 🙂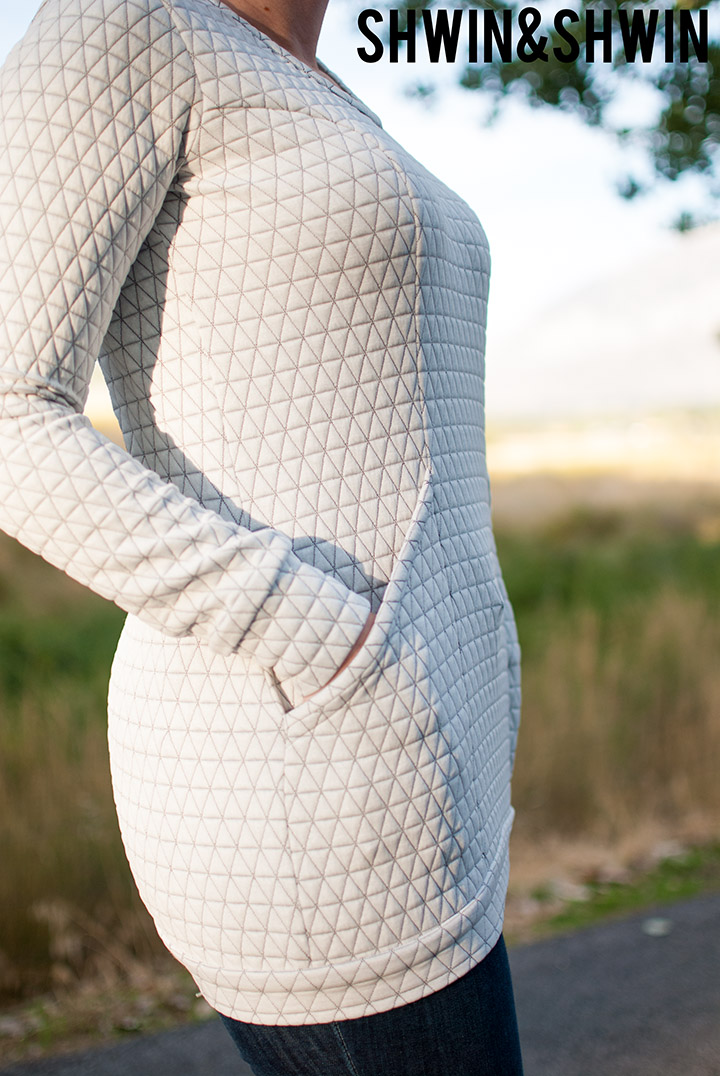 So I went through all this trouble to match up the print along the princess seaming and pocket and was so proud that it turned out so perfectly, then I  was totally off for my back piece and since I didn't have enough fabric to recut I just went with it and lost all the pattern matching points, but still it's awesome and I don't care.
Now how do you get the Denver Pattern? It's exclusively part of the Unbiased Collection. You can get the Denver and 3 other fantastic Patterns for 40% off for a limited time! The sale ends Friday October 2nd so you want to hurry in and grab the collection.  
Buy it now and you also get over $250 dollars in bonuses! That's over a $300 dollar value for only $29.95! It's an incredible deal but once it's gone it's gone so act fast!