It's no secret I LOVE to color block. I even did a post on how to color block any pattern.
I love how you can easily mix up any pattern by cutting up and adding a new seam line. Some seams can be a little trickier. Like, curved seams or a curved seam with an added gather. It's not hard to do it just takes a few extra steps (not just cutting apart and sewing together)
For this particular hack I wanted to make the perfect spring jacket, something that will keep you warm and cool at the same time. I used the Imagine Jacket as the base, for a women's version you could do the same hack for the McCartney Jacket.
For this hack I also color blocked the sleeves with the same sheer I used for the back, simply by cutting across the sleeve to create the stripes. I also made the cuffs longer because I love the look of the long cuffs. I also changed the collar a bit by curving the collar down to the neckline.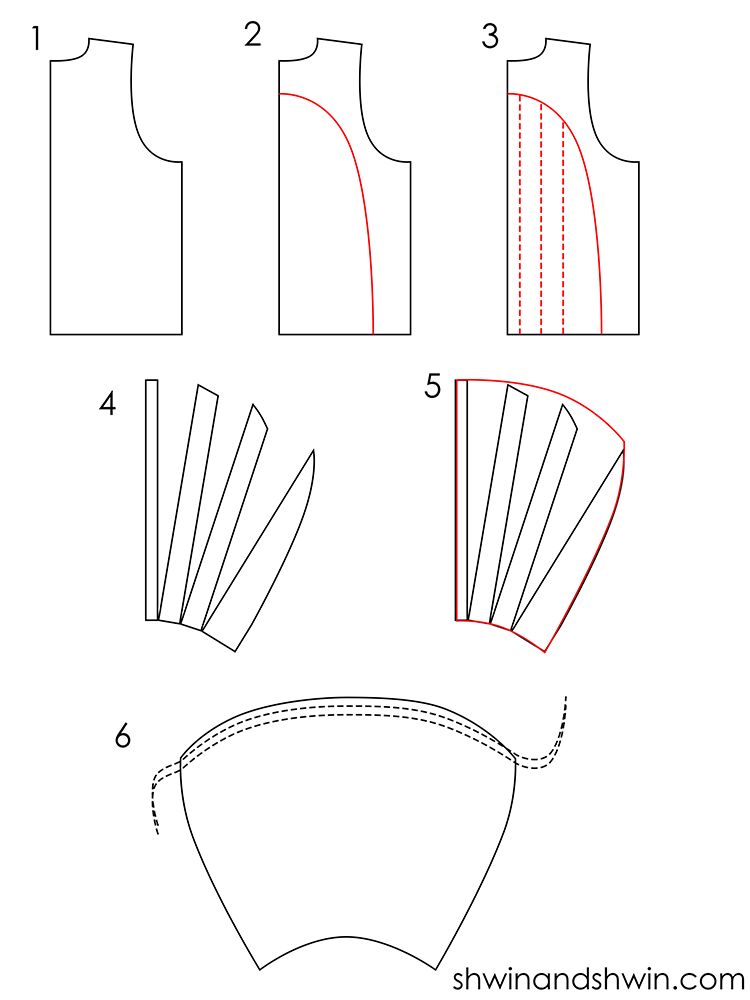 Here is how you can create a gathered color block to any pattern really.
Start with a pattern. Here I have a back bodice that is cut on the fold.
Add the new seam line you want to add. In this case I have added a curved cut out. You will add seam allowance to both sides of the new seam line.
We will slash and spread the cut out section to add space for the gather. To do this start by drawing straight lines. I space these by 2″ but you can space them more or less as you desire.
Now to slash and spread. I didn't want to add width to the bottom of the piece or it would have changed the waistline of the jacket, so I cut along the lines drawn and then spread them so the bottom points stayed connected and make sure the top is spread the same distance. I added 2″ between each one. When doing this make sure if you have a fold edge like I did that it stays straight on the grain.
Retrace your new piece by connecting along the spread to make a new smooth piece.
Cut the piece out on the fold. Then sew basting stitches along the top starting where you started to spread.
Finish by sewing the new piece right sides together with the rest of the bodice pulling the basting stitches to gather so it fits. You will notice it all fits in place now with the top portion gathered and the waistline the same size as the original pattern.
Then you can finish the pattern as you otherwise would.
I love her new jacket. So perfect for our spring days when you just need a little something light to throw on. The sheer allows a light breeze through but the cotton knit adds a little warmth.