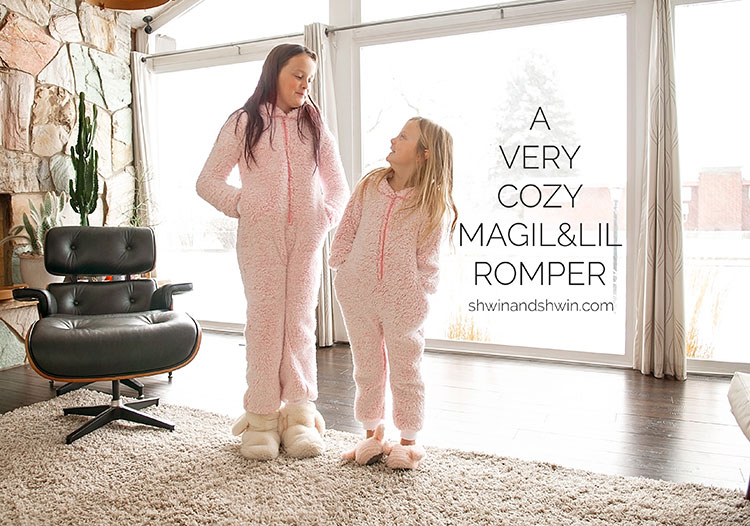 As soon as I made the hooded Magil&Lil Romper I knew I HAD to make one using sherpa. I found this perfect cozy and stretchy sherpa at Joann Fabrics. It was kismet, the girls were in LOVE with how soft the sherpa was and it was perfect for some ultra cozy rompers.
I made these rompers the same way as I did this one. However I did learn a few things when working with the sherpa that I thought I would share. 1, my youngest daughter is wearing the exact same size here as she is in the other post, and they were made about 2 weeks apart, but as you can tell the sherpa romper fits a little smaller. Not unwearable by any means but due to how thick and fluffy the sherpa is, and the fact that it has minimal stretch it just fits more snug (and short) all around. Needless to say I wish I would have sized up but this fits her fine.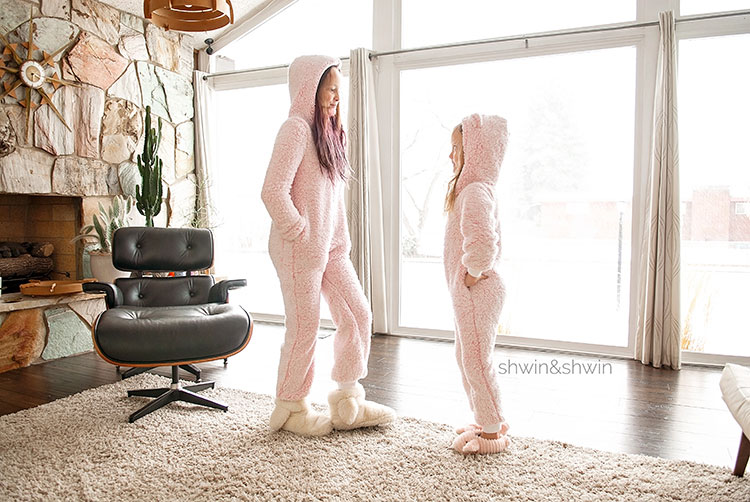 My older daughter is an 8 in width although she is a 12 in height and the pattern taps out at a size 8, so for hers I had to slash the pattern and add length. Since I needed to add so much I slashed in 2 places. I added length in the bodice, and in the legs. I simply measured her trunk length (shoulder to crotch) and then dropped the pattern to match with some extra wiggle room. Then I did the same for her legs. I made them both at the same time so I didn't check the fit in between and hers also fits a little snug due to the thick fabric but nothing too bad.
Last change, since my youngest thought the sherpa reminded her of a teddy bear I added little ears to hers. My oldest wanted nothing to do with the ears. To add the ears I did it the same way I did for this costume.