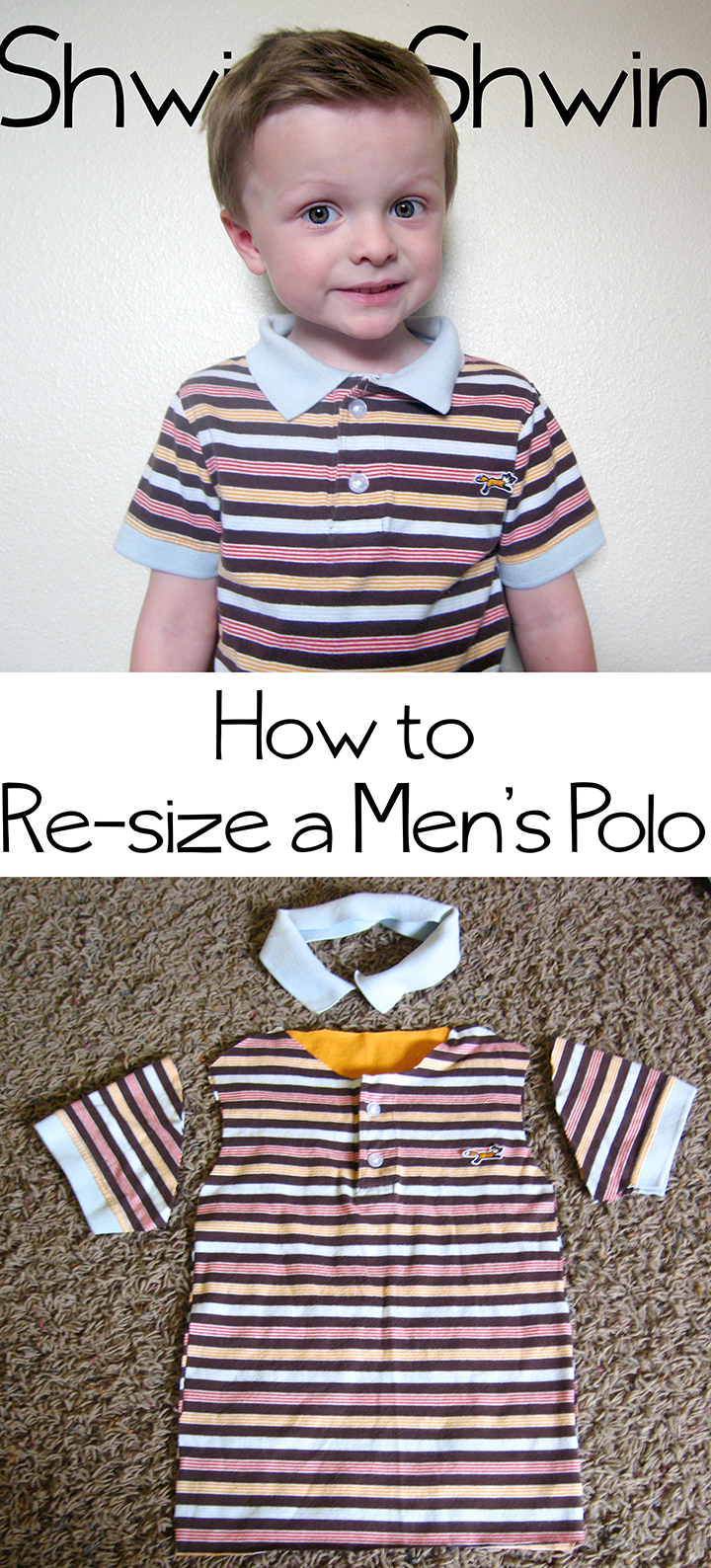 Remember when I posted this
dino polo
? It was made from a old men's polo resized really easily. Sometimes you might need to do a little more sizing down. So today I will show you how to resize a polo shirt and adjust the neck size and collar as needed.This works best with the knit polos with the thick ribbing collar. If it has an actual collar you may need to add more steps to finish off the collar better.  My husband had given up this great vintage polo for the donation pile, and since I loved the stripes, I just had to make it sized down for my little guy. Browse through your local thrift store and you might find some great vintage prints colors and designs that would make a perfect one of a kind polo for your little guy. 
Start by laying your polo out so there is a fold down the center of the back. Then using a shirt that fits well lay it on top of the polo and use the shape to cut out the polo. You will notice I cut the polo out narrower, I wanted a slim fit on the polo and the t-shirt was a little baggy so I just let it hang over the edge slightly. 
Next fold it so the fold is down the front center. Line the back piece up with the fold. The front neckline is lower than the back neckline so keep that in mind when lining it up. For this one I will make the front neckline start just above the second button cutting off the top button. This makes the button down the right length for my little one. Then simply follow the back piece as your guide to cut the rest.
Then you should have a front piece that looks like this. 
You will also want to follow the sleeves of the tee to get smaller sleeves. Lastly carefully cut off the collar piece. 
Then to sew first sew the front and back pieces together at the collar.
Then pin the sleeves in place. and sew them in.
Then line the front and back up right sides together. Sew from the end of the sleeve down the side.
Then pin the collar around the neck. You want to leave a gap where the shirt overlaps to be buttoned. Cut the collar piece to the size you need as you pin it in place. Sew in place. 
Then flip the collar up and top stitch along the bottom of the collar. Then fold the collar down and you are done. Well hem the bottom of the shirt then you are done with the shirt. Quick and easy right? 
A brand new "vintage" polo for the little boy in your life so he can do all the things little boys do.
And perhaps put a call in on a "shell phone"
I hope he is begging for summer to get here we are all ready!
Enjoy!