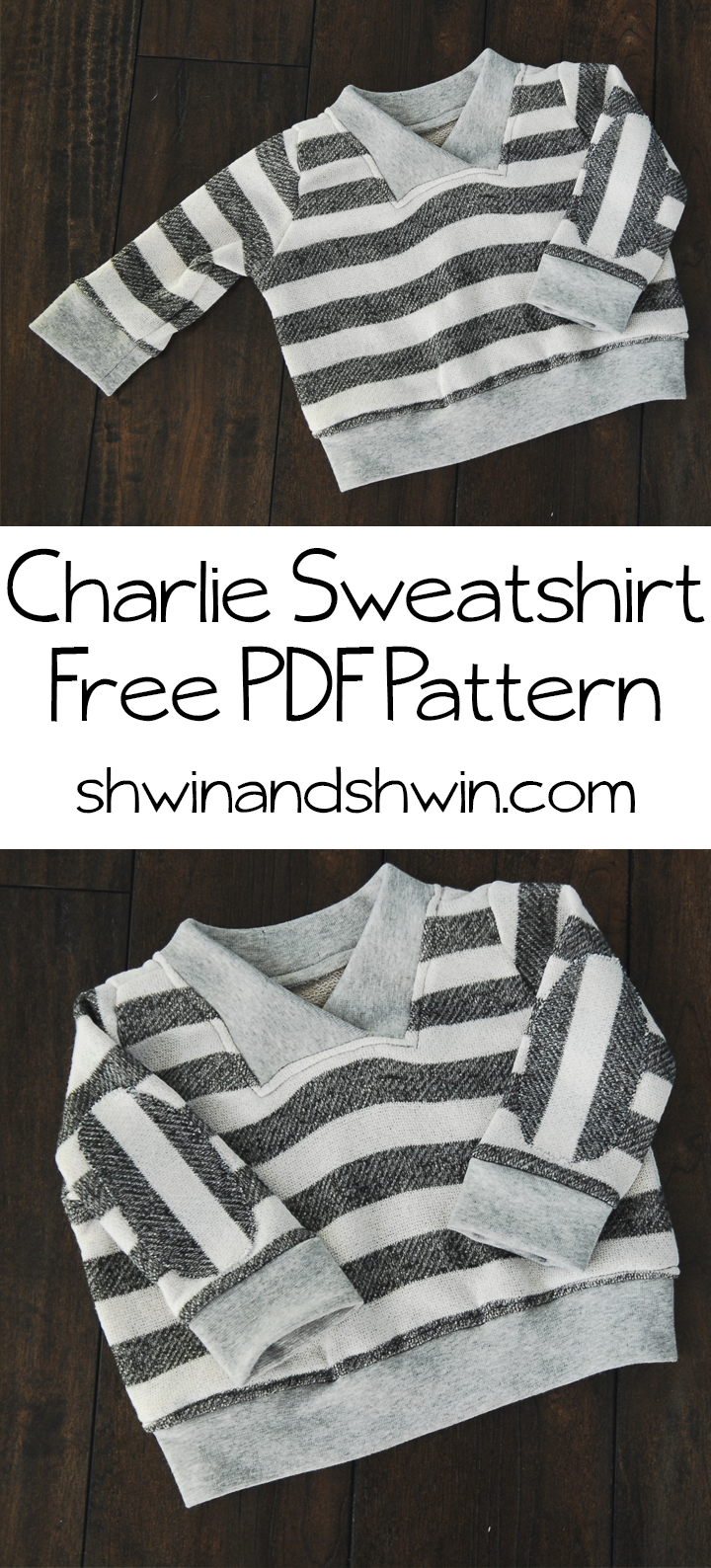 Today's free pattern is a quick, free sweatshirt pattern for a top I made as a baby gift for a dear friend. They live in the midwest which is an icebox (literally) this time of year so a cozy little sweatshirt was perfect.
The pattern is roughly 6-12m it fit their little babe (about 5 months old) and Penny (12 months) although if I were to make one for Penny I would make it a little longer in the bodice and sleeves and then it would have been perfect.
You can get the free pattern here Charlie Sweatshirt PDF Pattern
To start sew the front and back bodice right sides together at the shoulder.
Press the seam open flat.
With the neck ribbing folded in half width wise match up the raw edge with the edge of the neckline so right sides are together. Then sew around the neckline, you will have to stretch the ribbing slightly to fit.
Now match up the straight edge with the straight front part. The neckline ribbing will overlap in the front then sew in place.
Top stitch the neckline. Lay sleeve area open flat.
Prep the sleeves by pressing the interfacing to the elbow pads and then sew the elbow pads on the the sleeve they will be slightly towards the back side of the sleeve, and down towards the bottom. Make sure they are opposite of each other.
Then ease the sleeve into the sleeve curve of the shirt with the right sides together. Then sew in place.
With the front and back right sides together sew from the sleeve edge to the armpit and turn to go down the side.
For the waist binding fold in half and sew the raw edges together. Then fold ribbing in half so the seam is to the inside.
Place the raw edge of the ribbing towards the bottom raw edge of the sweatshirt. Stretch to fit the ribbing to the shirt. Sew in place.
Fold the sleeve ribbing in half and sew along the raw edge. Then fold again so the seam is to the inside.
Place the sleeve ribbing at the end of the sleeve and sew in place stretching to fit.
Then you are done with the perfect little sweatshirt for any little boy or girl.