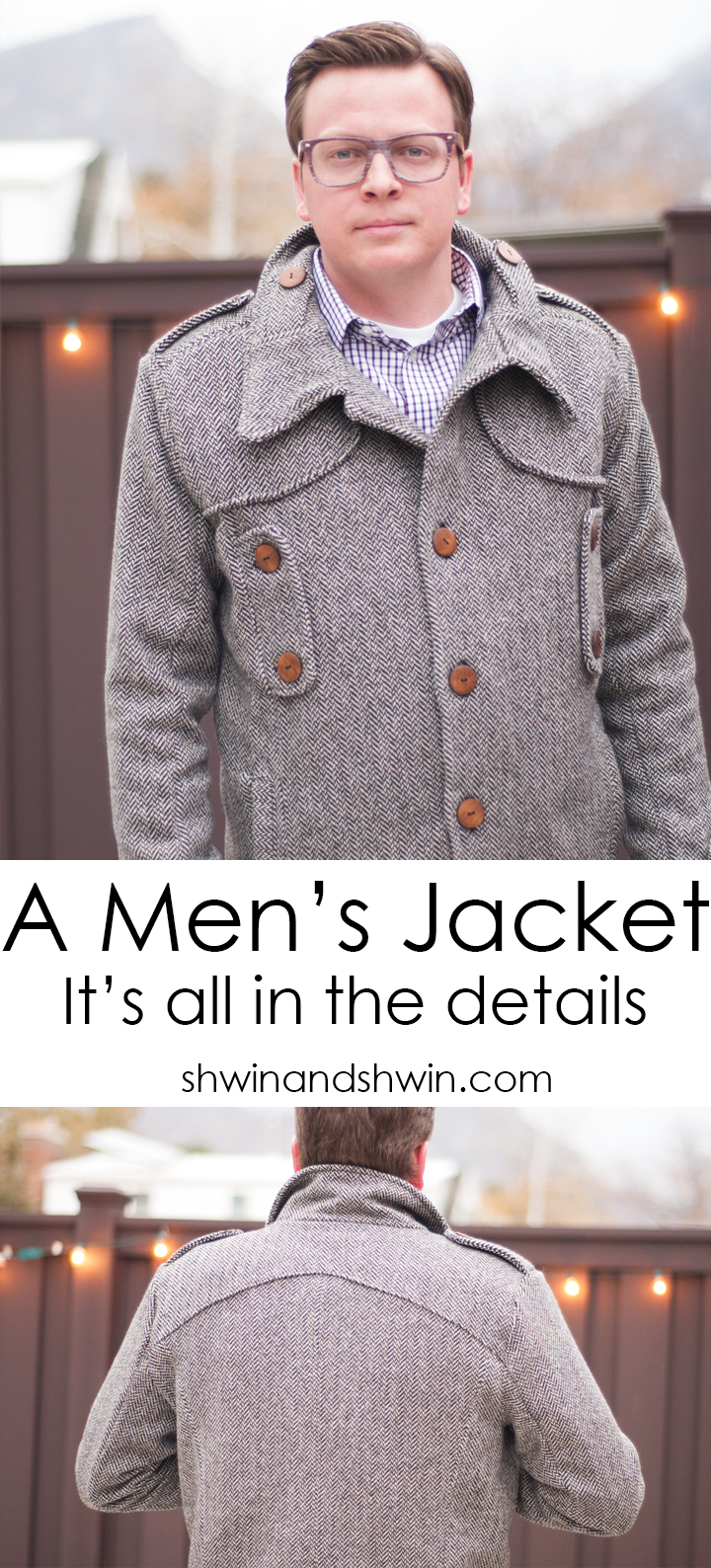 I set some personal goals for myself at the beginning of the year. (you know as we all do) November seems to be as good a time as any to actually check those things off the list. Those goals?  To sew something for my husband, and to learn a new skill this year, to stretch my abilities. Well all year I kind of thought about it but mostly put it off. Sewing for men is intimidating. (well to me anyway) I feel like it is scarier and more daunting than sewing for myself even.  Men have a whole different kind of curve to them. Not the shape a woman, not the shape of a kid, but a different kind of shape all together. Finally my husband was talking about a jacket I made Jude and how he really liked it. He said to Jude "wow I wish your mother would make me a jacket like that."  Well it kind of stuck with me. Then much later as he was looking online for a new winter jacket he asked me what I thought about a few. I said "how about you let me make you one?"
He doubted that I would, or that I could, or something along those lines. So we went online and picked the fabric together. I told him I was committed now and about a month later he had a jacket.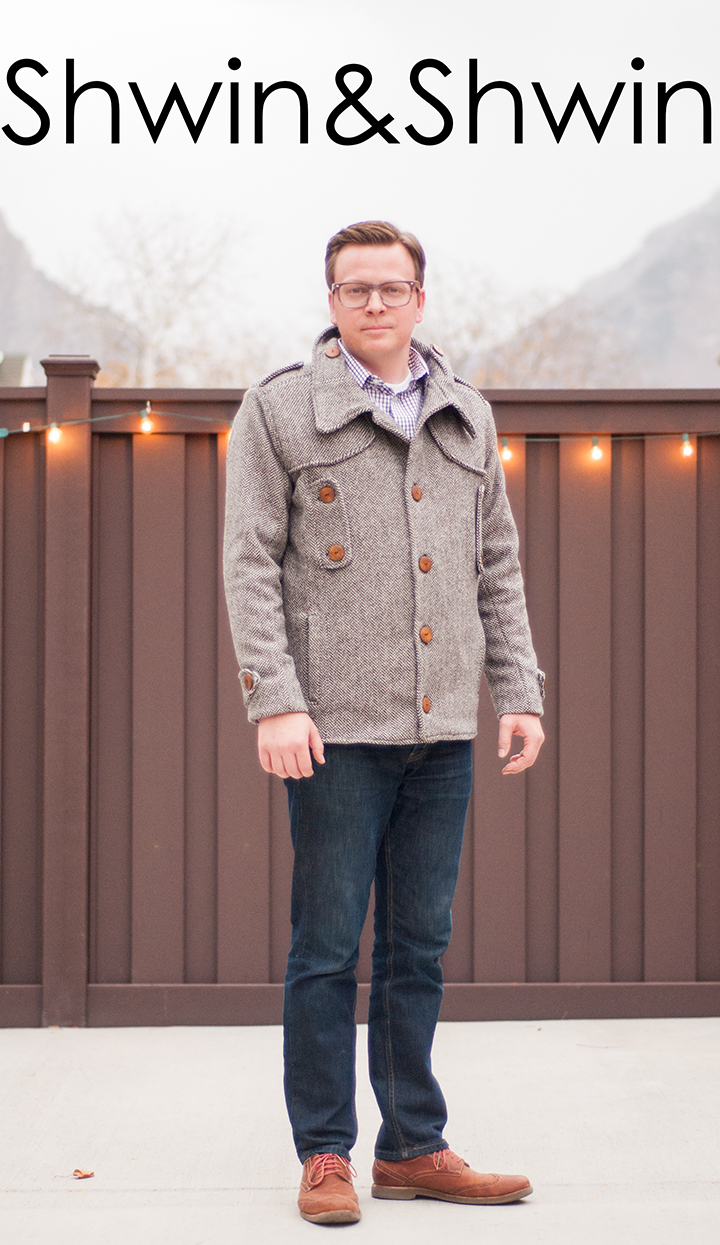 You see outwear is my jam. Oh man do I love designing, and sewing jackets. Seriously I would design and sew jackets all day long. I would personally have a new jacket for every day of the winter season. It's the reason my kids each have 5 or so jackets (all handmade) and now since I have my McCartney Jacket, I am happy to say that the whole family can sport handmade coats this winter.
But today let's talk about this particular jacket, and sewing for men in general.  My husband is extremely particular when it comes to his clothing and his style. Most of what I love and am drawn to (linen, chambray, shawl neck sweaters etc…) is not his style at all, although I do actually like his style. So when it came to sewing for him I really had to let him be a part of it.
We went to mood.com and I narrowed the search for him to wool outerwear fabrics. Then I let him pick whatever he liked. For the lining we took a fabric swatch into Joanns and I let him pick the lining showing him the types of fabrics that would work. (in this case we did a flannel for the bodice and silk lining for the sleeves so they slide on and off easily.)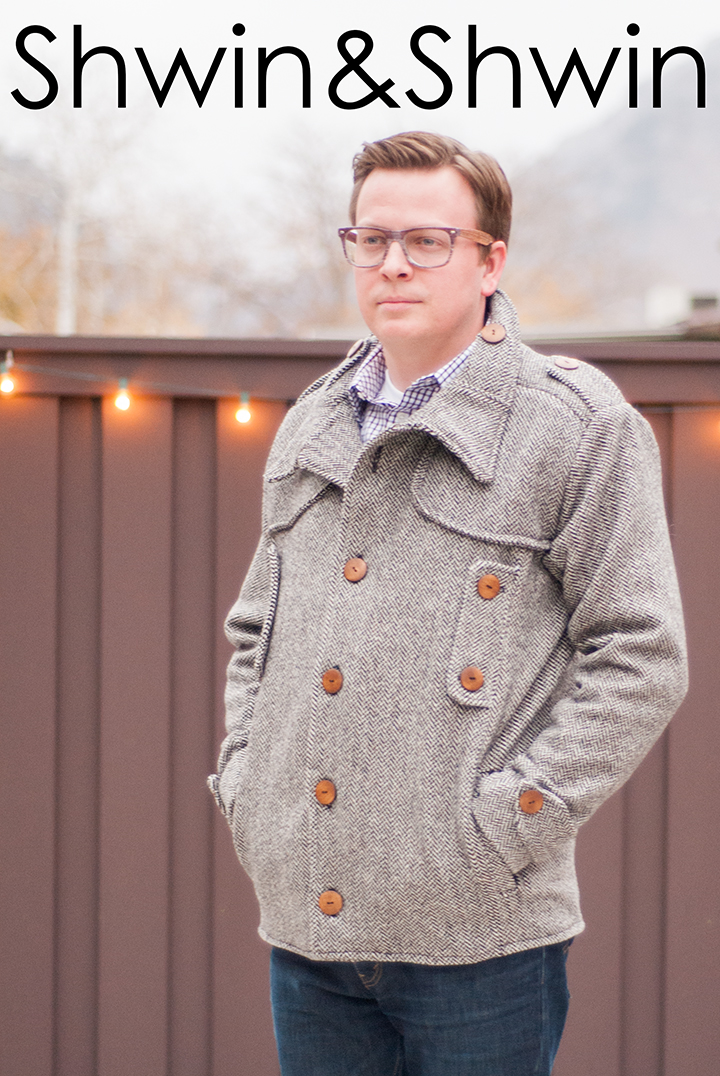 To design the jacket he showed me many examples of jackets he liked and his favorite elements and I played off those to create the design. I took several measurements and then drafted out a 40 piece pattern (because I may be crazy) You know what though? It really wasn't so bad, like at all. Besides taking time (because it did take time) It was pretty easy. (well to sew drafting it on the other hand…)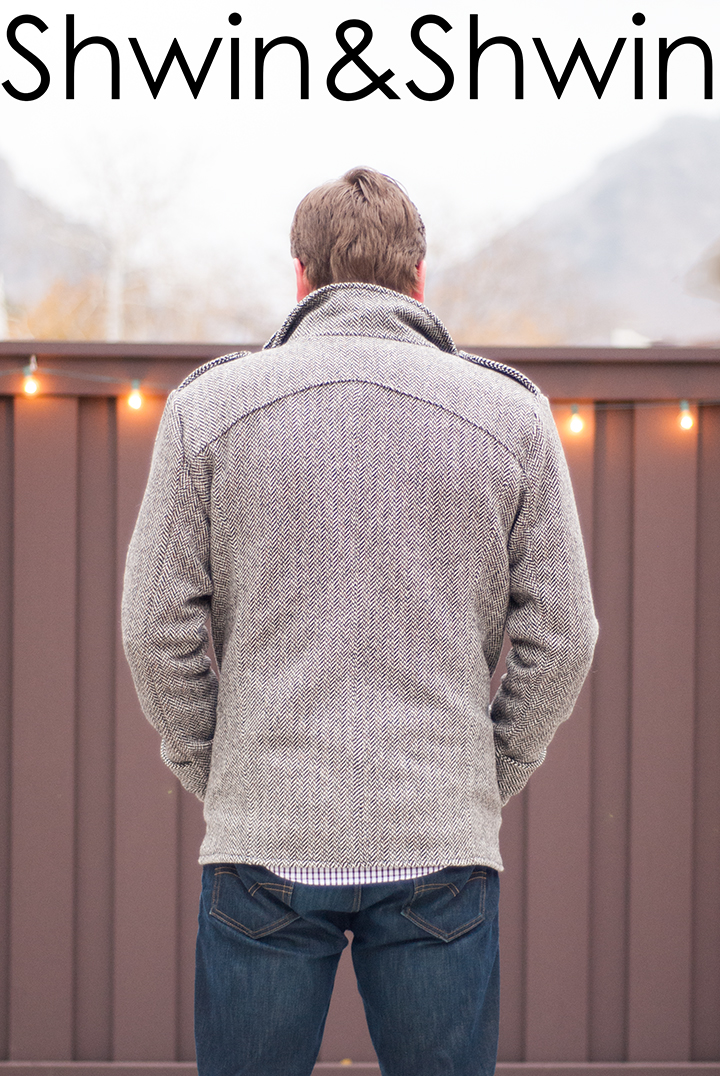 You see when sewing for men, it's all about the details. Since you can't just throw a ruffle on it, or use some big wild floral print, or very few prints actually. You have to actually think about the details, about the seams, and about the shape. The back is quite possibly my favorite. The seams shape the jacket. The shoulders which are one of my favorite features on a man, were framed out with an accent piece.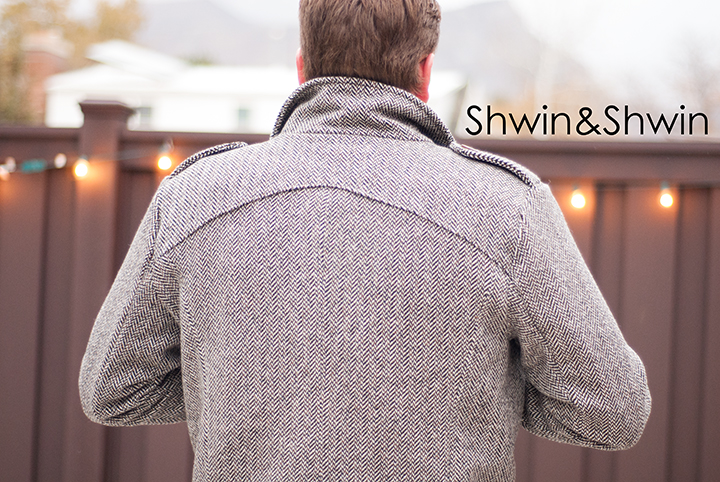 The accent piece also matches up the seam in the sleeves. The sleeves are a 2 piece sleeve since it offers the best shaping of the sleeve to be tailored but not tight.  (and seriously matching those up made me so happy)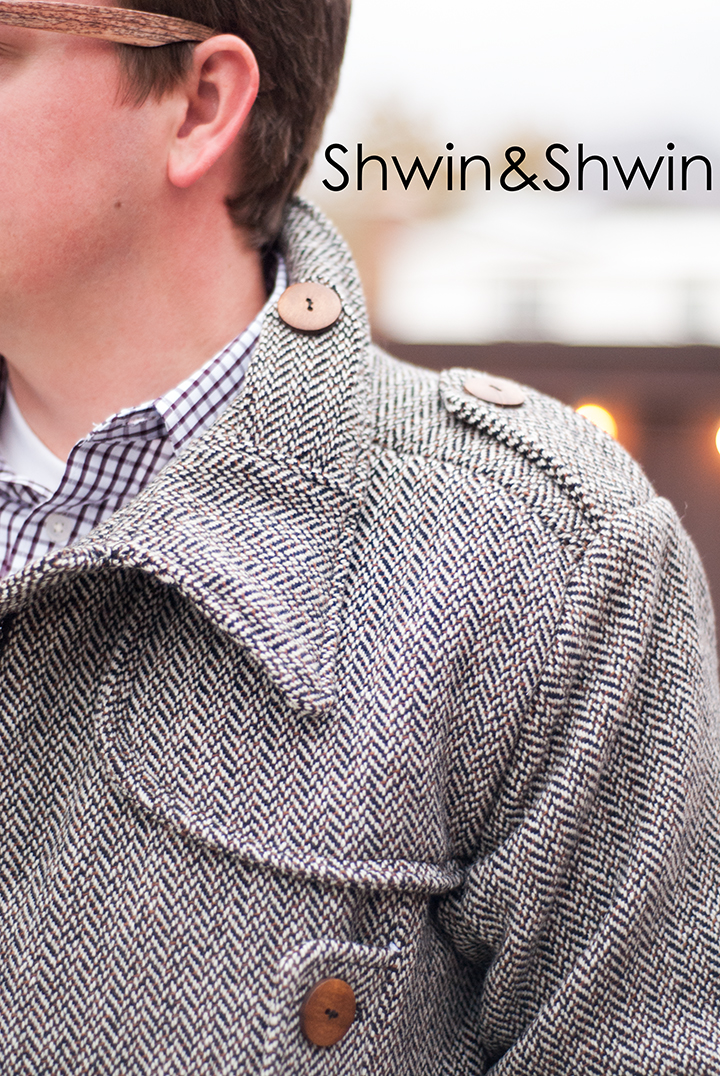 A nice tall collar was a request of my husbands. So nice and tall it is. It also has button tab details, which I love. Shoulder button tabs, and yoke pieces. Again it's all in the details.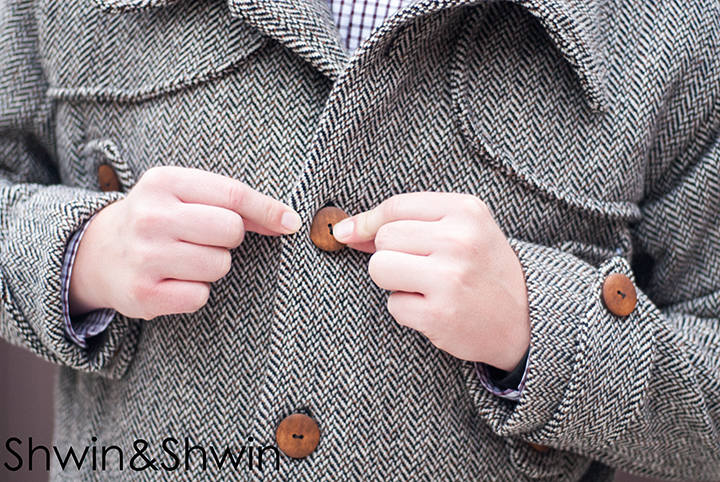 The buttons were my favorite. First because my husband said "well let's see what you have" and instead of hearing about how I have too many buttons we sat together going through my collection. Only one problem. We need 15 perfect buttons. We found buttons we loved in my stash but not 15 of them. We had very limited options now. we could order online and hope that they are the color and style we were hoping for. (which is a gamble when you need so many) We could go to Joann fabrics since it's right around the corner, but they rarely if ever have 15 of one single button in stock. So we called around and found a great local shop that said they had amazing buttons. They did not disappoint and we were able to easily 15 of these gorgeous wood buttons. (and a few other amazing buttons I came home with many) Harmony Provo was fantastic.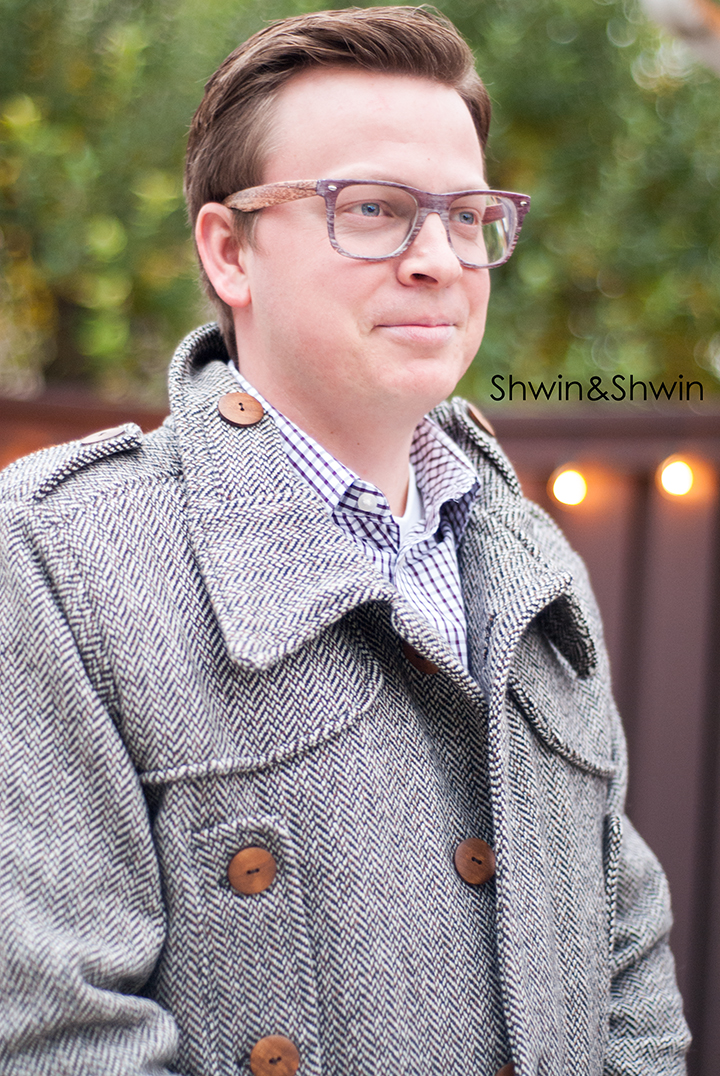 One detail I love the look of but hate the use of, "hand warmer pockets"  Any man that uses them looks like a dork. However I really love the look of them, they break up the chest space. We added buttons to the flaps so they stay put. I added the pockets into the seams in the front of the jacket.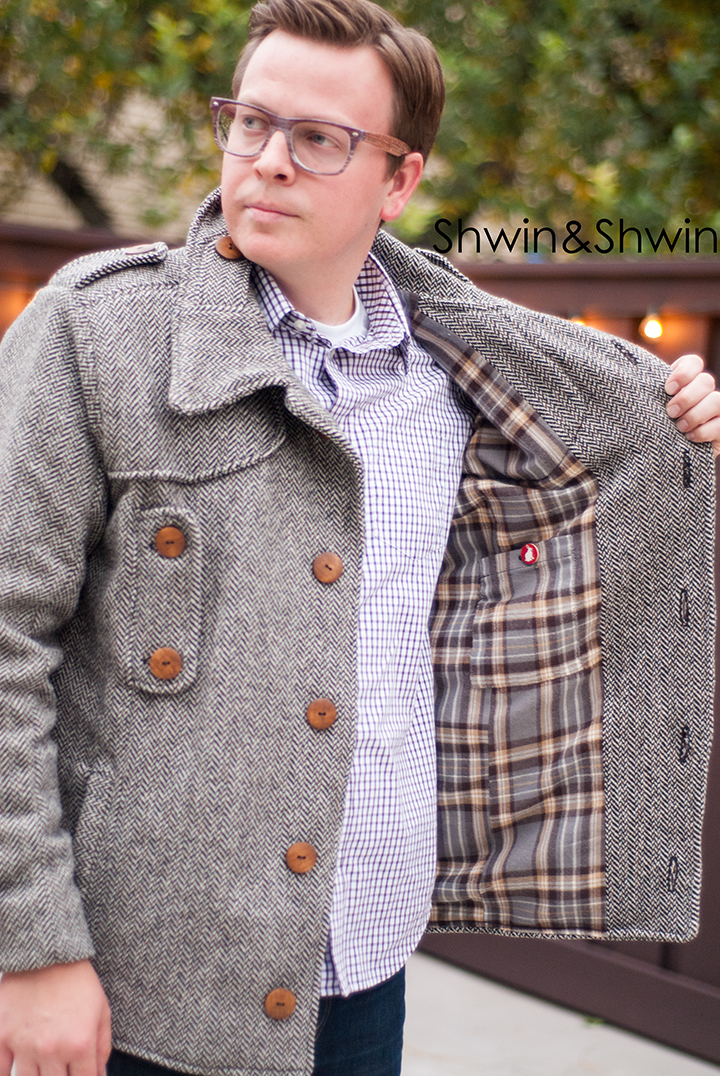 The inside of the jacket I added (per request) a cell phone pocket. Which was the perfect little place for a white rabbit. It's one lone vintage button I have been holding on to. It never had a pair, and I hated to use it on the kids since they would out grow it and the button would then be gone. So my husband got a hidden surprise of the white rabbit.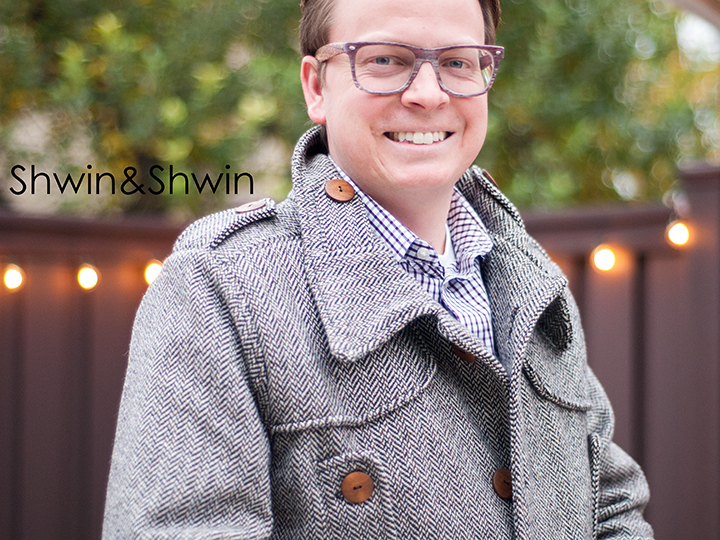 So. I made one jacket that I am super proud of, and my husband was super happy that something was finally for him.
Now the question. To make the pattern or not? Do you sew for a man in your life? Do you want to?