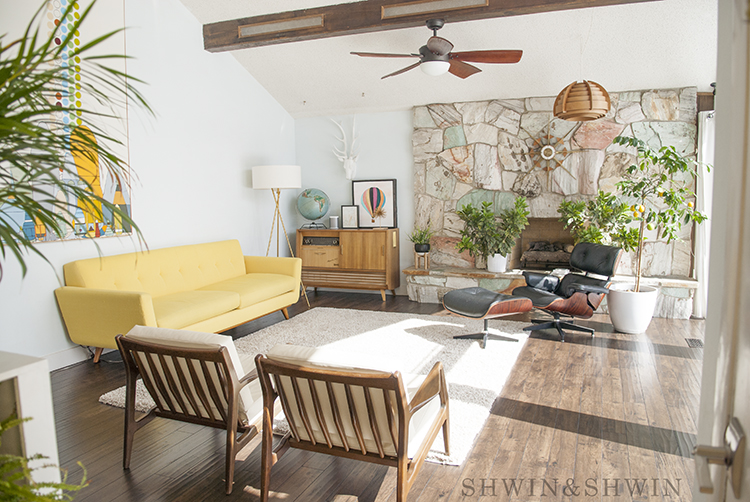 ** Since we are always updating and improving things a lot of this post has been updated with new photos and info.**
Can I let you in on a secret? My dream home since I was young was the Brady Bunch home. I love a good mid century modern home and have always been drawn to the style. When my husband and I walked through this 1970's home decorated like the 90's we fell in LOVE with the possibilities the home had. Bringing modern comfort to this home while staying true to it's 1970's roots has been a lot of fun.
This post is pretty long, it has a lot of details of everything we have gone through with the living room transformation.
To start here is a little journey of what this room has gone through. Before, After, and now.
The major changes done to the room:
Swapped out the wall to wall pink carpet with hand scraped wood laminate floors. We went with laminate since we have pets and kids and we wanted something durable.
The walls we painted with Grey Opal by Valspar. It's my favorite color ever. Pale blue grey, so calm and relaxing and bright.
The front windows were striped of the curtains and blinds (because that beauty should never be covered) We hung drapes at the cross bar and they open to meet at the beams so you can barely tell they are there but we have privacy when we desire.
The front windows with energy efficient double pane windows. They have a UV protection to protect our furniture from sun damage, gas between the panes to reduce heat and cold. Basically they were a huge upgrade from the SINGLE pane of glass we had before that would cause the living room to get up to 100+ degrees in the winter. We save huge on our heating and cooling bill now and the room is really enjoyable to sit in.
The closet was taken out and turned into cubbies.
Ceiling fans added for better air circulation.
New light fixtures.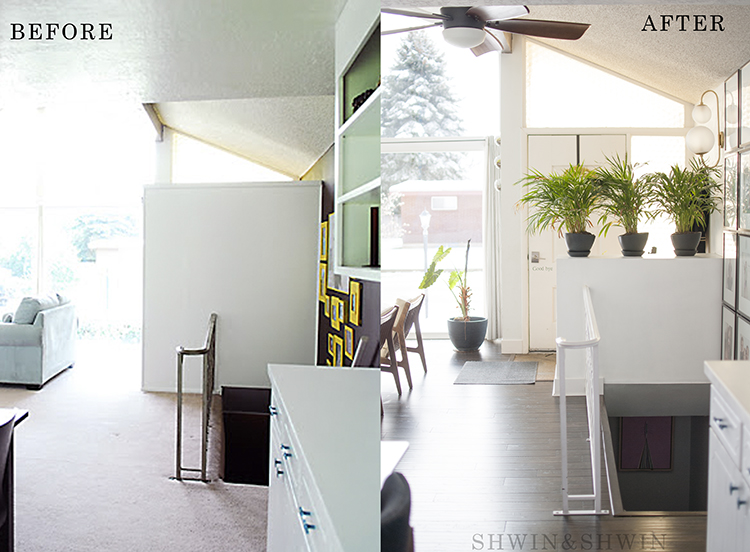 Originally when you walked in the front door you walked right into a closet. We debated for a long time about keeping it or taking it down. Coat closets are super rare in old homes and I felt pretty lucky we had one I just didn't love how big and in the way it was. We did however need something there since we wanted to keep the banister.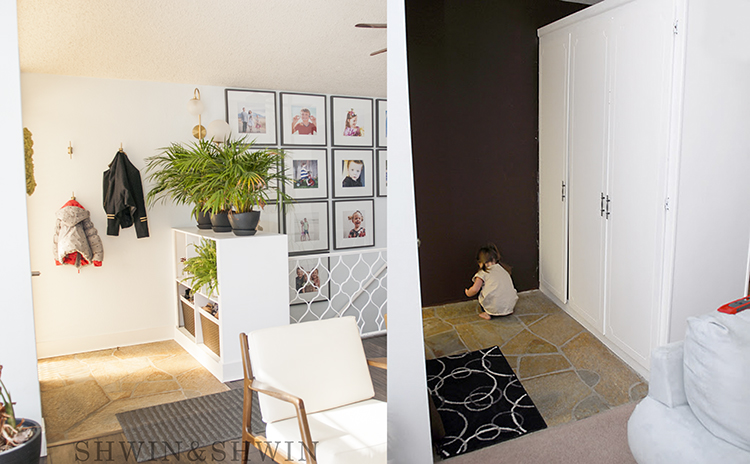 So we cut the closet down significantly and re-built the area with cubbies so there is still storage for shoes, hats, gloves, stuff like that. The open view to the front door is so nice.
We added hooks to the wall from west elm to hang jackets during the colder months.
The photo wall uses 20″X20″ frames from Ikea. I printed 12″X12″ photos at costco. It is fun to see all the pictures of the kids, they are wearing handmade clothes in nearly every picture and that just makes me smile. We have replaced and updated the photos a few times now which is fun to change the room without changing anything major.
The light is from West Elm
Planters are from Ikea and the plants are from a local nursery. I love the pop of color and life real plants add and I am glad my husband is around to keep them alive because I am a lot better at killing plants.
We also replaced all the interior doors upstairs with these 3 panel doors. They are from  Sunroc since they are local and their pricing was great. We took in the old doors and they cloned them so the new doors fit perfectly and look 100% better.
The whole living room and dining room got new baseboards as well.  I love tall baseboards, clean and fresh and nothing makes an old house feel new again like new trim. We used MDF trim again from Sunroc (local supplier) instead of a big box store. Doing this we were able to put all new trim through the upstairs for around 60 bucks  not bad at all. We left most of it clean and simple just adding caulk and paint.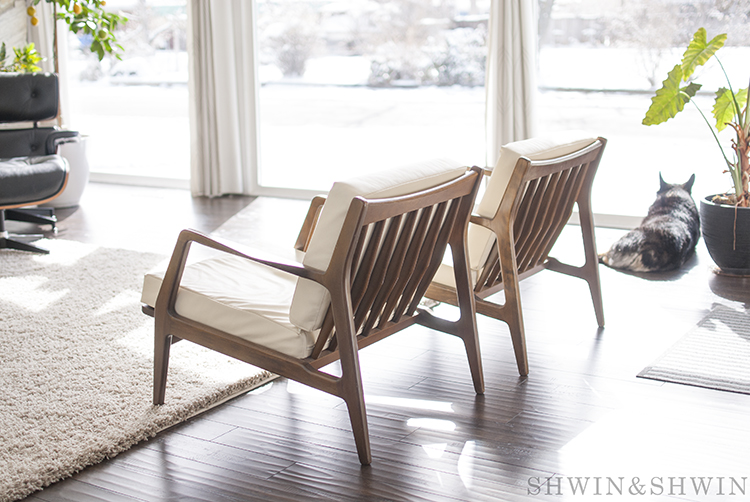 The other transformation of the room was furniture. We knew we were going for clean modern and simple with a mid century modern vibe. We picked up these two danish chairs from a local friend who finds and sells mid century finds. They just didn't have cushions, which is no problem since I could make some. I will have a post about that soon but I made the cushions in a cream leather and love the way it contrasts with the wood.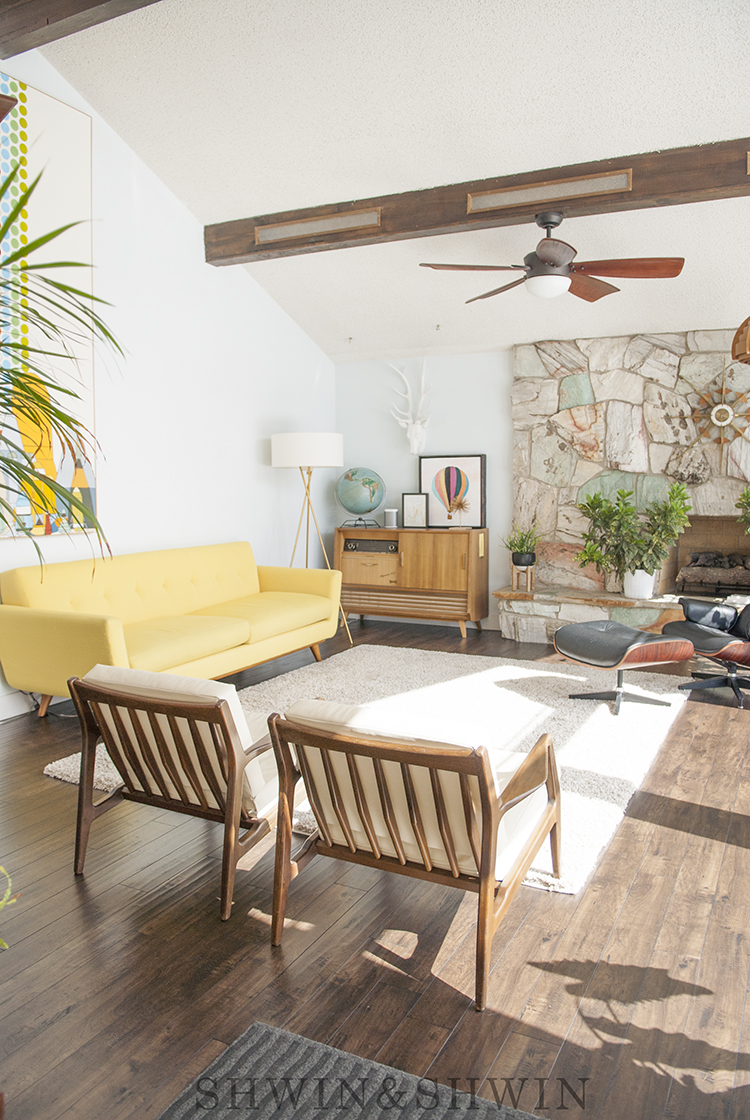 A friend painted the wall art.  The rug is super soft and plush and it was 8'X10′ which is hard to find especially at a great price. The couch was a great find from Thrive Furniture out of California but they ship for FREE! Made in the USA and they are great to work with. The color and style were perfect and it's nice and long perfect for taking a nap 🙂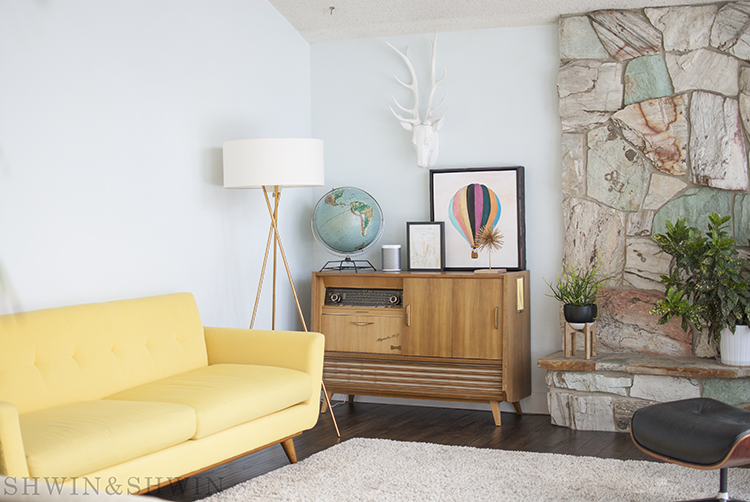 The old radio, was a great find at a thrift store. It works if we get one piece for it, but it's in perfect condition. The deer head is from White Faux Taxidermy.  I highly recommend  White Faux Taxidermy, they were great to work with and have some really cool stuff. (Jude wants the T-Rex)
Our friend made these cement planters with gold leaf on top, and succulents to go inside.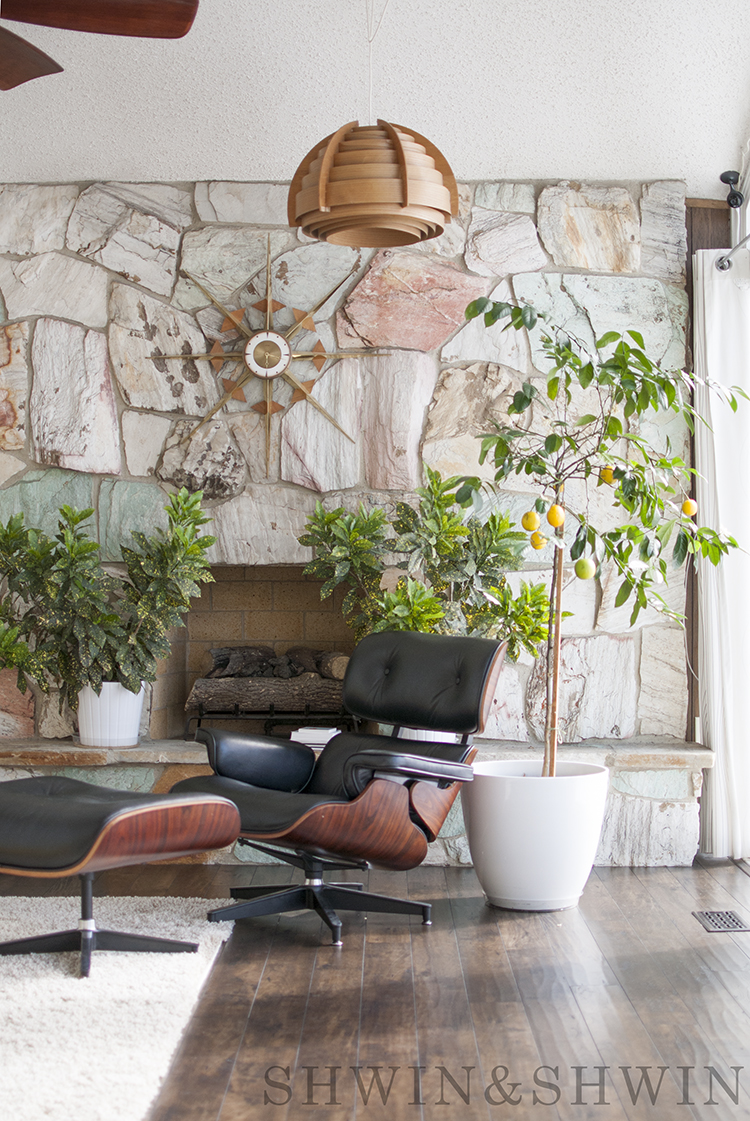 We found this great Eames look a like chair, which is nice because I was constantly on the hunt for one but never found one in the condition I liked. The overhead light and clock were thrift store finds.
The overhead light is not hard wired which is good since there isn't a box there anyway. So we ran the wire up along the ceiling and over to the outlet. This placed the on off switch up on the ceiling; so we got a bluetooth light bulb so we can turn the light on and off from our phone.
We also have a lemon tree, which smells heavenly when it blooms and the lemons are great because I never have lemons in the house when I want one, but now we do.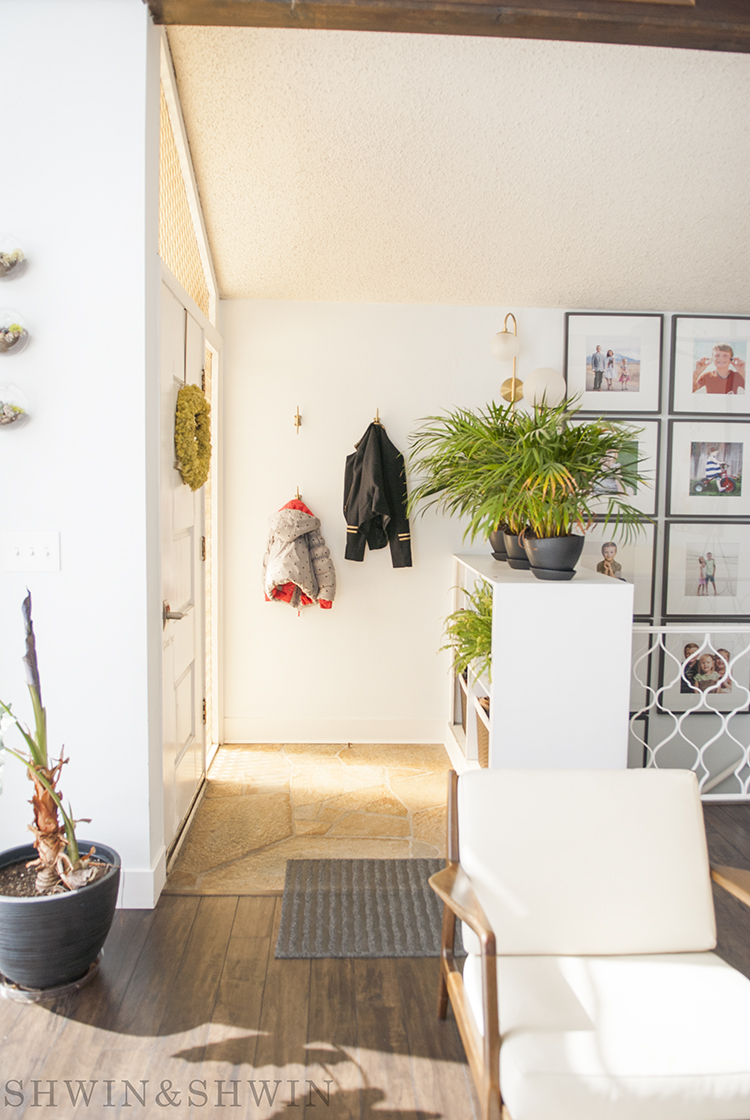 Whew! Ok that's it, the living room makeover that is finally over! Now we are on to gutting some bathrooms.