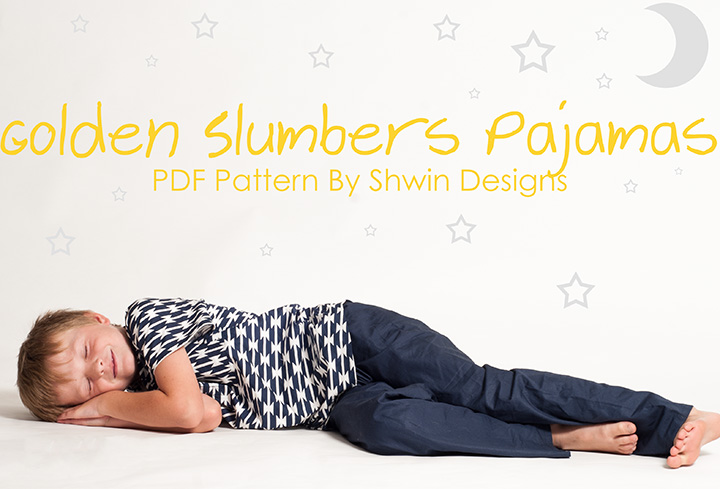 I have another new pattern out today! The Golden Slumbers Pajamas. Last year in the school year Abbey came to me the night before school and said "tomorrow is pajama day at school!" She was super excited and I panicked… because I don't know about you in your house but pajamas are always "junk clothes" here. Usually with holes, and stains and many of them are actually too small but they are only being worn to bed so if the kid can squeeze into them we call it good. My kids never seem to have nice pajamas except for about 2 months after Christmas when they wear their new Christmas jammies. So faced with the fact that she told me the NIGHT before, I put the kids to bed and then went and drafted and sewed a quick pair of pajamas. Turns out I really liked the style. So I started working on a pattern. I think it's always good to have a quick go-to pajama pattern. Whether it's for re-stocking the pajama drawer, making Christmas Pajamas for 20 cousins all to match, or the night before pajama day panic. 🙂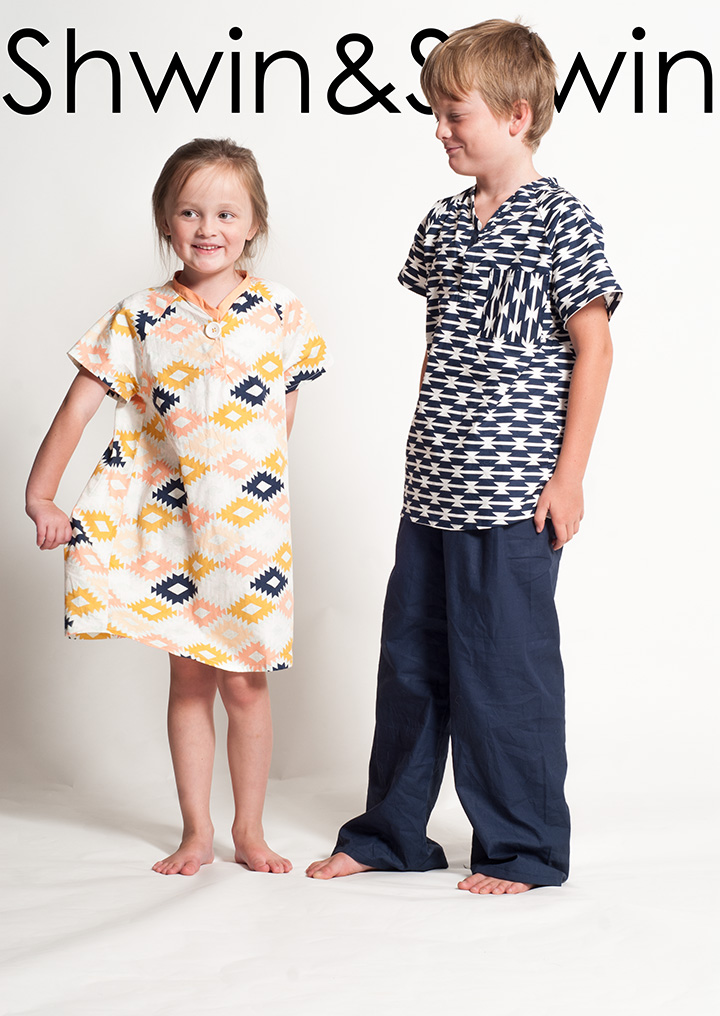 The pattern includes top and bottom or night gown option. Abbey has decided she LOVES night gowns. She won't wear anything else to bed now, which is cute. I love night gowns myself so I can see why she loves them. There is a front placket which is designed so that the top fits over the head. Abbey wanted a button on hers which is an option. Jude's is left open because he doesn't like to fiddle with buttons or snaps.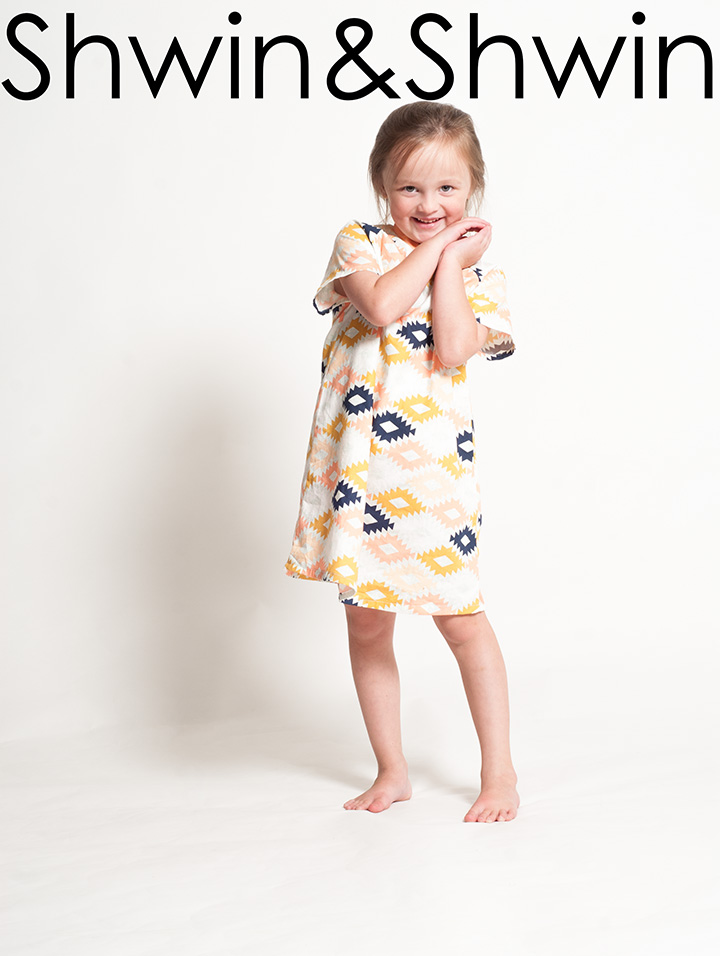 The pattern can be made from knits or wovens. Some of my testers felt the wovens were hard for the child to get on and off alone since a woven fabric won't have any cross give, which is where a knit would help. My kids didn't have issue getting it on or off but Jude likes sleeping in knit best he says it's super cozy. 🙂  **Shown in these pictures are all wovens**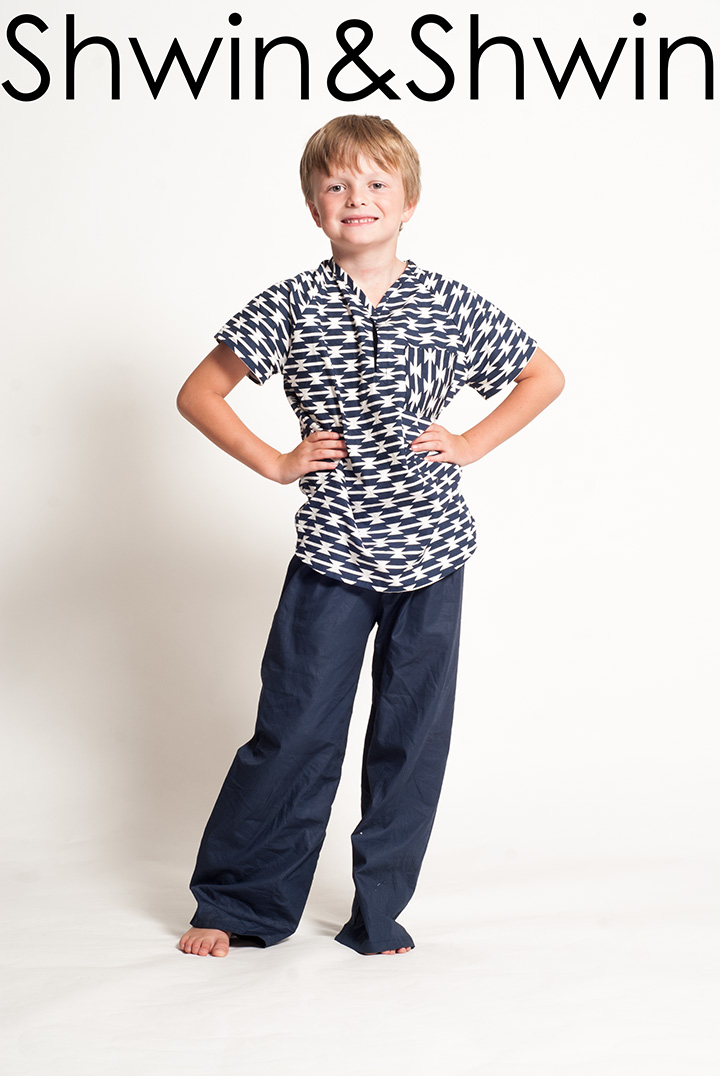 The pants and shorts have a super relaxed fit to them so they don't constrict the leg while sleeping and they are just so comfortable. The top has a relaxed fit as well, along with raglan sleeves so the arms have good range of movement. My kids sleep with their arms above their head and I didn't want pajamas to cause them trouble.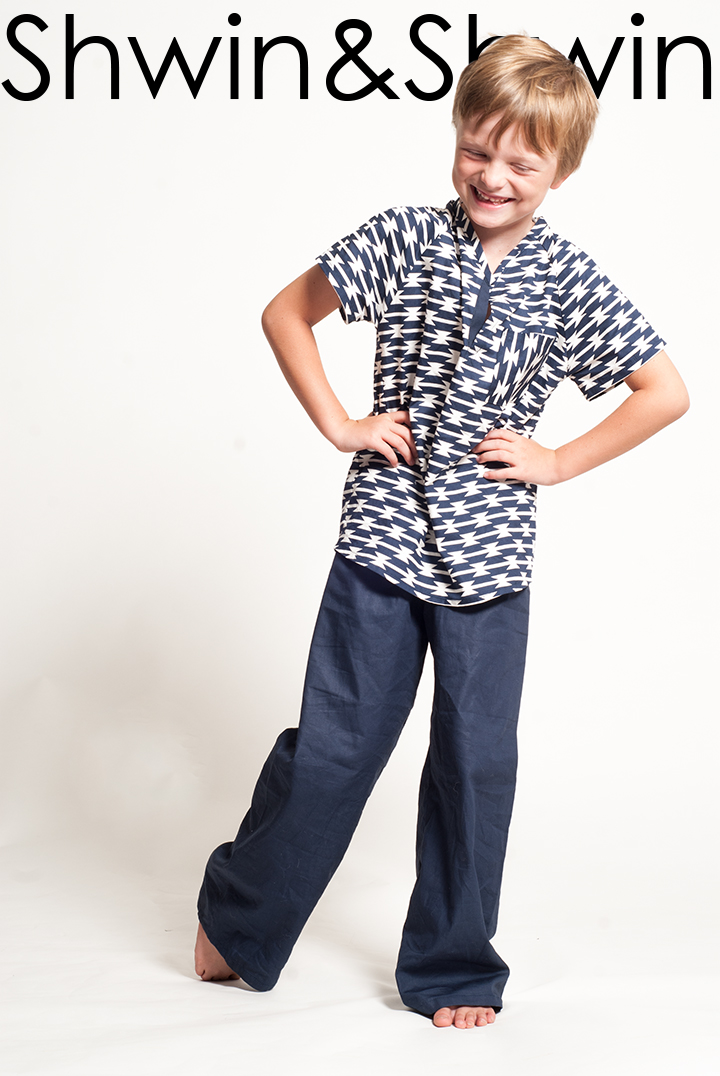 The pattern is a quick sew, I have been busting them out in less than an hour. The hardest part is the neck placket and I made a video included in the pattern that walks you through step by step because pictures and instructions are great but sometimes actually seeing how it is done makes it 100 times easier.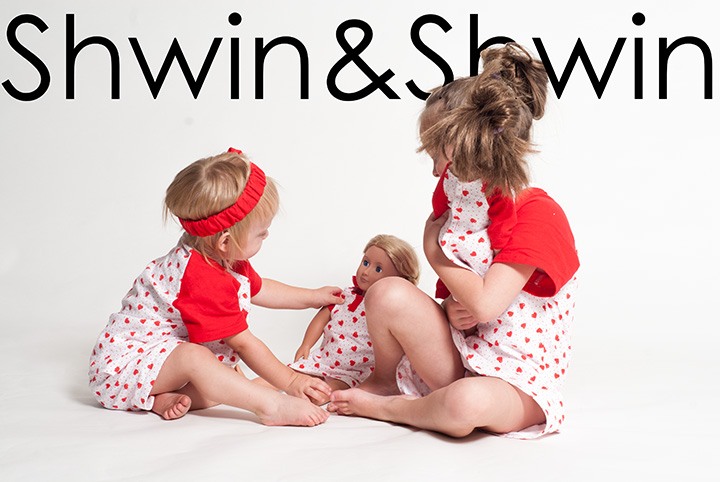 Coming later this week I also have a free doll pattern for a matching nightgown. Because when Penny and Abbey had matching pajamas they wanted their babies to match too. I guess we have entered a new era around here.
Pajamas || Golden Slumbers Pattern || By Shwin Designs
Fabric || Navy set and Nightgown || April Rhodes || Arizona Line
Heat Fabric || Flannel || Given to me by my neighbor