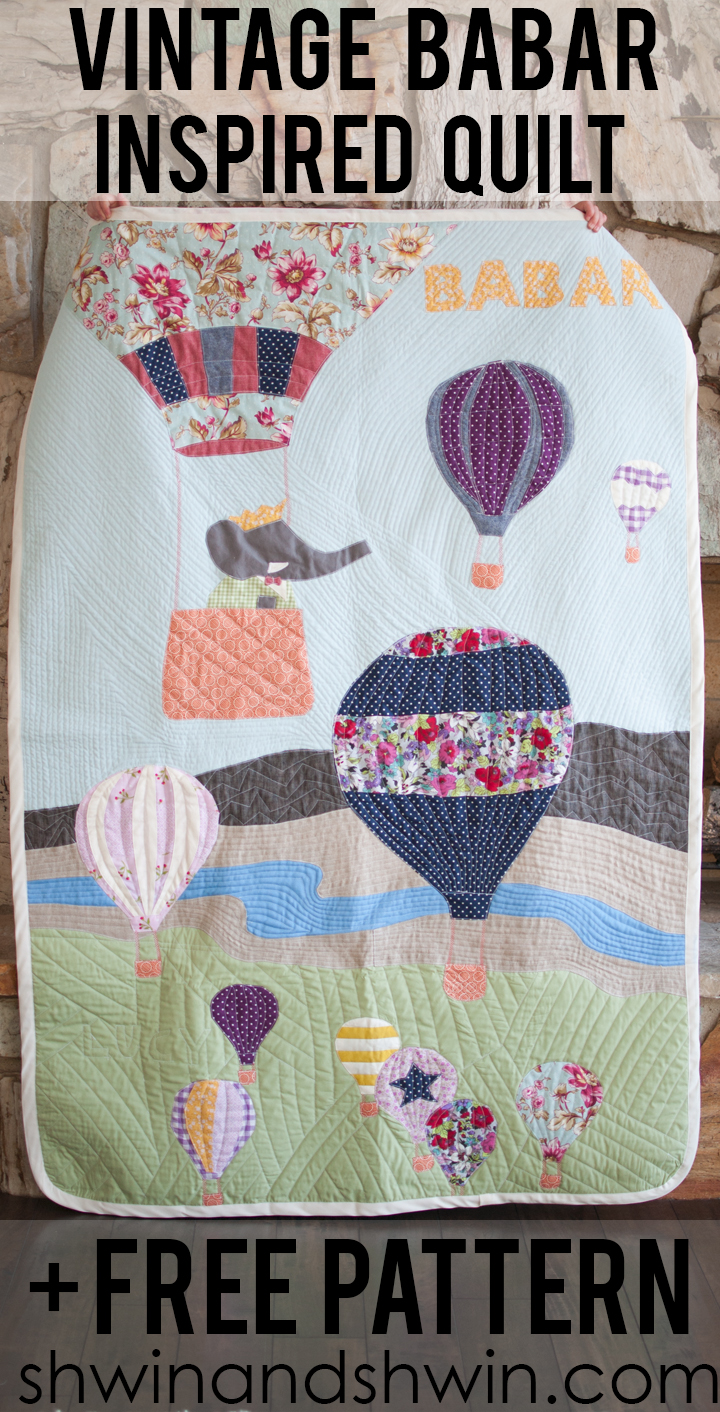 After making my kids quilts, I had a bit of a quilting bug. I get that from time to time. So I decided to go ahead and make my nieces and nephews quilts since I FINALLY have some of those! Two of my brothers had babies last year, and my SIL is about to have her first. So it's great timing to make them all some quilts.  For my niece, I found this super cute vintage Babar poster which inspired the quilt. I loved the vintage feel and I knew in some girly fabrics it would be perfect for my niece and her vintage loving mamma.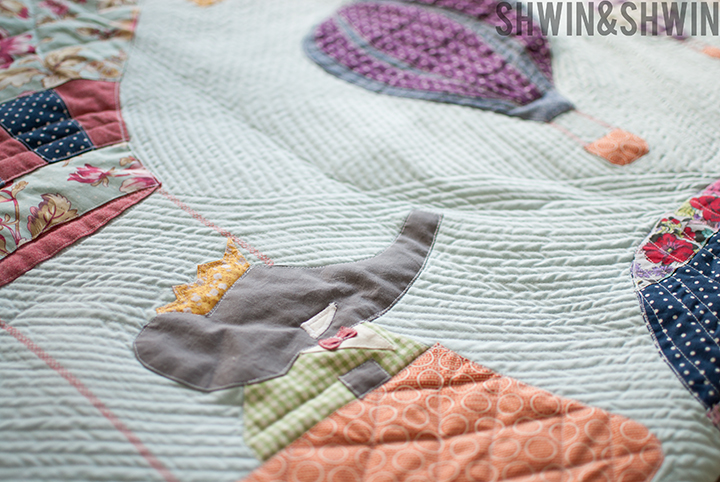 Instead of doing my standard super simple stitch some straight lines to quilt it, I got a little creative (AKA warded off complete boredom) by sewing lines in waves to mimic a breeze, and quilting the the hot air balloons and baskets. Not only was it fun to stitch in all different designs but it turned out so pretty and textured.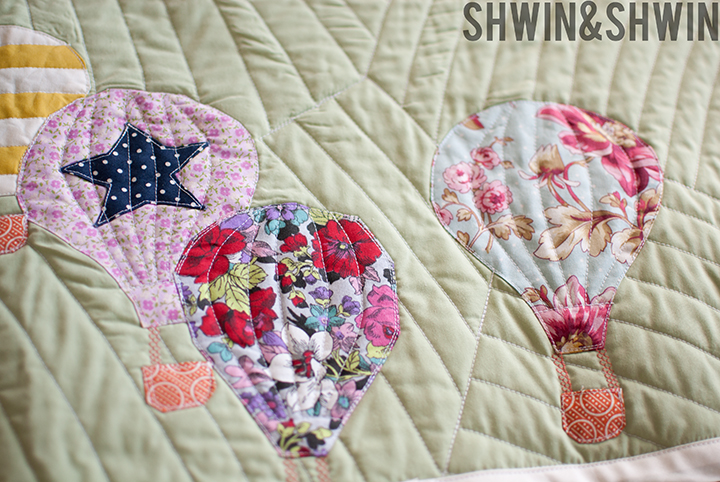 I did the grass in a pattern to mimic farm lands from the air. Which was great since it was wider stitches so it went quicker 🙂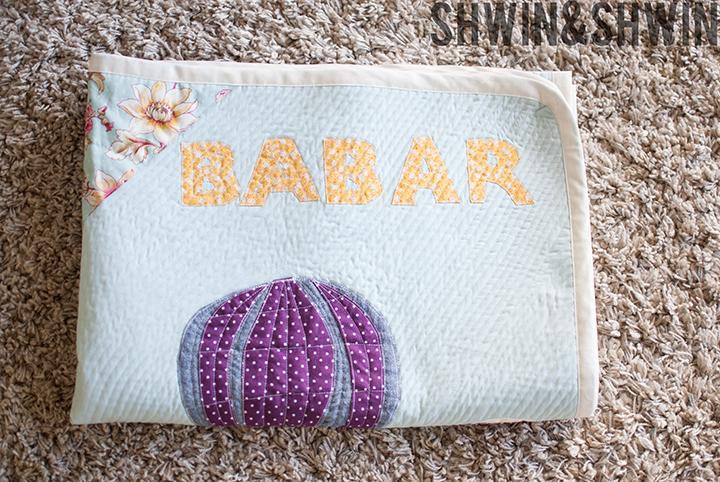 This is one of my favorite quilts to date. Although I say that with each one, because I love them all. I just can't stop making quilts.
The quilt is 45″X60″ (crib size)
You will need:
2 Yards for backing
crib size fusible batting
1 yard Light blue fabric for sky
3/4 yard green fabric for grass
1/4 yard grey fabric for mountains
1/2 yard tan fabric for sand
1/4 yard blue fabric for river
Assorted scraps of fabric for Details (largest yardage needed is 1/2 yard for largest balloon)
Freezer paper
Pencil
Iron
Starch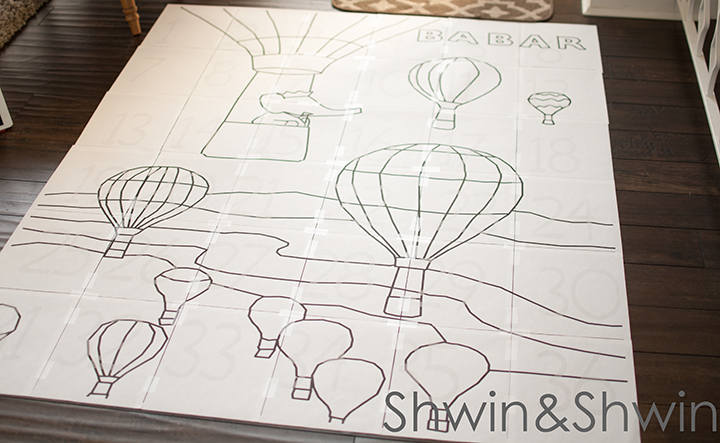 Print the pattern and tape it together so you have the full size. I had to do this on the floor because it is large.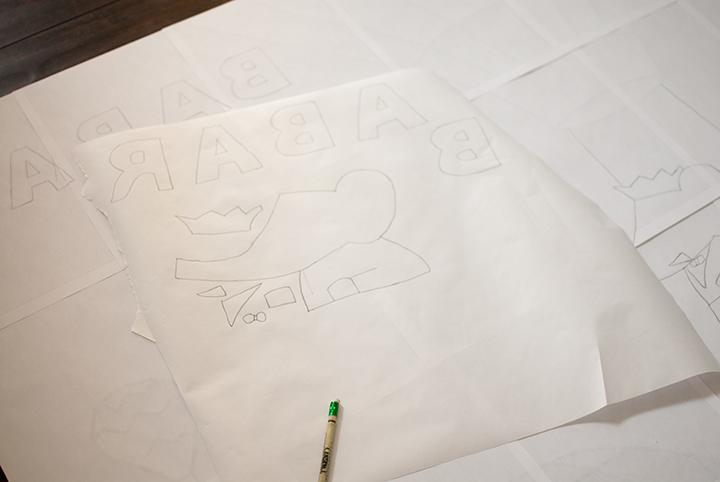 Then flip the pattern over because you want to trace the reverse. You can see the lines through the paper but you can also trace them so they are easier to see. Then place the freezer shiny side down and trace each piece (every section) on to freezer paper.
I traced everything except the sky and grass on to freezer paper since everything else is a cut out piece.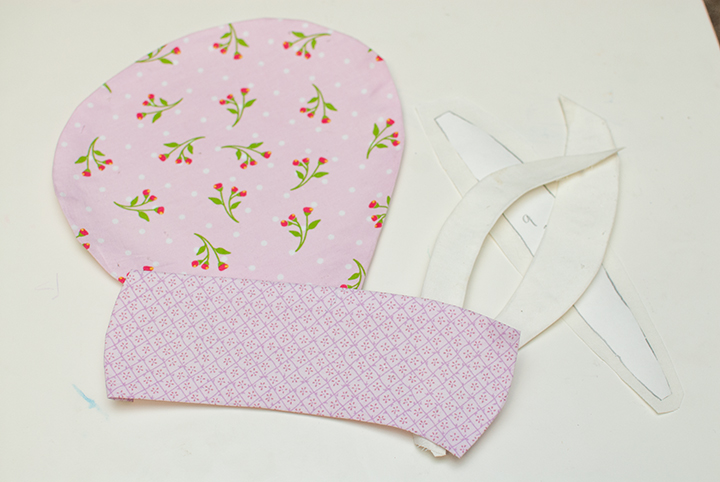 To make the pieces. Cut each pattern piece out. Then iron it on to the WRONG side of the fabric. (shiny side down) Then cut out around the pattern pieces leaving a good seam allowance amount.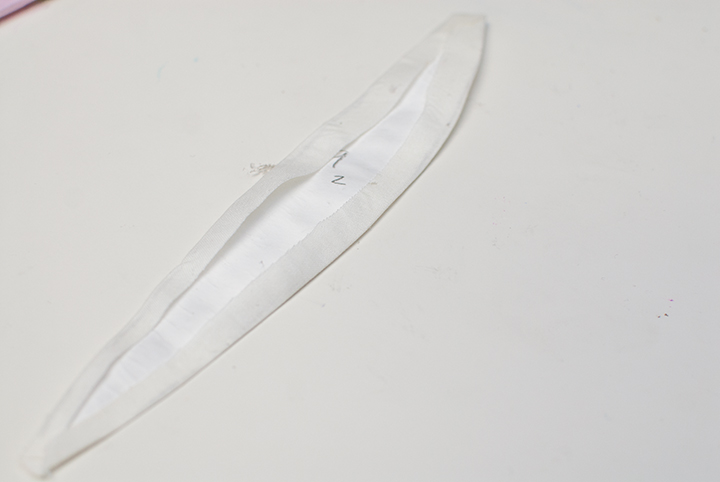 Spray with starch and then press well so the seam allowance folds over around the paper.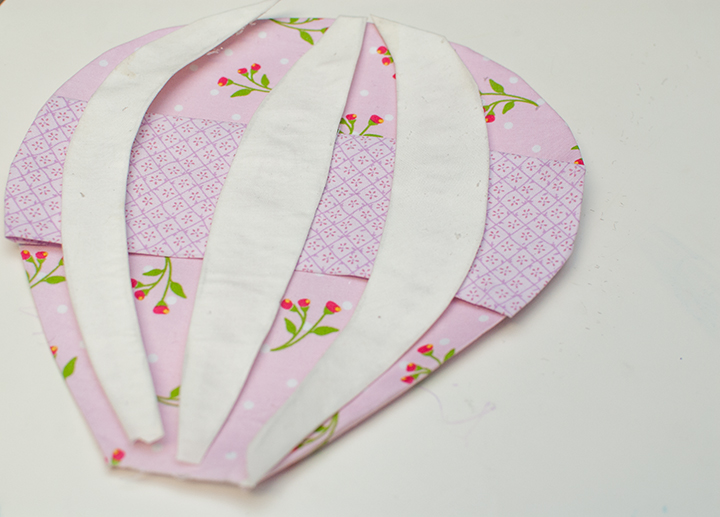 Then for pieces like the hot air balloons I would layer and sew them individually before sewing them to the front of the quilt. To do that, remove the paper. Then place the pieces on top of each other and edge stitch as close to the edge as possible around each piece to secure it in place.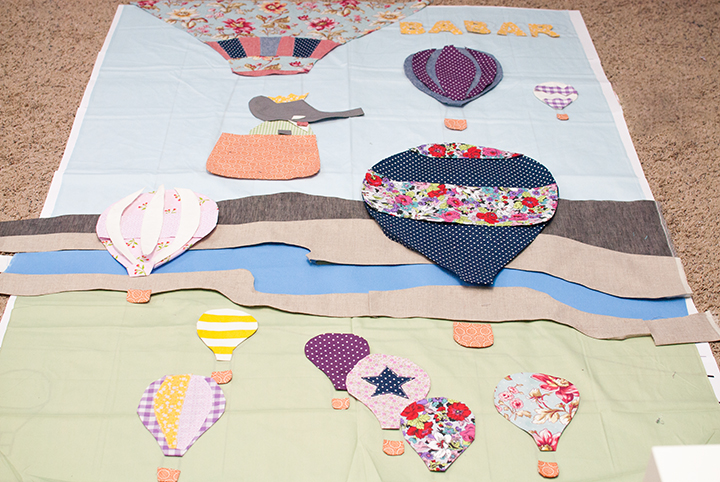 Then lay out the pattern down over the print out. I start by sewing the mountain, sand, water, and grass pieces all together by layering and edge sewing, so that I have a solid back ground. Then pin the balloons, elephant, basket, and words down and edge stitch all of them in place.
Then I add the backing and the batting sandwich it all together. I use fusible batting so I can iron all of the layers together and they don't move while being quilted.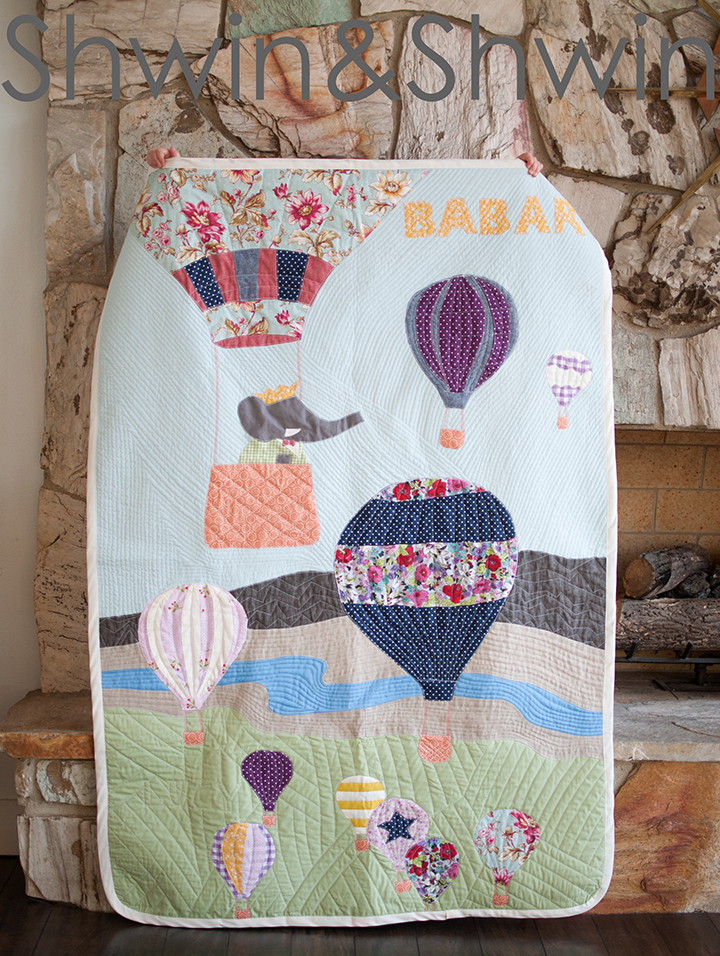 Once all of the quilting was done I rounded the corners (so it's easier to bind) then I bound it with bias tape.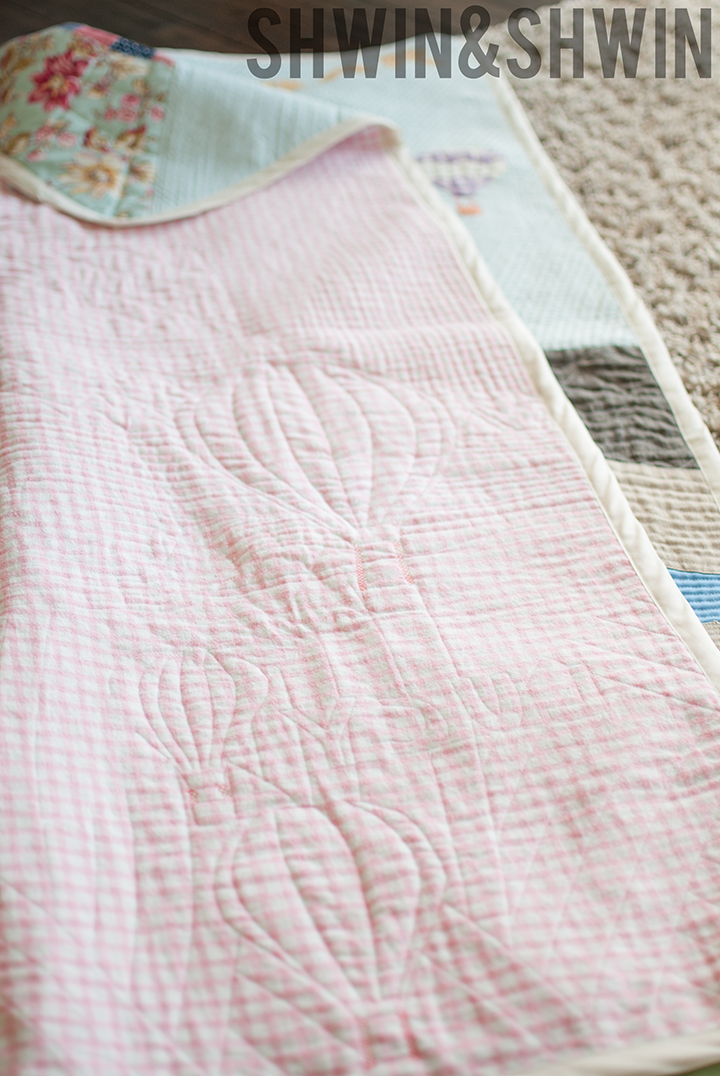 I love how the design shows through to the back, and that the whole thing was sewn ripple free with the fusible batting. I seriously love that stuff!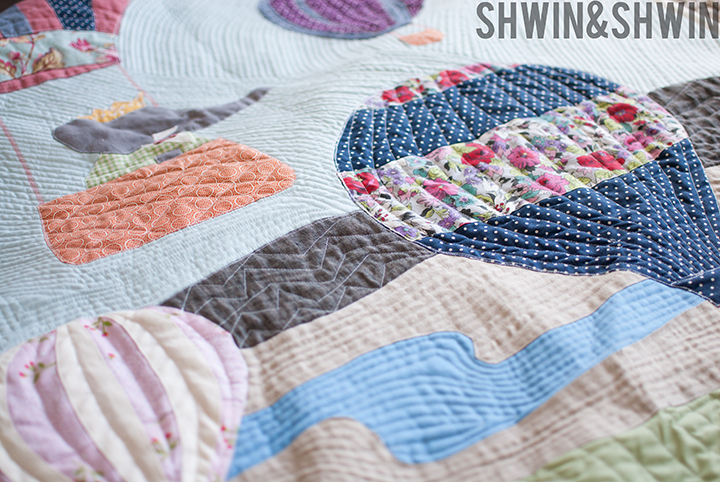 So much texture, I love it. Can't wait to move on to the next one!