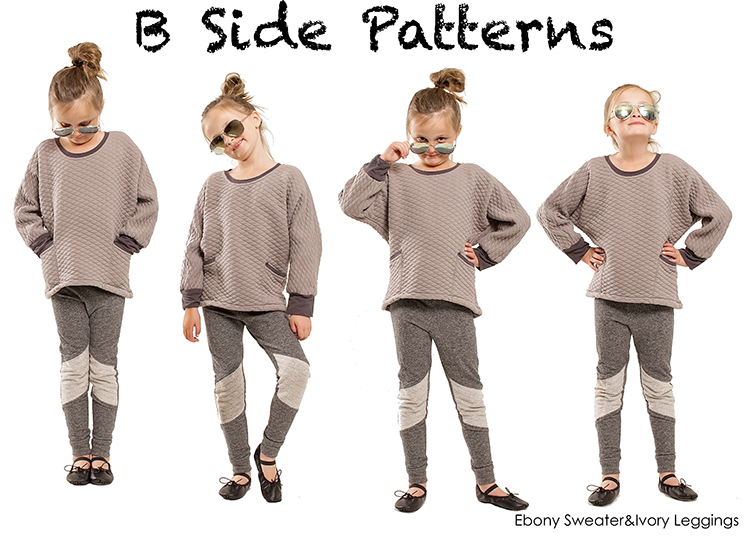 For quite some time I have been asked if I would make patterns for older kids. (my children's patterns go up to a size 8 as a standard with a few going up to a 10) The thing is I knew when the day came that I was going to make patterns for my tween/teen age kids I wouldn't just be making larger sized toddler clothes, or smaller sized adult clothes. I knew they would need patterns and designs of their own. So I started developing a new line just for them, an alternative line if you will. B Side Patterns. Releasing in volumes, vol. one is finally here!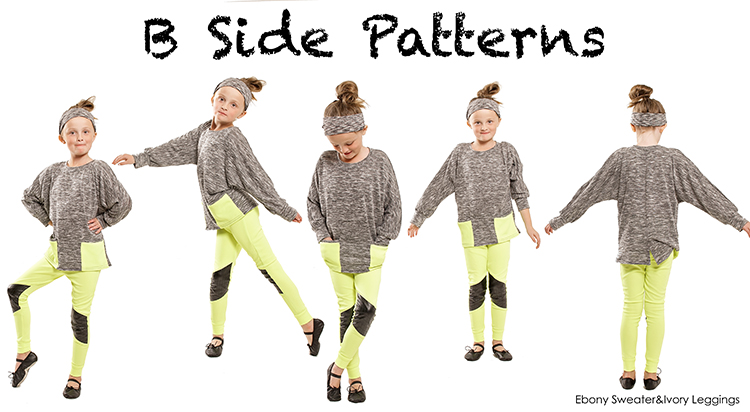 Vol. One includes 2 collections one for boys and one for girls. Each collection has 3 patterns, each designed to pair with each other, or to work with other items in your child's wardrobe. They were designed with the help and input of my kids so that they could be active, comfortable, and stylish at the same time. Vol. One are the staple items my kids wear over and over, basics with a twist.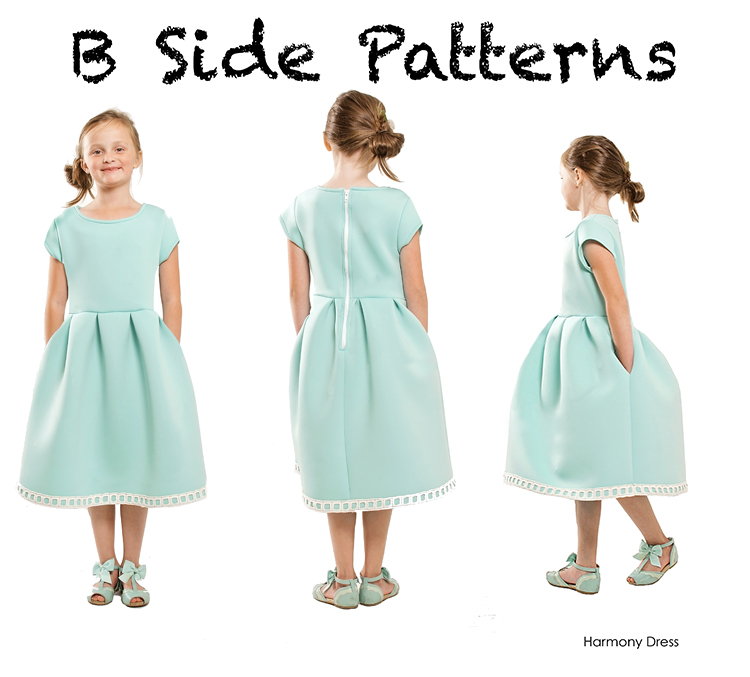 The girl's collection includes, The Ivory leggings which offers both a plain style and a moto leg quilted detail option. They are slim without being restricting and high waisted so you stay covered even while moving. A quick and easy sew and they pair great with the Ebony Sweater, a dolman style sweater that is cozy and stylish with a vent back and optional front pockets. Lastly the Harmony Peplum and Dress which is designed for knits, with a full pleated skirt or peplum and exposed zipper.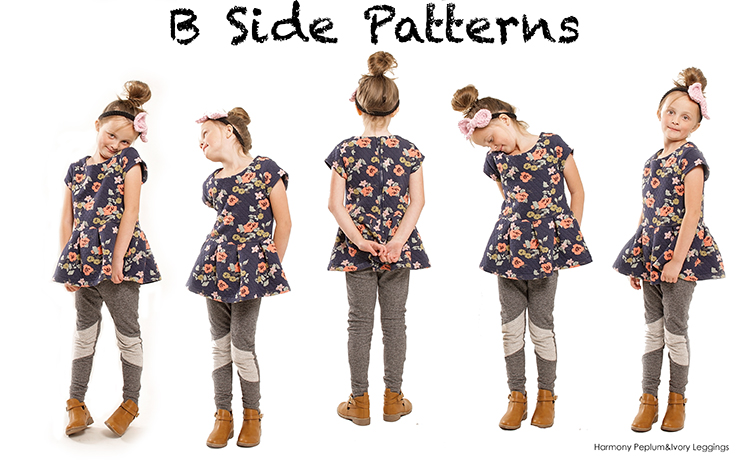 You can mix and match the different patterns together to make a whole wardrobe.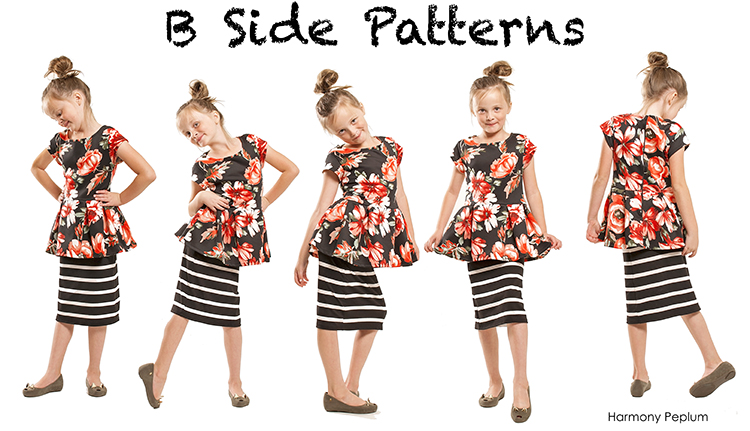 Or pair them with something else from your wardrobe, here I paired it with a knit pencil skirt (free pattern coming soon) (fabric and accessory sources at the bottom of the post)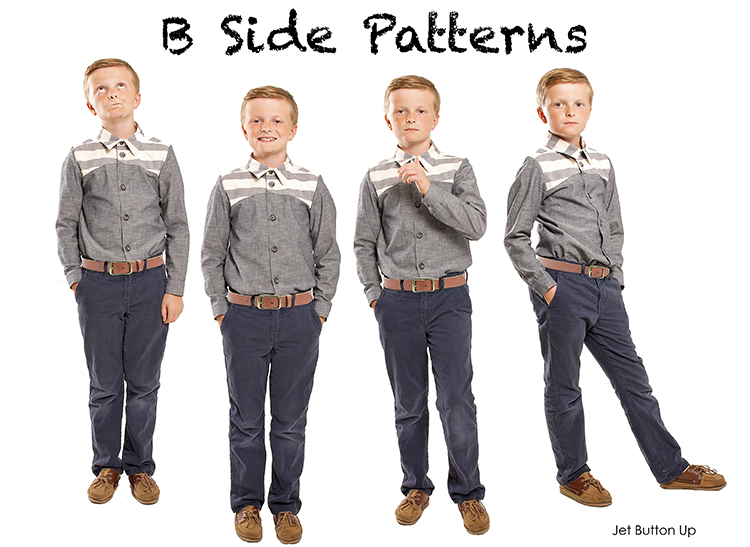 For the boys, I had the most fun designing and sewing the boys collection. Jude has officially outgrown my children's patterns, and it had been a little while since I made or designed things just for him. He wears essentially the same thing everyday, a tee shirt, and then on Sunday's he wears a dress shirt. So I knew if I wanted to sew for him I would have to make tee shirts and dress shirts. The Jet button up is a design I first made for him a few years back when we were getting family photos taken and I needed something to coordinate with us, that was dressy but not too fancy. So I color blocked a dress shirt in a way that it made it a little casual while still being a button up shirt.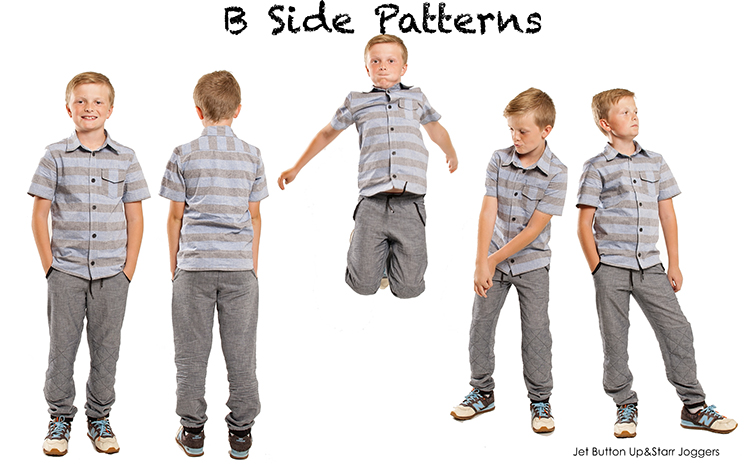 You can also make it without the color blocking which would make a great dress shirt or go short sleeves for a nice casual look. Here I paired it with the Starr Joggers, these are a woven or knit pattern this pair being a woven chambray with quilted knees (love the reinforcement for these boys who love to dive on their knees) The joggers are a nice casual fit so they aren't too restrictive for movement but not sloppy looking. The elastic draw string waist keeps them comfortable and easy to wear.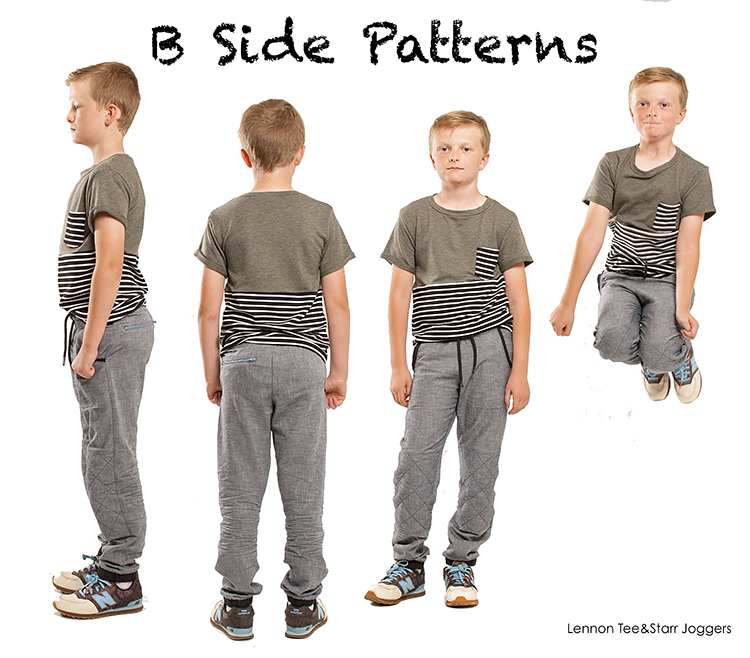 Paired with a tee they become more casual. The Lennon tee has a nice relaxed fit and color blocking options leave you with a lot of style options. Mix and match colors and prints or make a solid tee.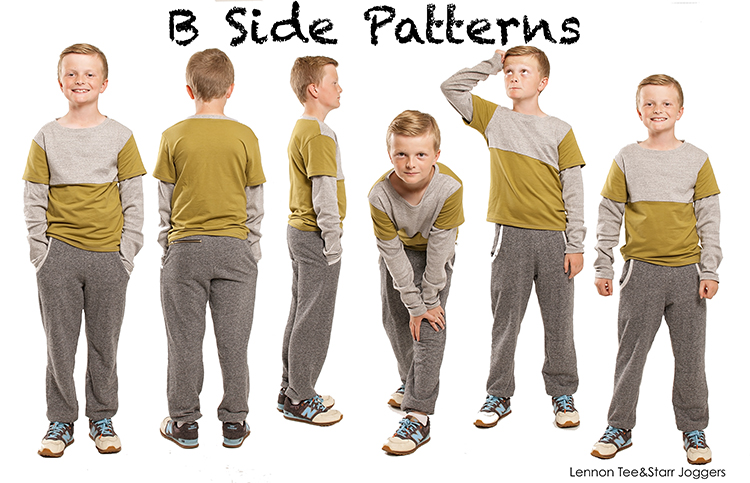 The tee also has a layered long sleeve option (which could also be made as a plain long sleeve) so there are so many options for making a closet full of tees that are all just a little different.
Patterns:
Fabric/accessories info
Quilted Knit from Etsy, French Terry (for leggings) Cali Fabrics, Sunnies from Old Navy, Ballet Shoes from Amazon
Sweater knit from Cali Fabrics, Neon Liverpool knit from Cali Fabrics, Faux Leather from Girl Charlee, Ballet shoes from Amazon
Mint Neoprene from Mood Fabrics, Trim from LA Finch Fabrics, Shoes from Joy Folie
Quilted Floral Knit from Etsy (sold out) French Terry (for leggings) Cali Fabrics, Boots from Old Navy Headband something I made on a whim.
Floral Scuba Fabric from Cali Fabrics (sold out), Black and White knit from Joann Fabrics, Cat Shoes from Melissa
Chambray from Cali Fabrics, Stripe Fabric from Etsy, Pants from the Gap, shoes from Zara Kids
Striped Fabric (blue/black) from etsy, Chambray from Cali Fabrics, Shoes from Amazon
Green French Terry from Cali Fabrics (sold out) Black and White stripe ponte Britex Fabrics, Chambray from Cali Fabrics Shoes from Amazon
Olive Green Modal French Terry from Girl Charlee (sold out), Gray rib knit from mood fabrics, French Terry from Cali Fabrics shoes from Amazon.