Back when Penny was born (7 years ago) I whipped up some quick stockings while was 8.5 months pregnant and knew there would be no time after her arrival. Then I decided about 2 years ago that it was time for some new and prettier stockings. It's just taken forever to finally share the pattern.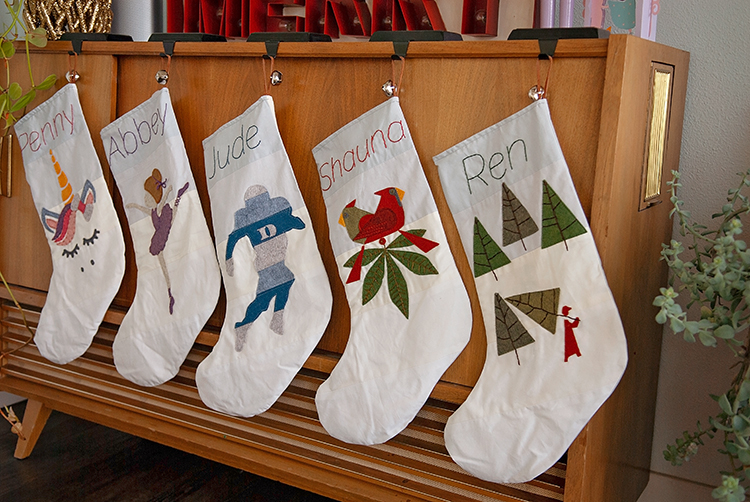 I love these stockings. Not only because they were customized for each of us. but I love the modern ombre color block. For the pattern I am sharing today it's the stocking template with color block lines marked and the letters of the alphabet so you can add names. If you want to add other appliques you can I did not include all of those since the options are endless. You could always add the nutcracker characters from this applique pattern.
Get the stocking template here
After cutting a front and back lining, and a back stocking piece cut the pattern apart at the color block lines. Add seam allowance to the cut edges.
With right sides together, sew the color blocked sections back together.
** Even though it is shown as step 6, embroider the name and add any applique to the stocking front piece BEFORE you sew the stocking together. Trace the name following the letters in the template if you want.
3. Now you should have a front and back outer and front and back lining.
4. Sew the front and backs right sides together.
5. Turn the outer stocking right side out, then slip the lining inside. Fold under the top edge of both, and top stitch together. **Note is adding a loop to hang the stocking add it in as you sew the top closed.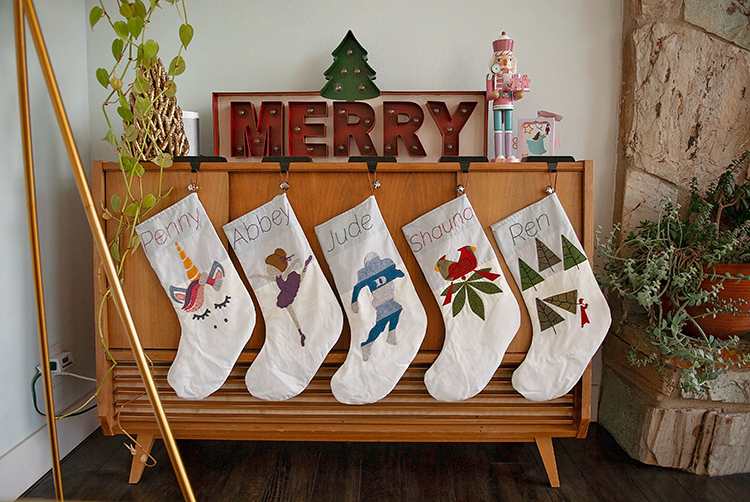 Then you are done. They are quick and easy to make, although the appliques can be time consuming you could just color block with festive fabrics and not worry about adding applique.