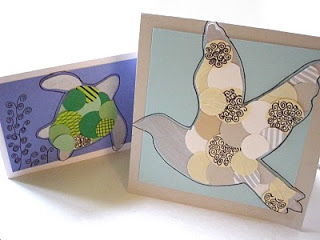 I love making handcrafted cards for people; its really easy and adds a little something something. I had this idea of using different circle cutouts to make a picture for the front of the card. You can make your own card or at Walmart, target or even a dollar store you can get a pack of blank "thank you" cards for really cheap. They are usually white with no design which makes them prefect to decorate. They also come with envelopes which is great.
Items used:
Creative Memories 3/4" & 1" Circle paper punch
Card stock
Colored paper
Craft glue
Sharpie poster paint marker in silver
Sharpie ultra fine point permanent marker
STEP ONE: Decide on the image you'll want to create. Draw it on cardstock and cut out.
STEP TWO: Using a circle paper puncher cut circles from different color and textured papers. ( If you don't have a puncher you can trace and cut by hand) I colored stripes on a few and drew some designs on others.
STEP THREE: Lay out your picture and your circle cutouts so you can get an idea on the design you're looking for. Using the silver poster paint marker, paint even lines along the part of the picture that will not be covered by circles. (look at picture above) You can also use any craft makers of leave it the color of your cardstock. Than you will glue on the circles, you wont need much glue.
STEP FOUR: Once you have glued them all on, flip your picture over and cut off any overhang.
STEP FIVE: Secure your background on your card using the craft glue, than glue on your picture. Now you have a card that's ready to be sent!