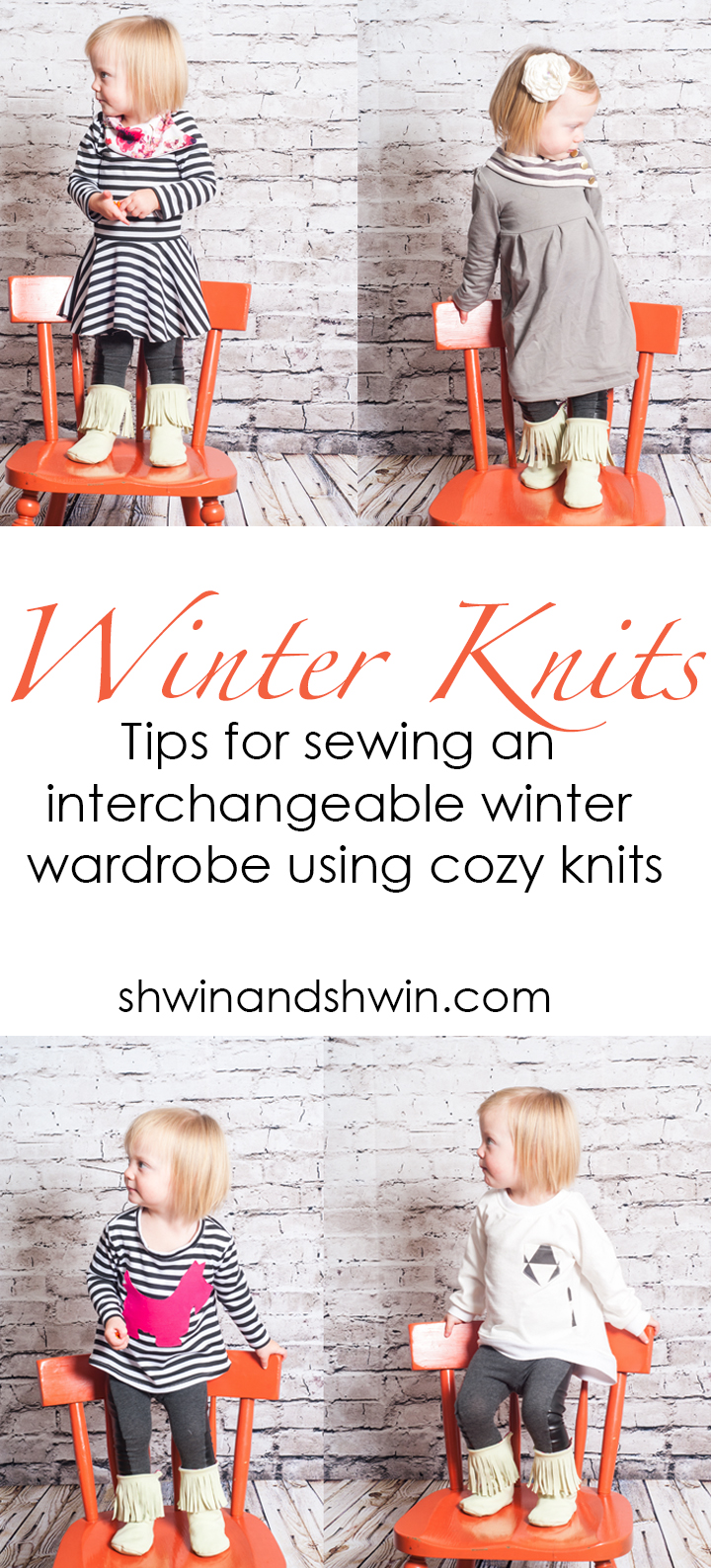 Winter is coming. Winter means one thing to me. Cozy knit clothes. Because there is nothing better than snuggling up in some cozy clothes in front of a crackling fire and enjoying a cool day, or snow fall, or what have you. Also sewing with knits is one of my favorite things, not only are they soft and cozy so kids love to wear them, but they are so quick and easy to whip up. I decided to make my favorite go-to knit patterns for cozy winter wear, and tips for making an interchangeable wardrobe.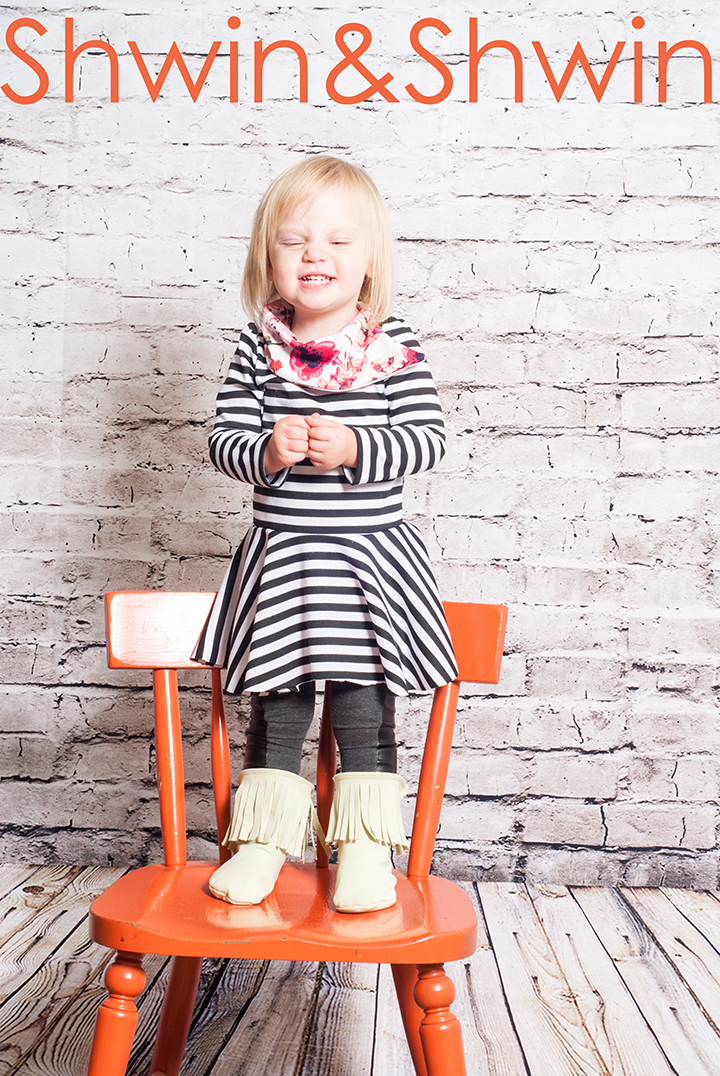 When it comes to dressing kids, especially the ones who dress themselves, I find its so much easier if the things in their drawers just go together. It eliminates the fight of "you can't wear that it doesn't match/work" or if you avoid the fight and give them the freedom to wear whatever they choose then it allows them have freedom and you to not cringe at their choices. I am a half and half parent. I like my kids to be able to choose what ever they want, while providing them with things I approve of, and also advising them on some things, like when they wear slightly see through leggings and a short shirt, I advise that they add a shirt or wear a longer shirt. I try everything I can to avoid the battle, but I also want my kids to be dressed appropriately. Now Penny was the one who was in need of some winter clothing, and she doesn't actually battle me at all in clothing yet, although she does like to pick her clothes out these days.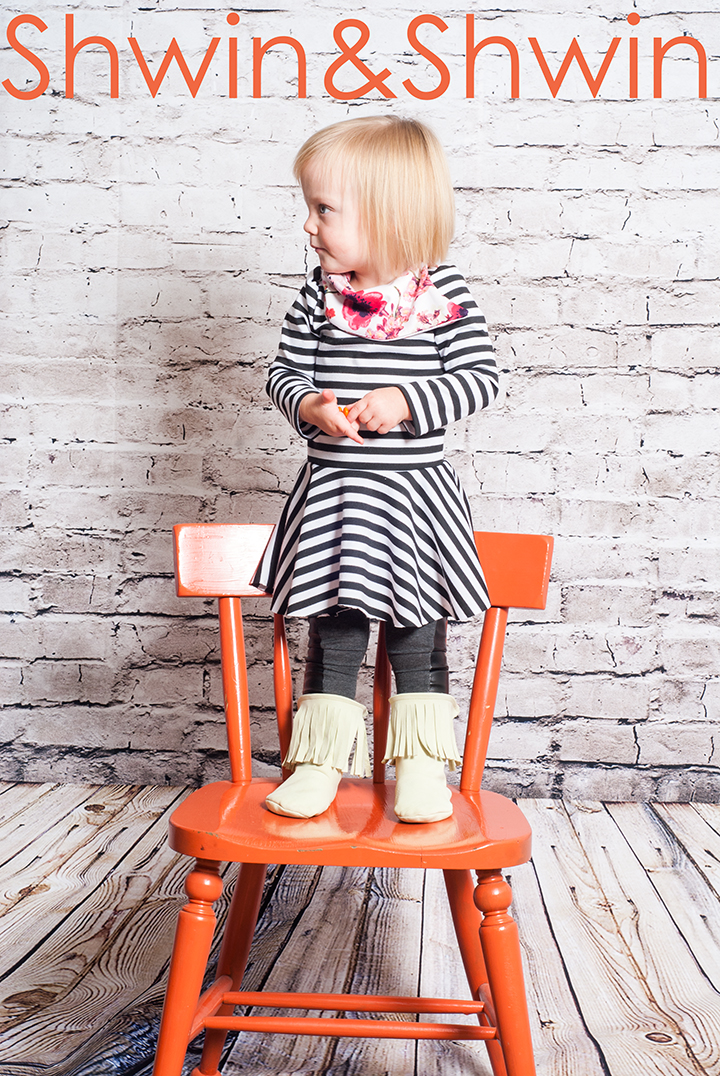 So the first thing I made her was a modified Eleanor Top.
The modification was due to the fact that I had already cut the pattern out to make the dress version and so instead of measuring (stupid) I guessed on the length for the shirt. Well I guessed wrong and her belly was hanging out and as cute as it is to see baby belly hanging out, I needed to make it longer. So I added a simple circle skirt following this FREE pattern and Tutorial. I just made the skirt a little longer and cut the opening a little bigger to fit my need.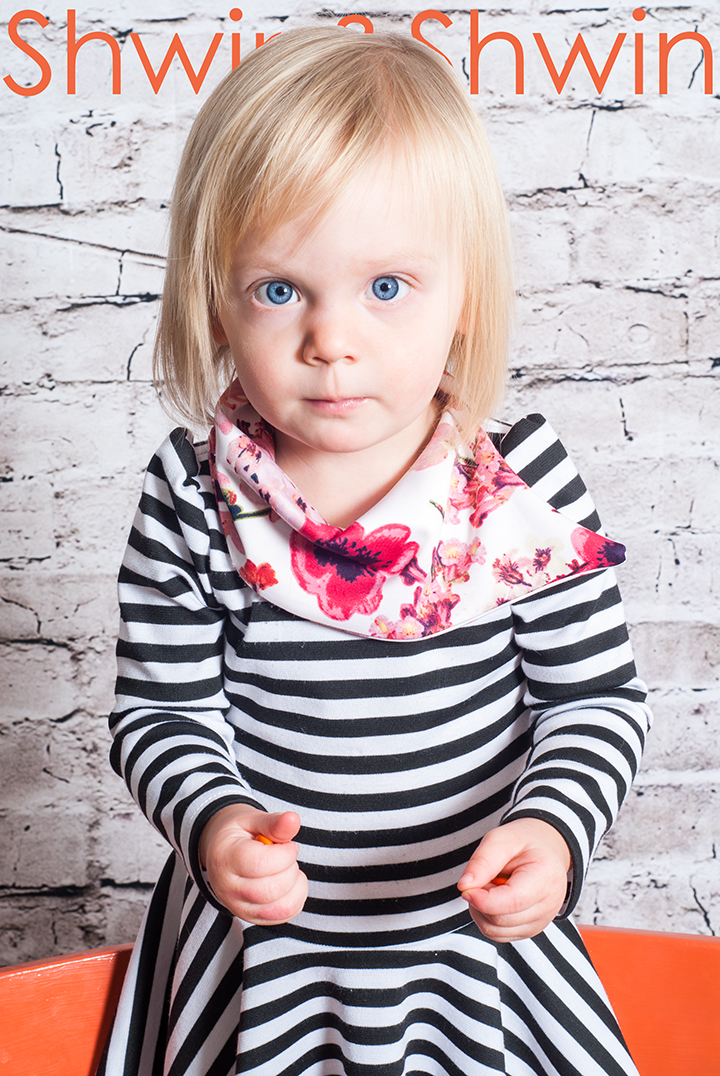 The rest follows the Eleanor Pattern. I played with stripes and florals again, since I may never tire of that.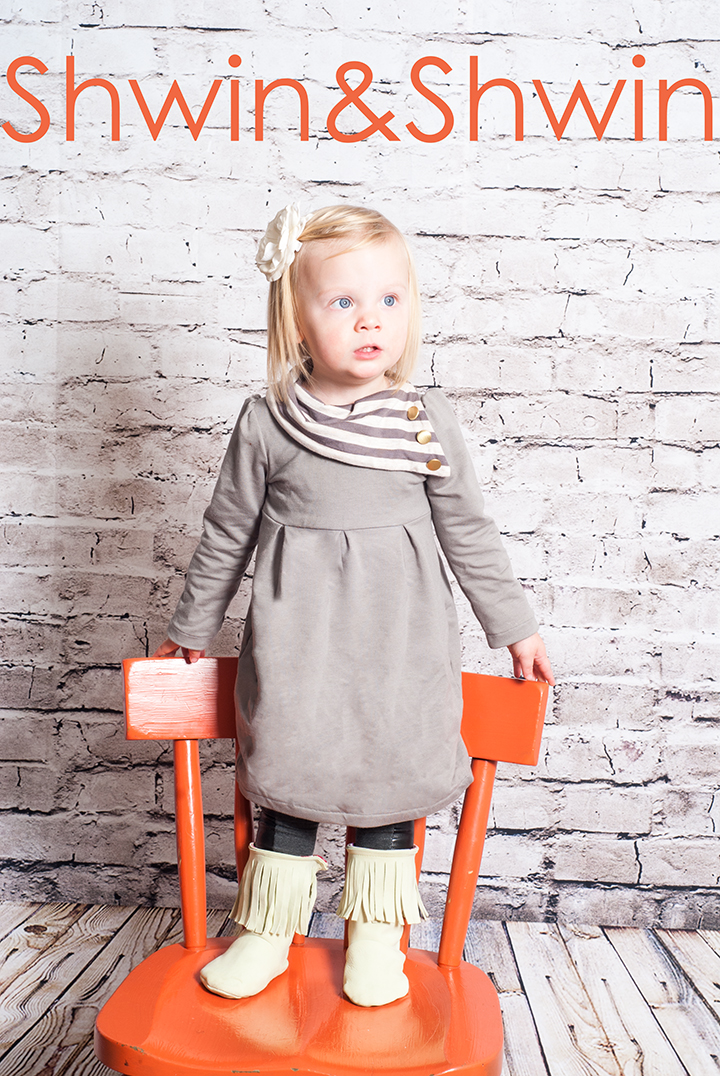 Next up the Eleanor Dress. It's one of my favorites (who doesn't love a cozy knit dress) I followed the pattern straight making the 2T, which is a touch big but on the cozy side not sloppy. I did have to hem the sleeves a bit more, but this petit little girl (who still normally wears 12m stuff) is starting to get taller so I knew the 2T would be a good dress for her to grow into through the chilly season.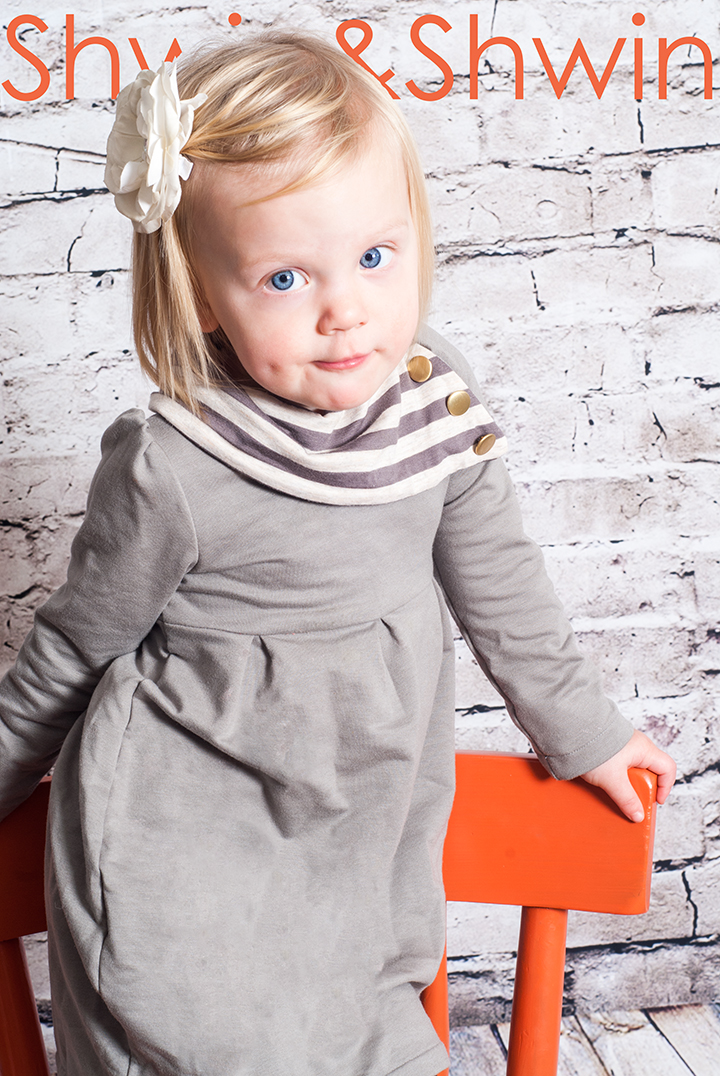 I kept with neutral colors and added stripes because I can't help myself. I did add the buttons to the dress, which I love they add a cut detail to the collar.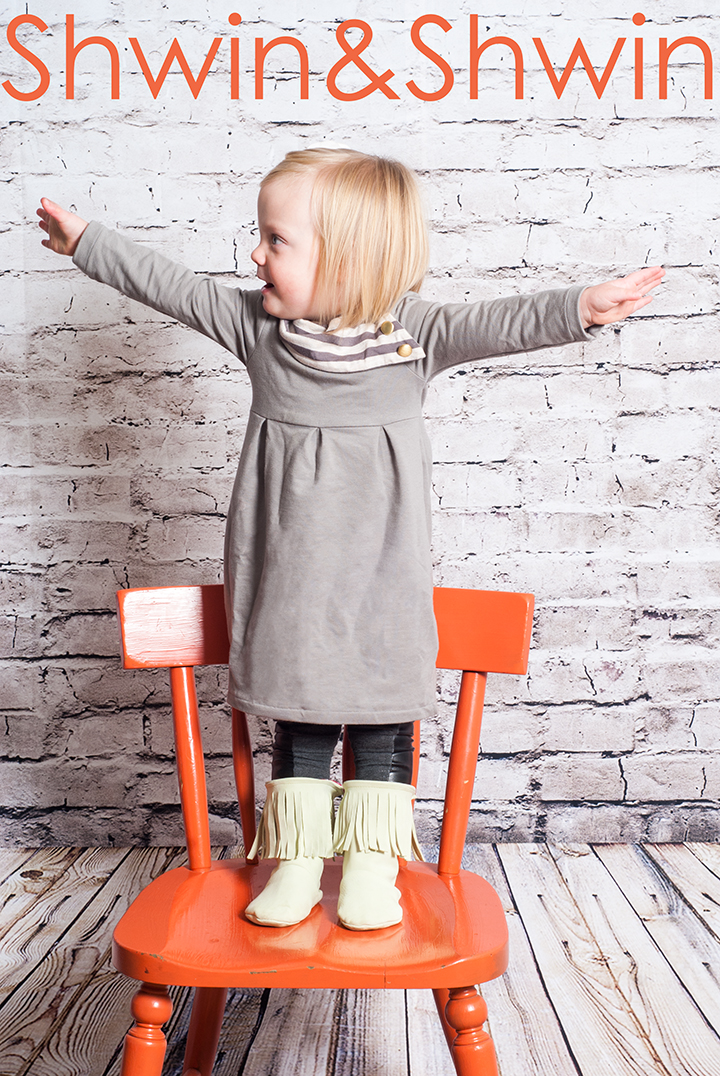 I paired the dress with the same leggings, because I love leggings with dresses during the winter. They are so much warmer than tights and just seem so cozy.
For the leggings I used the Apple Loungewear leggings only I cut the pattern so there was a front back and middle. I cut the front and back from knit and the middle section from stretch faux leather. Then I sewed the front back and middle back together and made the leggings following the pattern.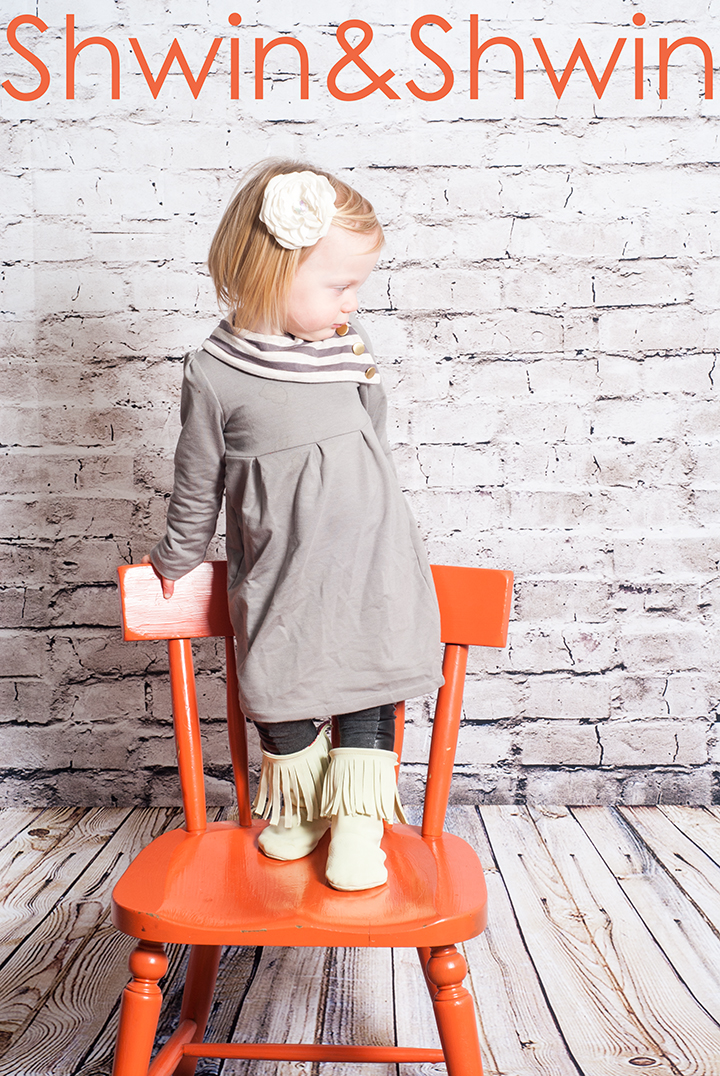 I also paired each outfit with the fringe boots made from THIS free pattern.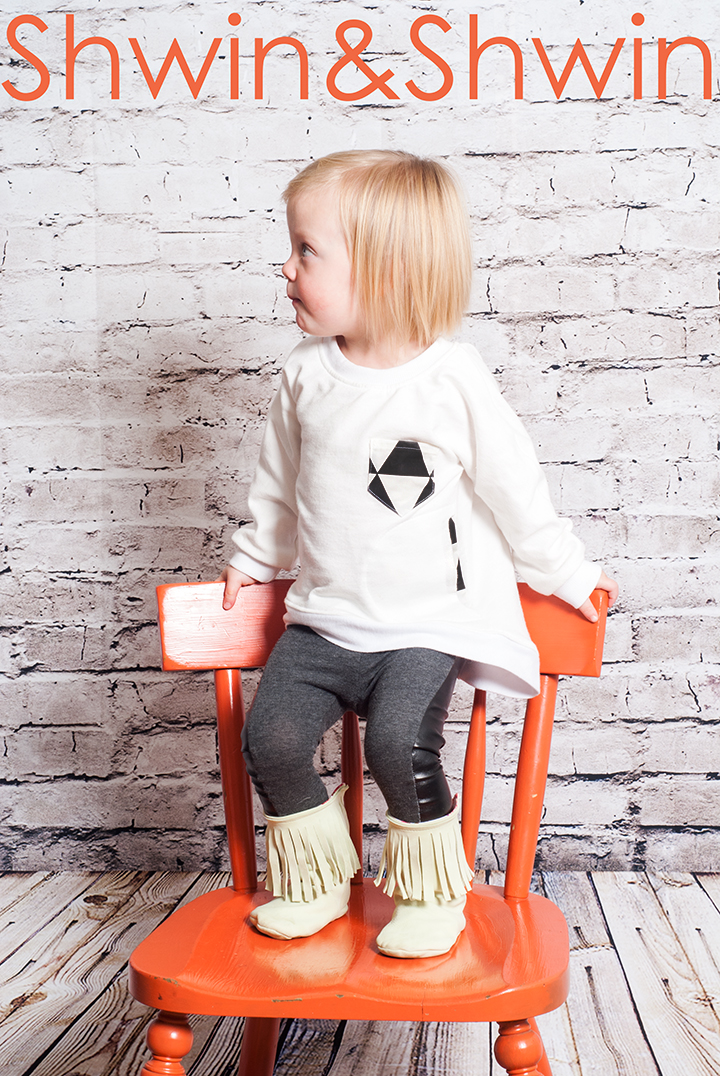 Next up, is possibly my favorite because I love little kids in oversized sweatshirts. For this I used the Apple Loungewear pattern. I did make the 12-18m size for this since that is her size range and since it's already "oversized" making it more oversized would have been much too big. Although I do kind of wish I would have done the 2T length, this length is fine, she just grows up before she grows out.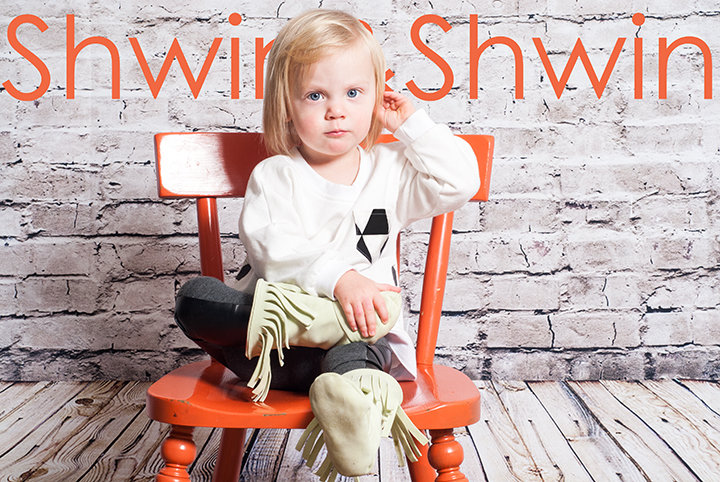 I did the hi-low hem option and added all three pockets, however she is 2 and has no interest in the pockets yet so I guess it's just for kicks.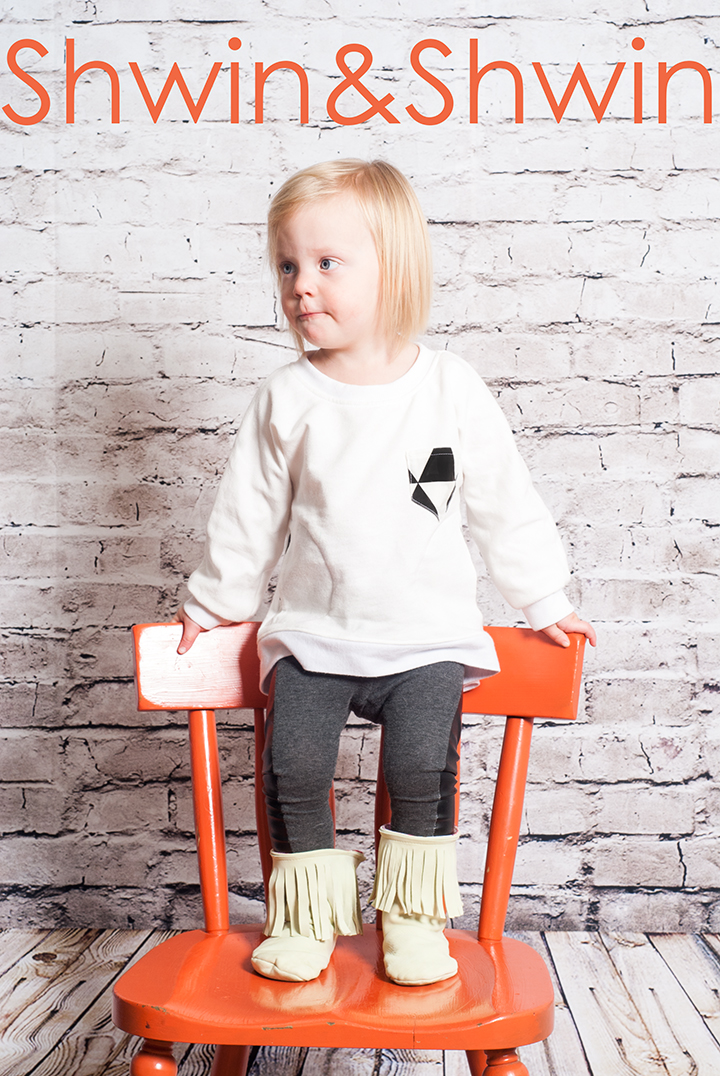 I love the cozy sweatshirt with the bold graphic pockets.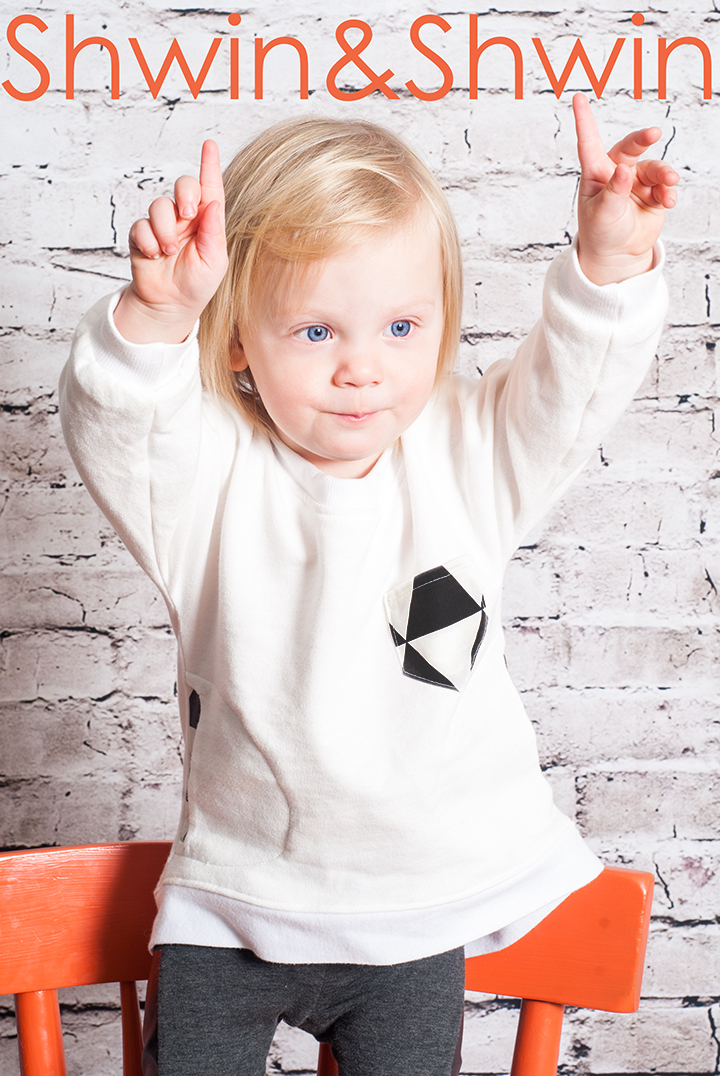 As does Penny (who really likes to boogie)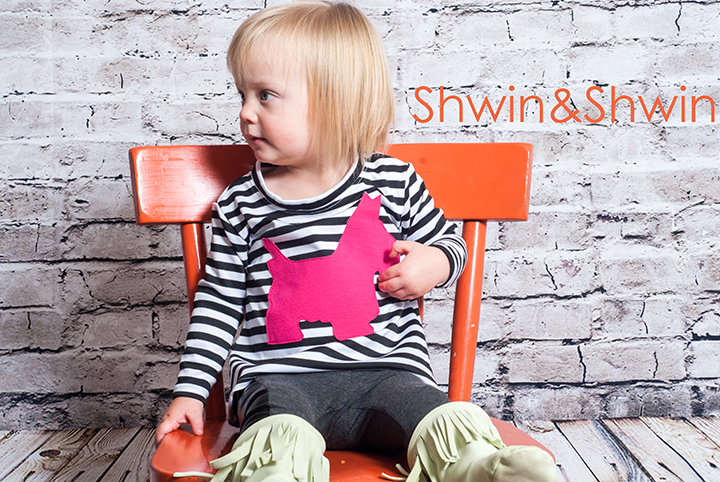 Last but not least. I made the Nessie top. I made the regular long sleeve version, and then added an appliqué of a Scottie Dog for my little dog lover.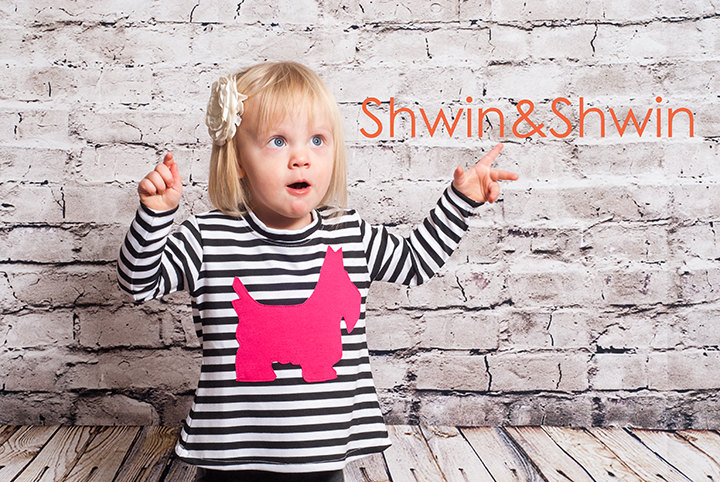 I love the swing of the Nessie Top, and ever since I made one for Abbey a while back I knew I wanted to make one for Penny, and the time had finally come. I made the 18-24 month size in hope of enough growing room without it being too big and it was exactly that.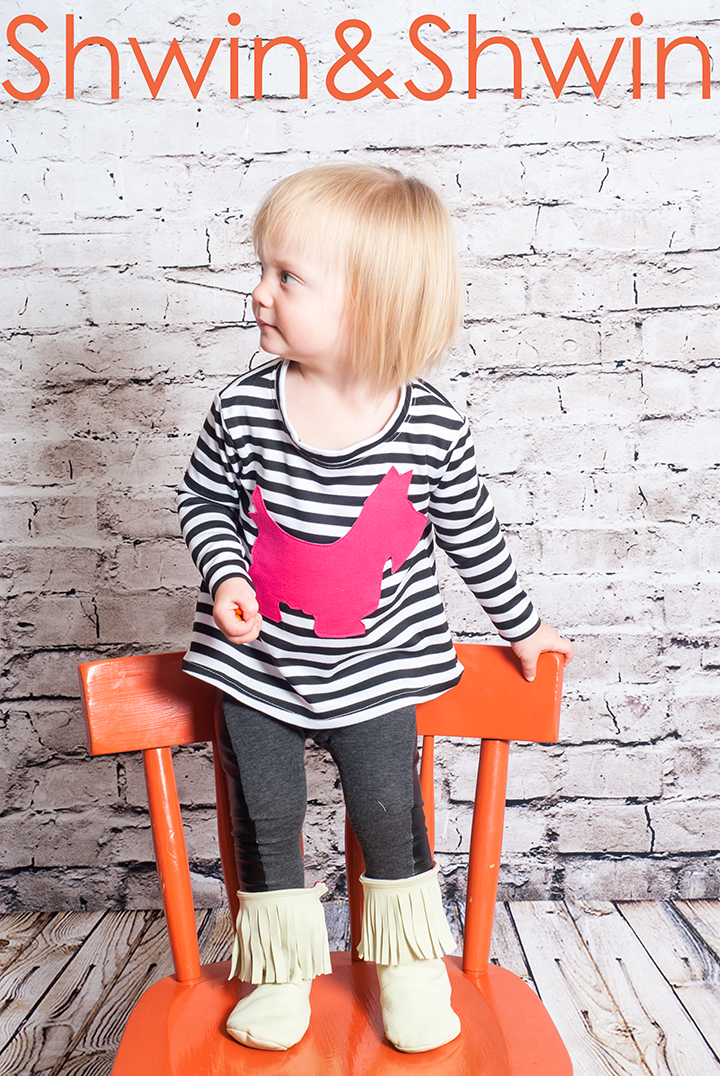 Miss Penny is very petite in the upper body/ shoulders So even though her chest and belly are not terribly small for her age (just a little) she is very narrow through the shoulders, which is the only place the top was maybe a bit larger than I needed for Penny but not sloppy looking.
So tips for making interchangeable winter knit wardrobes:
Use heavy knits (when buying online check for the word heavy, or for a weight of 9 oz. or more) heavy knits are thicker and warmer
Pick a color scheme. I went with neutrals with a pop of pink here and there. That way no matter what she grabs they will go together.
Pick 5-6 fabrics that can be used together and mix them between pieces
Error on the larger size so the knits are warm and cozy and could even be layered
If you find patterns you love mix them up a bit to create several looks using only a few patterns
Pattern and Fabric Sources:
Striped Ponte Knit || Girl Charlee Fabrics
Floral Scuba Knit || Girl Charlee Fabrics
Grey French Terry || Girl Charlee Fabrics
Brown and Oatmeal Stripe || Girl Charlee Fabrics
White French Terry || Girl Charlee Fabrics
Black and White Triangle Print || Modern Yardage
Black Vegan Leather || Girl Charlee Fabrics
Grey Knit || Girl Charlee Fabrics
Eleanor Top/Dress Pattern || Shwin Designs
Apple Loungewear || Shwin Designs
Nessie Top || Craftiness Is Not Optional 
Fringe Baby Boots || Shwin&Shwin
 Don't miss out on our Black Friday Specials! (hint hint Monday these patterns are on sale!) Sign up for our newsletter to get all the codes!