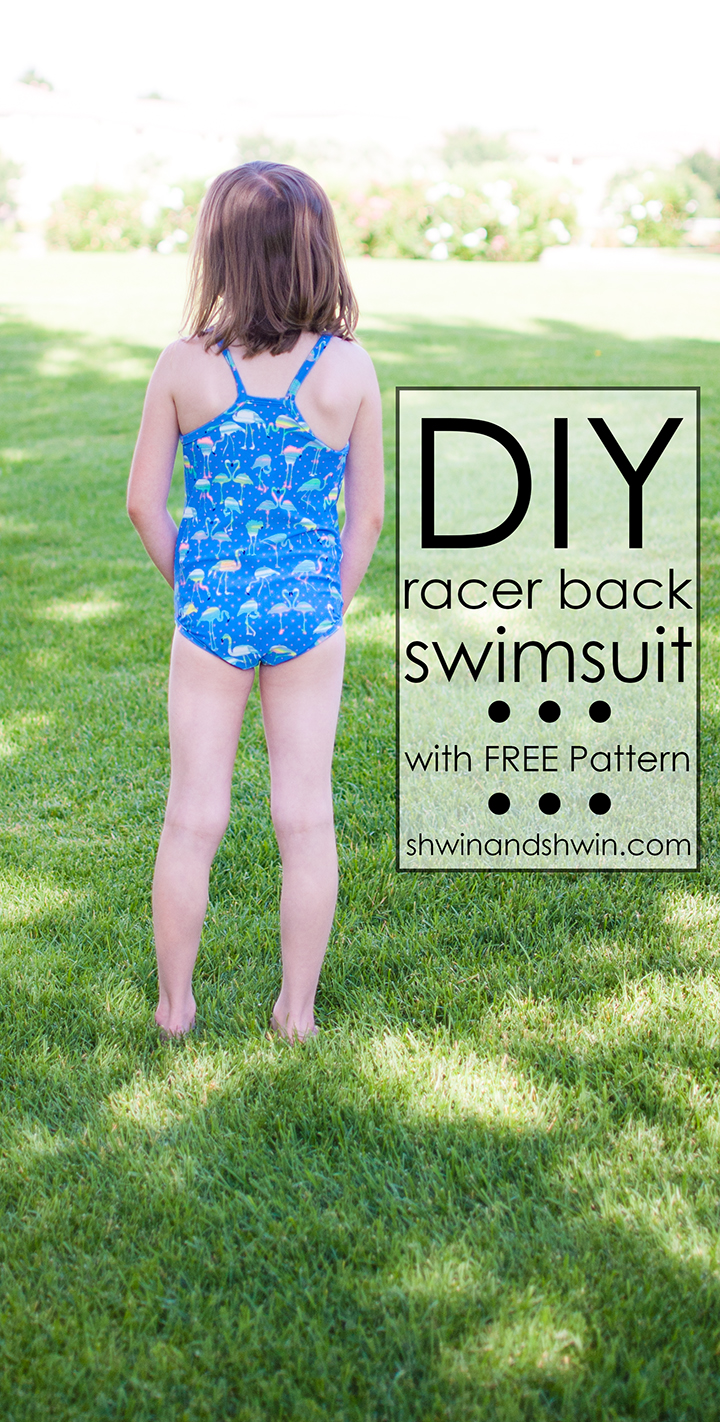 After I made Penny her swimsuit, Abbey started begging for her own. So I decided she was right, I had to make one for her too. I designed it with a racer style back.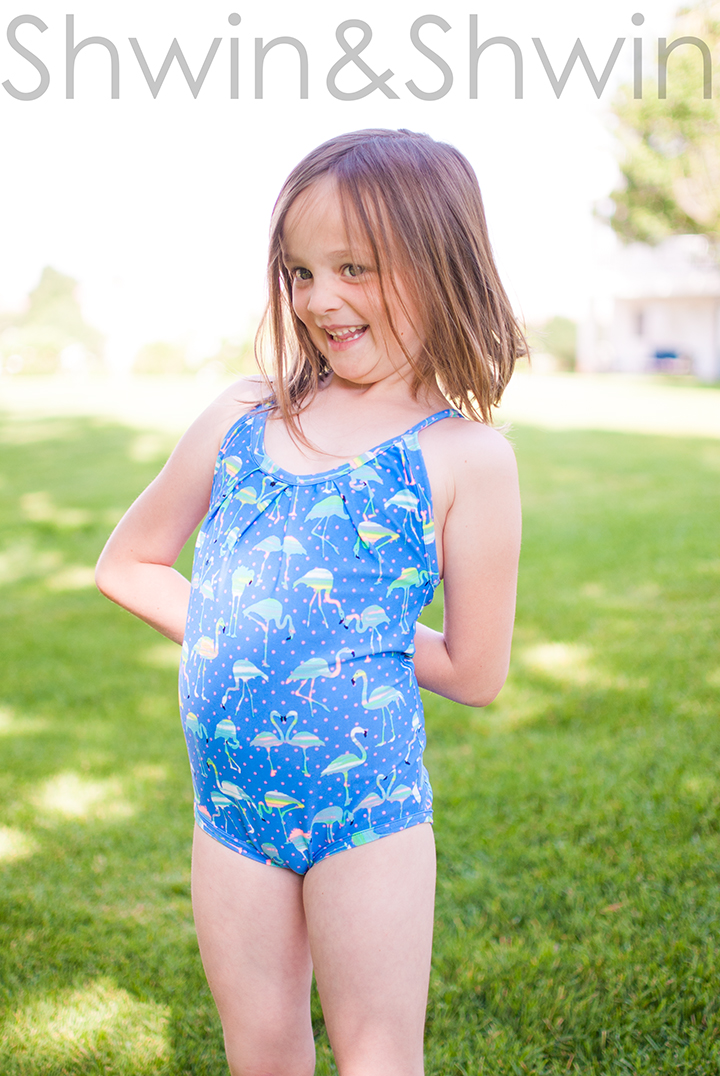 And pleated front neckline. The whole suit is made with swim knit fabric and a regular sewing machine. I know there are all of these fancy things to make a swimsuit with, but I will say this swimsuit was just worn for over a week of daily swimming and it still looks good as new.
The fabric, that I knew was perfect the second I saw it. Is an adorable flamingo print from Harts fabric. Although they seem to be out of stock now, the knit is awesome such a great quality and weight.
You will need:
Free Swimsuit Pattern (size 6 sewn with 3/8″ seam allowance)
3/4 Yard swim knit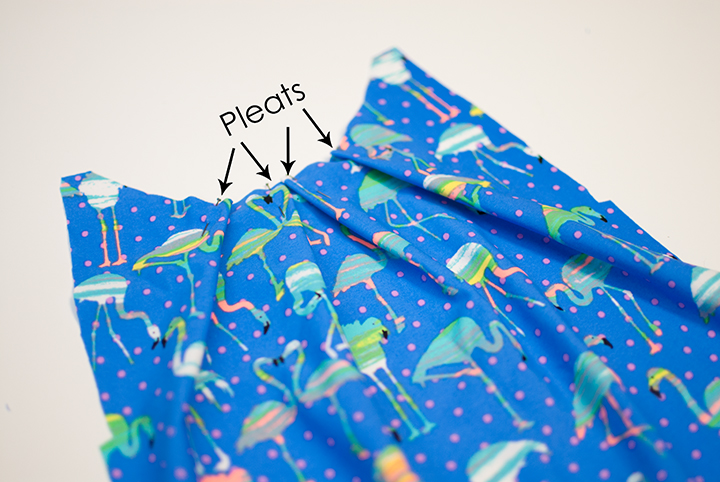 For the front piece start by adding the pleats and then basting them in place. To create the pleats match the dashes together and fold the pleats the direction as indicated on the pattern. (4 total)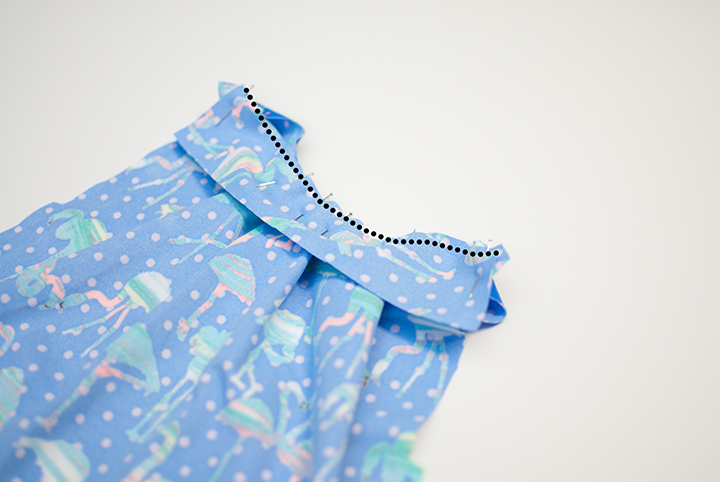 Sew the front binding right side to wrong side. Stretch the binding while you sew.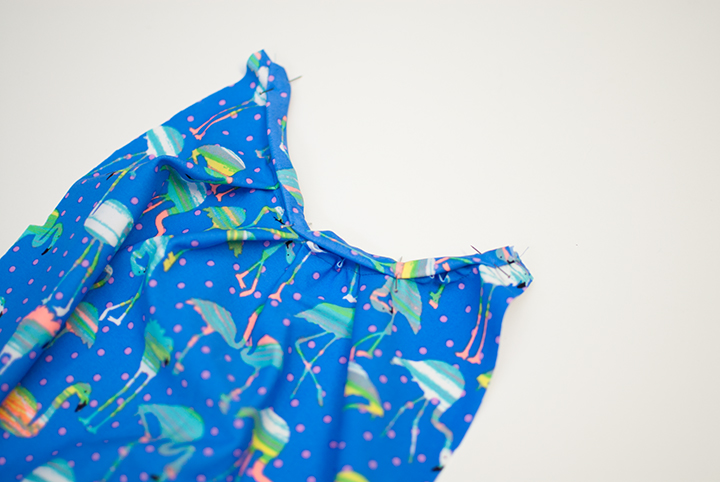 Then fold the binding in half and in half again towards the front side. You want the folded edge of the binding to meet the stitch line. Then while stretching again sew along the folded edge.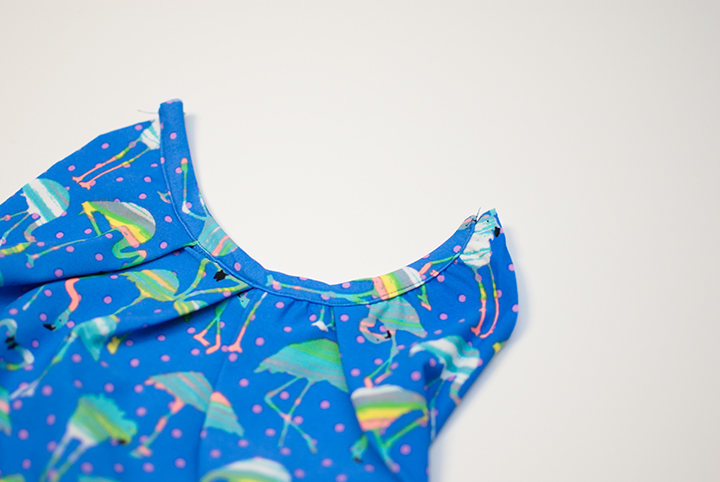 Press the neckline after sewing if it got warped or stretched and it will bounce back to shape.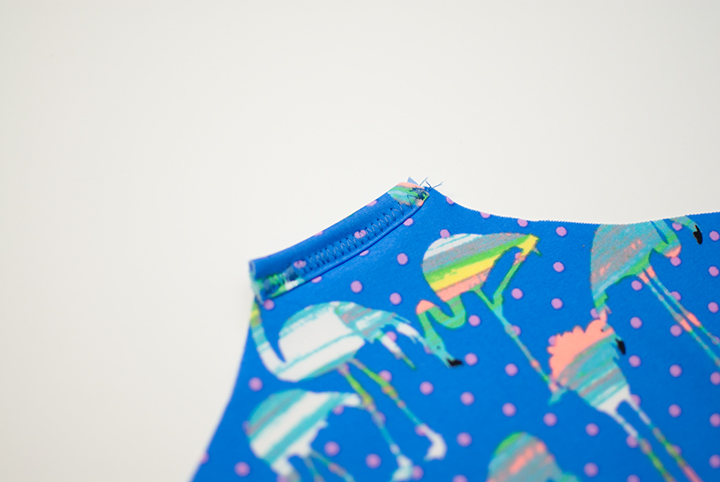 Do the binding for the back the same way as the front binding. I did stitch the back down with a zig zag stitch, like you would sew fold over elastic, but I thought it looked messy so I did the straight stitch for the front, however you could do either.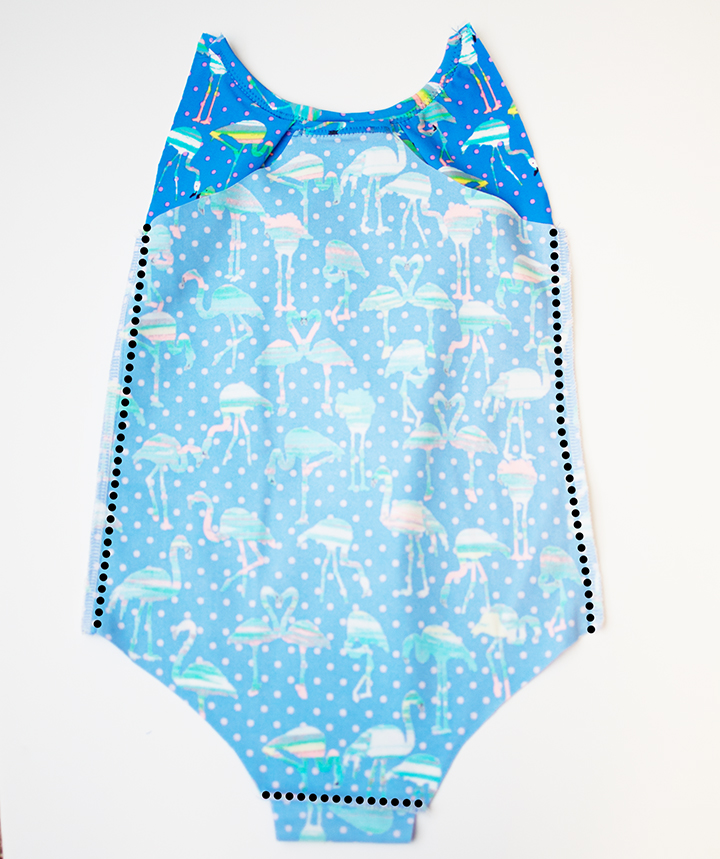 Then with right sides together sew the front and back swimsuit together at the sides and crotch seams.
For the straps. Sew the two ends of one strap together to create a loop.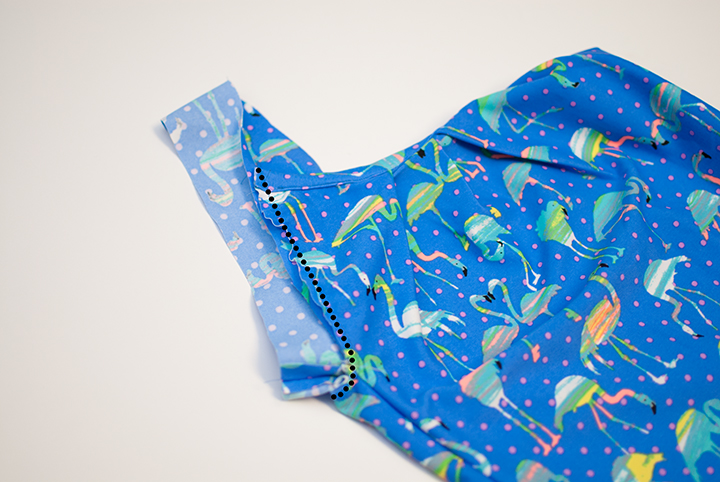 Sew the binding the same way as you did the front and back by sewing right side of strap to wrong side of swimsuit.  The seam should match the side seam in the suit and the marking on the strap will mark where the front and back swimsuit match up with the strap. Stretch to fit while sewing.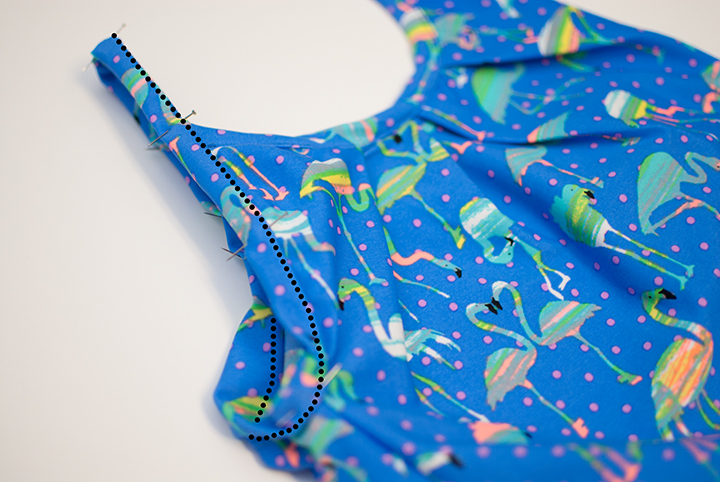 Then fold the strap the same as the binding so the seam will be covered and then the strap will be folded under. Stitch along the folded edge. Stretch while sewing.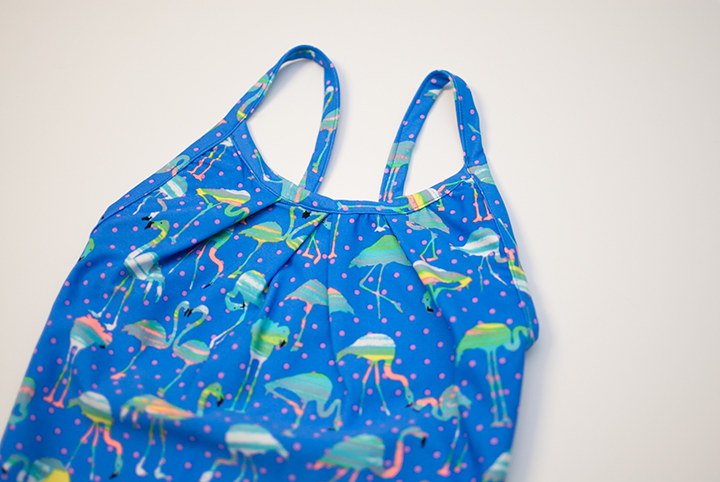 Repeat with the other strap as well.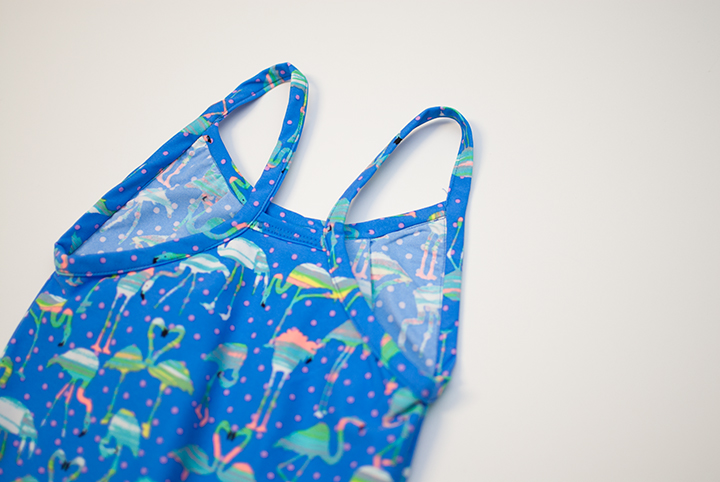 Then you will have two straps that connect the front and back. Finish the leg openings the same way with the bands sewing them first to create a loop and then sew them as a binding to the leg opening.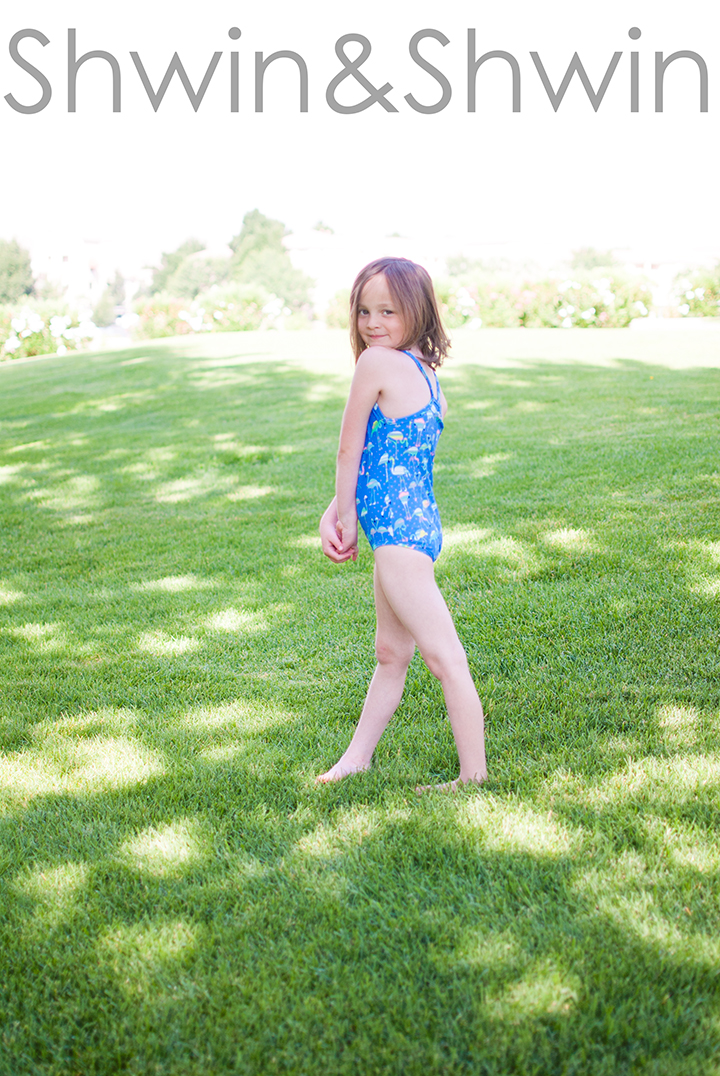 That's all there is to it. Quick and easy.